Having a bald head doesn't mean you won't suffer from dandruff, scalp dryness or an itchy scalp. That's where a moisturizing lotion comes in.
However, it can be hard to find one that's light on your scalp and doesn't leave you smelling like you're on your way to the beach while heading to the office. For that, bald head lotions with SPF are the best.
We went on a search for the best bald head lotion with SPF and compiled this list based on quality, user popularity, usability, and overall ratings.
---
Best Bald Head Lotions With SPF
---
---

Rated as the overall best bald head lotion with SPF 30, the Bee Bald Smooth Plus moisturizer protects against the sun's UVA and UVB rays. Thanks to its broad-spectrum sunscreen protection, the lotion smooths fine lines, dry patches, and wrinkles.
Its smell is a little floral and a bit similar to regular sunscreen, but it does an excellent job of reducing the shine and controlling oily secretions.
Pros
Smoothes dry, bald patches, fine lines, and wrinkles
It reduces greasy and oily shine
Great semi-thick lotion consistency for easy application
Protects from harmful UVB and UVA rays from the sun
Its price is a real bargain
Con
Some men may not like its floral smell
Who Is It Best For?
The Bee Bald Smooth Plus is ideal for bald men looking for a sunscreen lotion that doesn't have a shiny effect. It's light on the skin, and it controls oily secretions on your head, leaving your skin feeling cool, comfortable, and fresh throughout the day. Apply 15 minutes before exposure to the sun and reapply after every 2 hours when exposed to the sun.
---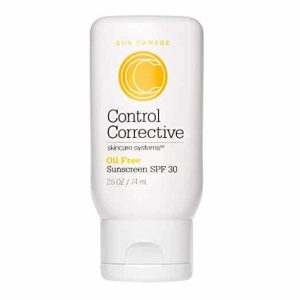 The Control Corrective Oil-Free Sunscreen Lotion is a multi-purpose moisturizer with a silky, greaseless and non-comedogenic sunscreen.
The lotion is a perfect addition to your skincare routine, and it has proven to be a real warrior when protecting your skin thanks to its antioxidant and hydrating properties. It features microfine zinc which offers broad-spectrum sunscreen protection, keeping your skin safe against aging (UVA) and burning (UVB) rays. Moreover, it's fragrance-free and doesn't leave a greasy film.
Pros
Safe for sensitive skin and hyperpigmentation
Greaseless and fragrance-free
Antioxidant-rich for soothing and balancing your skin tone
Offers broad spectrum protection against UVA and UVB rays
Cons
It's one of the pricey options, but it's totally worth the cost
Who Is It Best For?
With SPF 30 sunscreen protection and Aloe Vera, the Control Corrective oil-free sunscreen lotion is safe for those with sensitive skin or hyperpigmentation. Its anti-oxidant benefits also make it perfect for sun worshippers looking for a product that can repair sun-damaged skin without being greasy. Moreover, it's a breathable formulation that doesn't clog pores.
---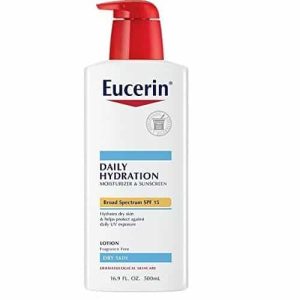 If you want a lightweight lotion that easily absorbs on your skin without leaving your head shining, then the Eucerin Daily Hydration lotion is among your top choices.
This non-greasy and fast-absorbing formula defends your skin against sunburn from daily sun exposure and helps you avoid skin dryness. The lotion is also ideal for facial and general body application, but it may cause itching when applied on broken or damaged skin.
Pros
Protects your skin from sunburn
The formula is light and fast-absorbing
It features SPF15 sunscreen protection for 24-hour moisturization
It's ideal for both head and facial application
Cons
Not ideal for damaged or broken skin
You'll need water-resistant sunscreen if you sweat a lot.
Who Is It Best For?
The Eucerin Daily Hydration SPF15 lotion is ideal for men looking for a lightweight lotion that offers 24-hour protection from the sun.
The lotion is fragrance-free and non-allergenic, making it ideal for any skin type. However, you may want to consider other water-resistant options if you sweat a lot or like to go swimming.
---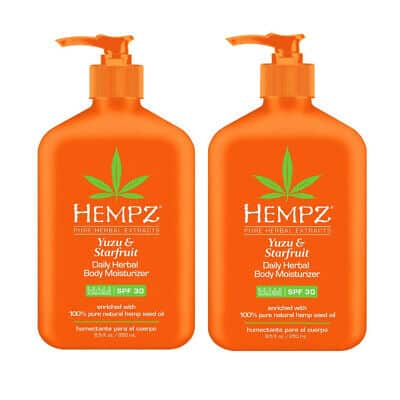 Do you like using skin care products with natural hemp seed oil? If that sounds great, then the Hemp Yuzu & Starfruit herbal moisturizer should be your personal favorite.
With a broad spectrum SPF 30, this lotion keeps your scalp moisturized and protects it from the effects of harmful UV rays from the sun. It's lightweight on your skin and lightly scented with Starfruit and Yuzu, giving it a pleasant yet subtle citrus fragrance.
Pros
Pleasant citrus fragrance
Works well with a sensitive skin
Moisturizes your scalp and skin
Improve overall skin health and appearance
Cons
A little greasy but not shiny
Not sweat resistant
Who Is It Best For?
The Hemp Yuzu & Starfruit daily moisturizer with SPF is nice-enough to apply every morning when heading to the office. Its subtle citrus fragrance won't mess with the smell of your cologne or aftershave, but it's not ideal for men with an active lifestyle as it will come off if you sweat.
---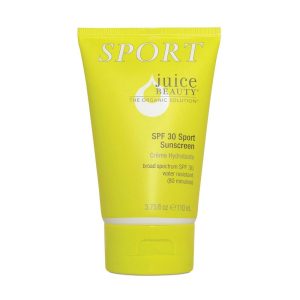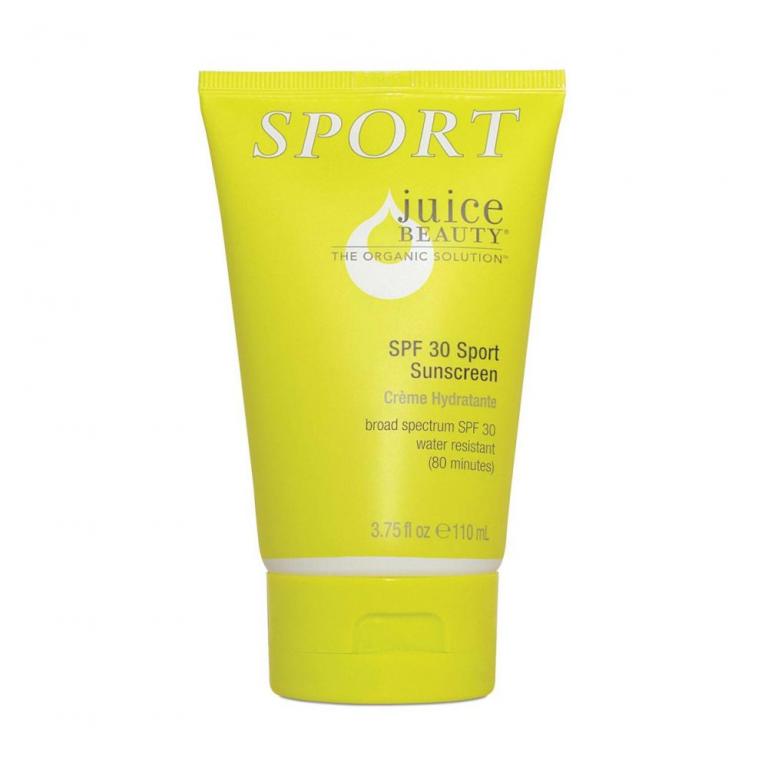 The Juice Beauty SPF 30 Sport moisturizer is a highly effective lotion with a strong but, pleasant smell. This water-resistant lotion is made for an active lifestyle, with organic jojoba and Aloe Vera to soothe your skin and protect you against scalp dryness.
It's rich in vitamins, and you can apply it to your entire body. Moreover, it offers up to 80 minutes of water resistance when exposed to direct sunlight.
Pros
Blends and absorbs quickly on your skin
It's water-resistant
Rich in antioxidants for ultimate daily protection
Great when sweating or swimming
Cons
Thick texture and a little difficult to spread
Strong scent, though pleasant
Who Is It Best For?
The Juice Beauty SPF 30 Sport moisturizer is great for anyone with an active lifestyle and guys who sweat a lot. With a non-greasy and lightweight feeling, it's great for both adults and children who need skin protection against sunburn. Moreover, you can apply it to your neck, face, and chest.
---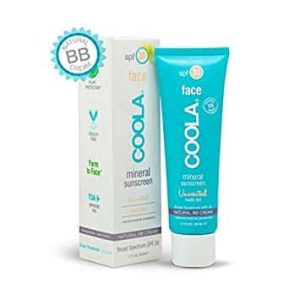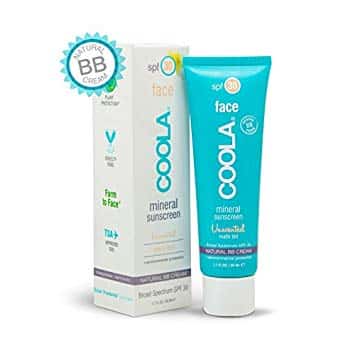 The Coola Mineral Suncare Face Sunscreen is among the best bald head lotions with SPF 30 that leaves your sensitive skin smooth and soft.
The lotion is easily absorbed on your scalp, and it has medium level moisturizing properties that protect you from broad-spectrum UVB and UVA damaging rays from the sun. Furthermore, the water-resistant lotion is dermatologically approved for use with any skin type.
Pros
Preservative-free and water-resistant (40 minutes)
Fights aging signs
Formulated for a sensitive skin
Helps to retain moisture in your skin and scalp
Cons
Slight white cast with some skin types
Who Is It Best For?
If you have oily and super sensitive skin, then the Coola Suncare Mineral sunscreen should be among your top choices. It keeps your face and scalp completely oil-free, and it's great for swimmers since it is water-resistant. Moreover, it has a great texture for easy application.
---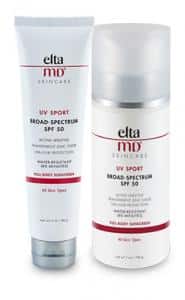 Created as a full-body zinc oxide sunscreen, the EltaMD UV Sport features a broad-spectrum coverage to protect your skin and scalp from the sun's UVA and UVB rays.
As a mineral-based sunscreen, the UV Sport is water-resistant and great for all outdoor activities. That means the lotion won't rinse off while swimming or drip into your eyes and sting if you sweat.
Pros
Water-resistant for outdoor activities
Protects against aging and burning rays
It's a lightweight and oil-free formula
It won't rinse off when you sweat
Con
It's a bit expensive, though worth the price
Who Is It Best For?
Formulated with zinc oxide and rich in antioxidants, the EltaMD UV Sport is a great mineral-based sunscreen for outdoor activities. It's ideal for all sporting activities including swimming and other intense exercises that involves sweating. Furthermore, you can apply it on wet or dry skin.
---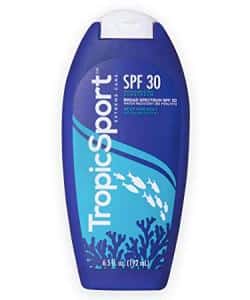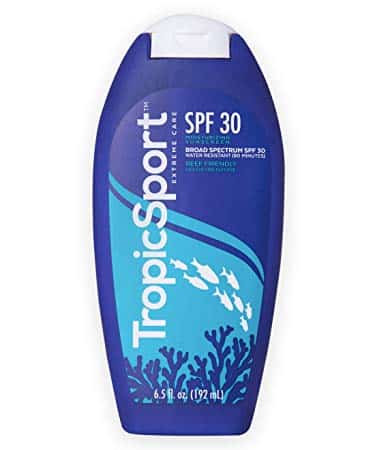 TropicSport is a smooth and silky mineral sunscreen that fully absorbs into your skin without leaving a white residue on your head or face.
The lotion is reef-friendly, and it passes the US 80-minute water-resistant test as well as the Australian 4-hour test. Additionally, it's strong enough to handle extreme weather conditions, but gentle enough to cleanse, protect and replenish your skin daily.
Pros
Ocean and reef friendly
4-hour water resistant
Broad spectrum UV rays sunblock
No harsh active chemicals
Con
Not ideal for guys who prefer fragrance-free lotion
Who Is It Best For?
The TropicSport Mineral Sunscreen is not only great for bald men, but it's also ideal for your entire family. It works well for sports, and it won't affect aquatic life when swimming in the ocean or come off when you sweat. Its smooth texture also works well as your everyday sunscreen.
---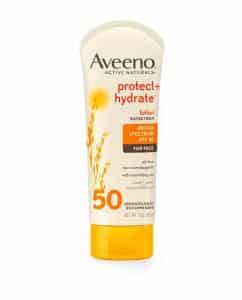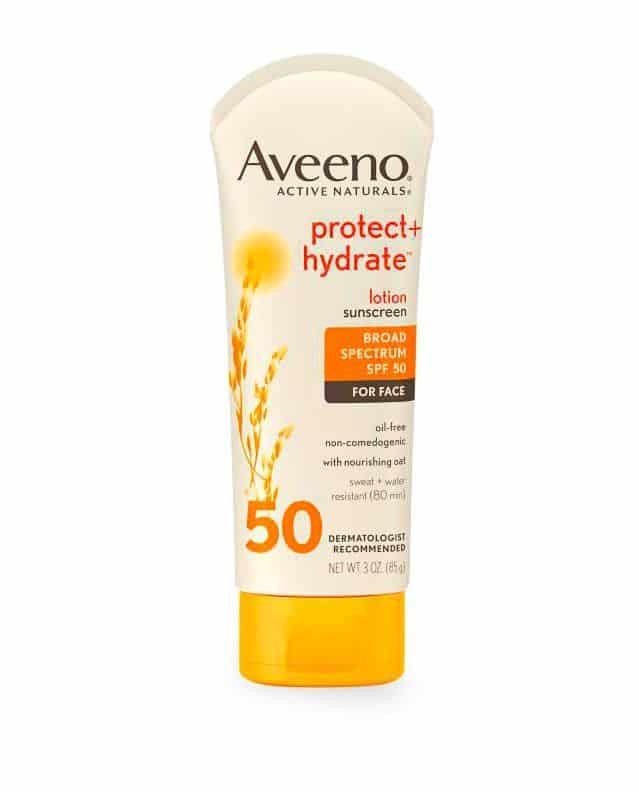 The Aveeno Protect + Hydrate Lotion is a dermatologist-recommended lotion that helps protect and moisturize your skin at a very affordable price. With antioxidant oat, this sunscreen lotion protects, nourishes, and moisturizes your scalp to leave you feeling soft and healthy when exposed to the sun. It's a lightweight, oil-free, and fast-absorbing formula suitable for your whole body and doesn't clog pores.
Pros
Prevents signs of premature aging
It protects, nourishes, and moisturizes the skin
It's sweat-resistant and water-resistant
Available in a travel-friendly size
Con
Its scent is a little sweet but nice.
Who Is It Best For?
With broad spectrum, SPF 50, the Aveeno Protect and Hydrate lotion is great sun protection for guys with sensitive skin conditions. It locks in moisture and restore's the skin's normal pH to relieve itchy, dry, and irritated skin.
---
The Cetaphil Pro Oil Absorbing moisturizer is a broad spectrum formulation that protects your scalp from harmful UV rays.
The lotion is specially formulated to soothe dry skin and reduce shine while moisturizing your skin to keep it soft. It's a 4-in-1 formula with Oleosome technology for less irritation while absorbing oil, reducing shine and hydrating your skin to offer protection from UVA and AVB rays.
Pros
Absorbs quickly on the skin
Non-greasy and lightweight
Helps to reduce shine with a matte finish
Offers less irritation and great hydration
Con
It has a burning sensation when in contact with your eyes
Who Is It Best For?
The Cetaphil Pro Oil Absorbing moisturizer is great for guys with acne or sensitive skin. It's an excellent choice for you if you get an irritated scalp after shaving and it doesn't make your skin shine after applying.
---
Conclusion
While there's a common misconception that bald heads need little attention, the truth is that they need a lot of attention and care as the scalp is exposed. They can also suffer from dry patches, irritation, and dandruff, so a moisturizing lotion with SPF is very important. Use the lotion after your morning shower, and you'll be ready to face your day protected from the sun.