Sometimes, even during winter, I forget to moisturize even though my skin needs hydration. Let's face it: nobody enjoys slathering on a cold cream after taking a refreshing warm shower or a steam bath.
Even worse, your skin is prone to dryness during the winter, so you'll need to get into the moisturizing game.
So, how can you avoid cold lotion?
If you need to keep your skin hydrated and supple while avoiding getting frostbite while applying a moisturizer, then you need a good lotion warming machine.
These devices perfectly heat your body or hand lotion to a lusciously warm temperature that is actually enjoyable to slather all over yourself. Not only does it feel good, but it also improves hydration better as your lotion can penetrate through your skin getting the ingredients in your pores.
With these top 10 heated lotion dispensers, you can start enjoying moisturizing your body with warm lotion after a warm or cold shower.
These products are different in quality and effectiveness, but we've done in-depth research on each one of them to make sure that you'll be fully satisfied with the product you choose. Let's get into it!
Best Lotion Warming Machines In 2020 Reviewed
Featuring a range of premium features, the HDL20 works great with your favorite hand and body lotion.
The heating unit rocks a coil-heat design which allows it to warm your lotion within 2 minutes, with a variable heat control that sets the moisturizer to the desired warmth level. More importantly, the HDL20 also features an auto shut-off feature that activates when you leave it connected for about an hour.
Design
When it comes to heated lotion dispensers, Conair is one of the most trustworthy brands on the market. The HLD20 is a sleek and portable unit with a 16-ounce reservoir, allowing you to enjoy slathering on heated lotion at any time.
Its simple power pad has red and green indicator lights, signaling you when your lotion is ready. Additionally, it features a 6-feet line cord for easier portability when connected to the power.
Pros
A sleek profile and portable design
16 oz lotion reservoir
Brilliant 1-hour auto shut-off feature
Variable heat control to set the desired warmth
Lengthy power cord for portability (6 feet)
Cons
Not battery operated
Breaks easily if it falls from a significant height
Verdict
The Conair HDL20 is a luxurious lotion dispenser that improves the soothing power of your lotion by warming it to your desired warmth within minutes.
It has indicator lights to notify you when the lotion is ready, and you can easily dispense it using a one-touch depression at the top. Moreover, its reservoir removes for cleaning and the automatic shut-off feature conveniently cuts power if you forget it for about an hour.
---
With enough capacity to hold a 16 Oz bottle, the True Glow heated lotion dispenser gently warms your body lotion within 2 minutes.
It works with your favorite body and hand lotion, allowing you to conveniently use it even after changing your moisturizer. Additionally, the heating element is put near the spot to avoid heating the entire container while in use.
Design
Created by Conair, the True Glow Heated lotion dispenser is one of the most affordable lotion warming machines on the market.
At less than 400g, the dispenser boasts of compact and portable construction, making it perfect to use around your house or office. Additionally, it can hold about 16 ounces of lotion, so you don't have to fill it every time you need to use it.
Pros
Holds about half a liter of lotion
Compact and portable design
Very affordable price
The lotion is spa warm within 2 minutes
Cons
The heating system switch is awkwardly placed
Verdict:
If you need a portable and efficient heated lotion dispenser without breaking the bank, the True Glow Lotion dispenser is your solution.
This simple and modern lotion-warming machine has enough space to accommodate about 500 grams of your favorite moisturizer, making it ideal for family or personal use. I would highly recommend it!
---
The Oil Warmer TOA single bottle heater quickly warms your lotion and maintains it at a consistent temperature for a pleasant application experience.
When used with massage oil, it takes about 20 minutes to heat, and it comes with automatic temperature control for a seamless operation. More importantly, it can heat up to a temperature of 60oc (1400F).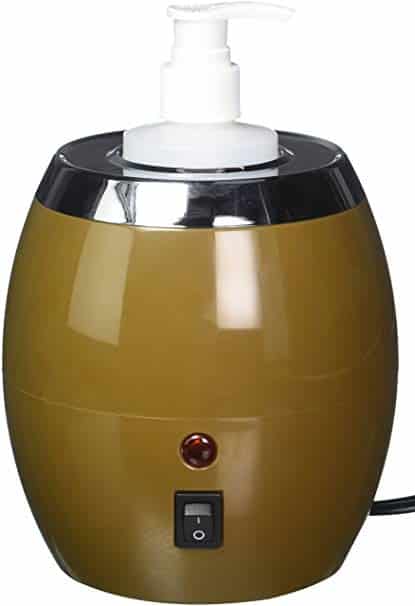 Design
Created in a compact design with an elegant look, this lotion-warming machine is handy for massage therapists and anybody who needs heated lotion.
It's a single-bottle lotion warmer that is compatible with your favorite cream, lotion, and oils, holding one 8oz bottle. However, the bottle is included in the package. Additionally, it features a simple power-on button with an indicator light to help you know when it's working.
Pros
Has an automatic temperature control feature
Elegant and portable design
Reasonably priced
Highly durable
Cons
Takes a bit longer to warm up the lotion/oil bottle
The lotion bottle is a little small
Verdict
Whether you're a massage therapist or you just need a simple lotion warming machine, the Oil Warmer Single bottle Heater is among the best.
This portable heated lotion dispenser helps to heat your lotion easily and maintains it at a pleasant temperature thanks to the auto shut-off feature. It's a must-have for any professional in the spa industry.
---
Design                                       
With stylish plastic exteriors, the Devlon Northwest lotion warmer has a smooth and modern look that will complement the aesthetic appeal of your bathroom.
The warmer works well with any 8oz lotion, and it also comes with a plastic oil bottle for you to use while warming your lotion or oil. Additionally, it comes with a power indicator alongside the power button for easy operation at any time of the day.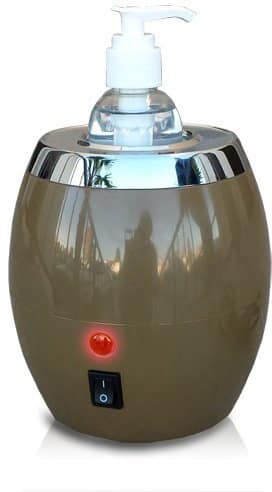 Pros
Stylish design with a simple interface
Automatic temperature control
Affordable price
Cons
Heats thick lotion slowly
No variable temperature control
Verdict
The Devlon Northwest Lotion bottle warmer is among the best baby lotion warmer in the market retailing at an affordable price.
This lotion warmer is ideal for spa or home use, allowing you to enjoy slathering your skin with warm lotion or oil within minutes. It may take a bit longer for a thick lotion to warm, but it gets your lotion ready within minutes. It generally works better than advertised!
---
These lotion-warming machines have all you need to avoid getting goosebumps when slathering on lotion. While warming your lotion, you can expect the HLD20P to heat it to your desired temperature within two minutes.
You can also adjust your lotion's temperature using the variable heat controller at the top, which is also another bonus feature. Additionally, it has a one-hour auto shut-off feature that makes it energy efficient.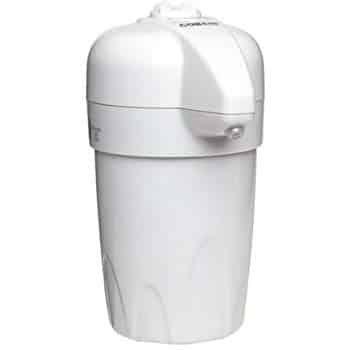 Design
The HLD20P is yet another high-quality lotion dispenser from Conair boasting of a simple design and great functionality.
As one of the most portable baby lotion warmers on the market, it weighs less than half a kilo and has a 16 oz reservoir. Moreover, its built-in sturdy plastic material makes it durable, and it won't easily break unless you drop it on the concrete from your bathroom cabinet.
Pros
Simple and stylish construction
Two-minute heat up
Energy efficient thanks to the auto shut-off feature
Variable heat control
Cons
Doesn't work well with a thick lotion
It was a little expensive
Verdict
Are you in search of the best baby lotion warmers on the market? Well, you can never go wrong with Conair.
The HLD20P is great for warming your lotion, especially on chilly mornings, and also allowing you to keep your child's skin deeply revitalized and moisturized. Moreover, its compact and highly portable so you can use it around your house or office. This bathroom lotion warming machine is truly exquisite!
---
How We Chose the Best Lotion Warming Machine
Before choosing any of the heated lotion dispensers listed above, it's essential to consider various factors to get a product that gives you the performance you desire. These factors include:
Capacity – While the capacity of your lotion dispenser may not be the first thing you consider when buying these machines, it should affect your choice. Depending on the number of users, you need your heated lotion dispenser to hold enough lotion for all the users in your household. Moreover, you don't want to refill your lotion dispenser every time you want to use it.
Source of power – Depending on your budget and use, you can choose between a rechargeable heated lotion dispenser and a unit that uses removable batteries. Whichever you choose, you can heat your lotion within two minutes, though some may take a little longer.
Design – Though your lotion dispenser's design doesn't affect its features or its performance, it's always good to have an aesthetically pleasing product. After all, you don't want something that looks hideous lying around your bathroom for whatever reason. However, a contemporary dispenser with a stylish design and a sleek profile would be a great addition to your bathroom.
Budget – depending on the amount you are willing to spend on a lotion warming machine, there are various products out there, ranging from cheap to expensive. Nevertheless, you can find a well heated lotion dispenser if you have a decent budget.
Durability – Just like other electric devices, heated lotion dispensers are prone to damage. Nevertheless, you want to buy a unit that will at least last for several years before you can buy a new one. That means buying a lotion warmer that boasts of robust construction with solid exteriors to protect it from damage in case it falls on your bathroom floor.
Pros And Cons Of Using A Heated Lotion Dispenser
As mentioned earlier, warm lotion allows your skin to enjoy a softer and silkier feel as it's deeply absorbed by your skin, leaving it revitalized.
Thanks to lotion warming machines, you can enjoy this luxury in the comfort of your home, without spending hundreds of dollars on spas and massage parlors. That saves you both time and money while giving you the pleasure of moisturizing your skin with warm lotion.
Heated lotion dispensers are also known to improve the soothing power of your ointment or lotion, making them great for home massages.
However, these innovative devices have various drawbacks, the main one being the cost. Aside from the cost, some lotion warmers may take a long time to warm the lotion, wasting both time and power.
Additionally, some lotion warming machines only warm a small amount of skin care product at a time to keep the whole bottle from drying out. That means you will be pumping out a single portion of lotion and waiting a few minutes for the next portion to warm.
Lotion Bottle Warmer
Multiple slot warmer: Master Massage Three Bottles Oil, Lotion, Cream Warmer Heater Salon Spa Body Therapy
This lotion-warming machine comes in handy for business use. It is an incredible selection for a spa and massage parlor due to its multiple slots that allow you to warm more than one lotion bottle at a time.
It has 5 different temperature settings to meet your preference as well as automatic temperature control that protects the bottles.
Design 
Comes in a portable and modern design structure. It comes as a 3 bottle lotion warmer with three high-quality removable bottles. The machine warms the three lotion bottles up to 60°C within 20 minutes.
Pros
It has up to 5 different temperature settings

Comes with 3-pieces removable high-quality bottles

Lightweight and portable
Cons
The size is constrained and can't hold bigger bottles

Higher energy consumption
Verdict
The Master Massage Three Bottles Lotion Warmer is an efficient and timely lotion warmer for spas, salons, and massage parlors. It saves time, cost, and stress of warming multiple times, giving you enough time to focus on what's more important.
How To Warm Lotion for Baby
The baby skin is highly sensitive and unlike the adult skin, it is much softer. Here are some of the easiest ways to warm up a baby lotion for use
Rubbing on the palm to generate moderate heat.

Use a lotion bottle warmer at low temperatures.

Warm up in a mug.
However, always test the temperature before using the lotion on the baby's skin.
How to Warm Lotion for Massage
There are a couple of ways you can get the lotion warm for use. Here are 2 easy options you can choose from:
Massage lotion warmers

: Simply transfer the lotion into the warmer container and leave for some time to heat up.

Hot Water Mug

: Place the bottle of massage lotion into the mug containing the hot water and leave for some minutes. Be careful though so you don't overheat the oil and cause hot water accidents.
DIY Lotion Warmer
Here's a quick way to make your lotion warmers at home.
What you need:
2 ceramic bowls (ensure one is bigger than the other)

Hot Water

Lotion
Step 1: Place the smaller bowl into the larger ensuring it is sitting into it.
Step 2: Fill the larger bowl with hot water without overflowing the smaller
Step 3: Pour the lotion into the smaller bowl to allow it to warm up to the desired temperature.
Are Lotion Warmers Worth It?
While it's certainly faster and cheaper to warm your lotion the manual way (using your hands or hot water), it's worth buying a lotion warming machine. Heated lotion dispensers make it easy to get your lotion to the right temperature, allowing you to avoid getting goosebumps or scalding when applying the lotion.
Based on our review above, we can highly recommend the Conair HDL20 for its sleek design and excellent functionality. The True Glow lotion heater is also an ideal choice while working under a budget, but you can also choose any of the other products above depending on your preference and style. You can also try warming your hot lotion water, but be careful to avoid burns.