The use of aftershave can be traced back to early Roman times. We can only imagine what those products were like, but like so many products, aftershave has evolved.
In its earliest forms, perhaps even the Roman versions, aftershave was purely an antiseptic.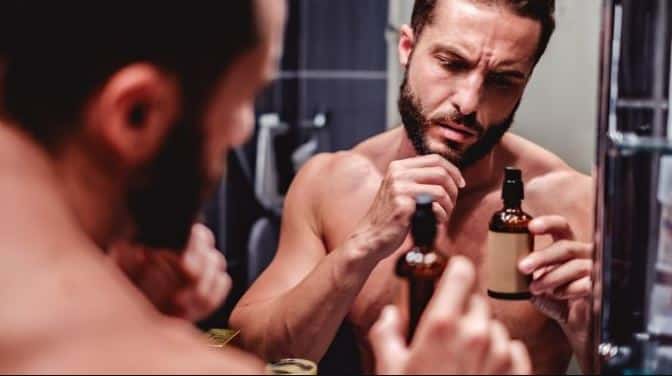 Usually containing large amounts of alcohol or witch hazel, it was intended to prevent infection in the cuts men would occasionally get while shaving.
The trouble was that it burned like the dickens, so men avoided it whenever possible.
The earliest scents to be added to aftershave were Bay Rum and Sandalwood, both quite masculine smelling, but neither did anything to reduce the sting.
Today, aftershave is still alcohol or witch hazel based to prevent infection and to act as an astringent to reduce skin irritation. Luckily, manufacturers have also learned to add lotions, gels, or powders to reduce the burn and moisturize your skin more effectively.
So What Does Aftershave Do Exactly?
In addition to removing hair, shaving does several things to your face. Most men use warm or hot water to soften their facial hair.
This also opens the pores of your skin. The pores are opened further by some of the ingredients in common shave soap and shaving creams. While you shave, you are removing hundreds of thousands of skin cells.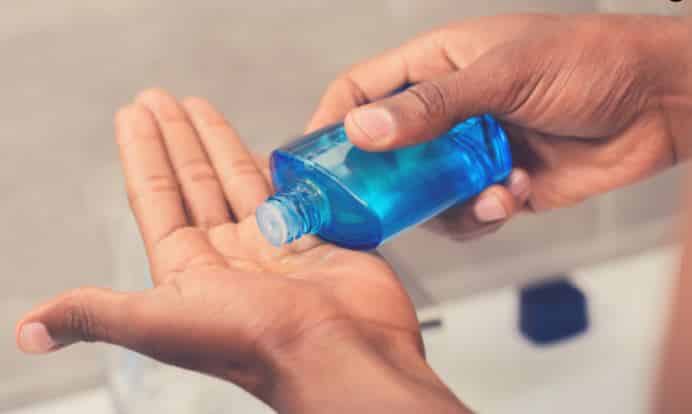 Many are already dead and your skin needs this exfoliation to remain in tip-top condition, but removing them exposes a raw, irritated second layer. This is the source of razor burn.
So, after shaving, you have pores that are wide open and irritated skin. Both are exposed to dirt and bacteria in the air. The alcohol or witch hazel base of aftershave will close the pores and kills bacteria on contact.
Both are great, but neither does anything to reduce skin irritation. Quite the opposite, alcohol and witch hazel are both irritants. That is where the other ingredients come into play.
Many manufacturers add aloe vera, oils, or balms of various types in order to alleviate the skin irritation that many men suffer from post-shave. In addition to eliminating skin irritation, some of these products act as a lotion in order to soften your skin in an attempt to reduce age lines and wrinkles.
Many aftershaves contain a fragrance. The scent is added in many ways, from essential oils to chemicals.
Despite being marketed as both a cologne and aftershave, they are not truly interchangeable products. You can check out our guide comparing aftershave vs eau de toilette to learn more.
Cologne does not have the antiseptic qualities of a good aftershave and, vice-versa, an aftershave does not have the long-lasting scent qualities and nuances of a good cologne.
Some Aftershave Recommendations
As with any other product, some aftershaves are better than others. There are five products that we think rise above their competitors.
Geo F. Trumper Skin Food is the product we consider the best of the best.
So Which Aftershave Should You Use?
Firstly, it's important that we point out that you should be very careful and take your time when purchasing aftershave.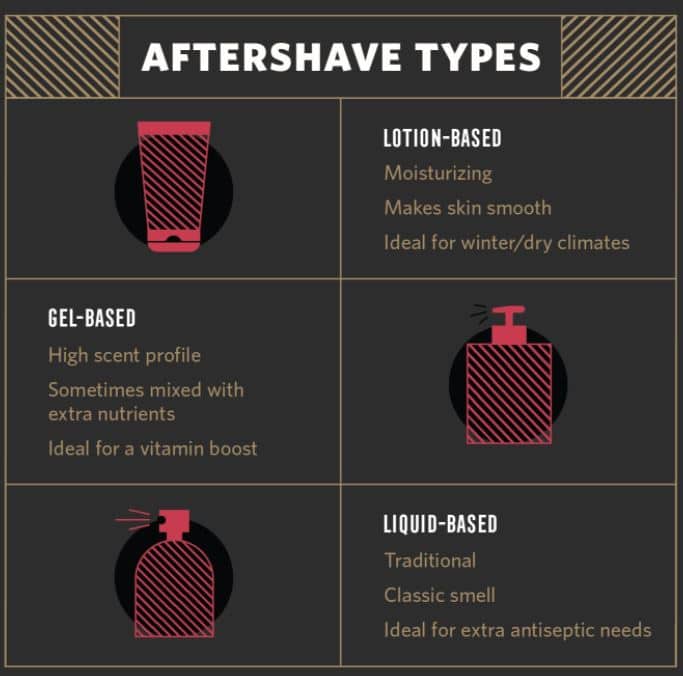 Being careful when purchasing aftershaves is important because most aftershaves contain alcohol. While alcohol does help to rid the skin of bacteria, it is very harsh and so it dries out the skin which leads to or even worsens the irritation.
In fact, in most cases, alcohol causes the skin to flake which can be rather unsightly. This can be particularly important if you have sensitive skin.
Using Witch Hazel: With sensitive skin, you need to be really careful with aftershaves with alcohol or avoid it altogether.
An excellent substitute for sensitive skin is witch hazel. Witch hazel is a natural astringent that is less drying than alcohol and it doesn't have that sting that alcohol gives. It also acts as an anti-inflammatory to soothe irritated skin. If you don't like or don't have witch hazel, there are many alternatives to witch hazel that you can use as well.
Tea Tree Oil: Another excellent option is tea tree oil. Like hazel, tea tree oil is a natural astringent and has antiseptic properties that won't have the same burning and drying effect as alcohol.
Aloe Vera: Another natural option is aloe vera. If you've ever used aloe vera on the skin, you'll know that aloe vera is very soothing. This is particularly important for people looking for a natural option.
Need Extra Moisture?
If your skin tends to be dry and so needs extra moisture, a good option is to look for aftershaves with vitamin E or another moisturizing oil.
Do You Need to Use Aftershave?
So one question that we get frequently is 'do you need to use aftershave?'. The answer to this question is that it depends.
You don't necessarily need to use aftershave but if your skin is prone to irritation, then you should use aftershave
. In fact, if your skin is irritation prone, ensure you get an aftershave with one of the natural additives (witch hazel or tea tree oil) mentioned above.
For irritated skin, the astringent properties in aftershave will help kill bacteria that cause redness, itching, and various forms of acne. In addition to aftershave, you can also use other natural substances; such as aloe vera.  These moisturizing agents will help soothe the skin, prevent irritation, and reduce redness.
additionally, please do not use expired aftershave. we have noticed many of our readers asking if aftershave can expire. So, does aftershave expire? Yes, they do, even though they last for a long time. However, refrain from using expired aftershave as it can be quite harmful.
---
How to Use Aftershave
The entire process of aftershave care should be:
Start by soaking a towel in hot water. The temperature should be high but bearable.
Place the hot towel on your face for a minute or so. Doing this will help to open up your pores.
Use a cleanser to clean away dead skin and clean the pores.
End with a cold towel. This process will close up the pores.
Finally, use aftershave to heal the raw shaved skin and further disinfect and close pores.
Finally, rehydrate with a good moisturizer.
Why Does Aftershave Burn?
Why does aftershave burn? Aftershave burns because shaving causes very small cuts and irritation to your skin and aftershave has antibacterial properties that burn or sting when it comes into contact with nicks and cuts. This happens whenever the underlayer of your skin is exposed.
Related Articles:
Shave Soap vs Shaving Cream: Head To Head Comparison