If you search for the best electric shavers for acne-prone skin online, you're not going to find a lot of products stating they're for men with skin issues.
Fortunately, there are shavers developed for men who are susceptible to acne, pimples, blackheads, and similar skin conditions.
We have to point out that not all shavers marked "for sensitive skin" are ideal for acne-prone skin. That's why we chose the two electric shavers below as they're tried and tested.
Best Best Electric Shavers for Acne Prone Skin On Amazon
---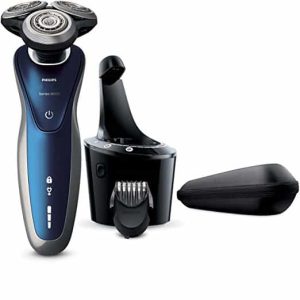 The Philips Norelco 8900 uses a sophisticated shaving mechanism to cut and trim facial skin hair.
The technology allows the 8900 to shave hair up to 30% nearer the surface, but it doesn't irritate your skin. The blades are also fortified for precision shaving with fewer strokes.
Features
The 8900 shaving head cuts hair 20% faster than ordinary shavers, and its head can move in up to 8 different directions. Its V-Track Precision Blades and Contour Detect Technology make this possible as the heads move freely along the contours of your face.
The 8900 doesn't just cut hair, as it also gathers hair so they're shaved in the best position possible. Unless the hair is collected first, there will be lots left behind after you shave. The 8900 does it automatically, making things easier for you.
The SmartClean system makes cleaning easy. You just press a button and it removes hair, gel, and foam using its unique dual filtration mechanism. The SmartClean system also provides lubrication for the blades to minimize friction and ensure optimum performance.
The shaver automatically charges at the end of every cycle so it's always good to go. There are few things more frustrating than a shaver that runs out of power, so this is one of the better features on the 8900.
The LED display notifies you if the battery power is running low. The display also lets you know if it's time to get a new shave head and if a travel lock is in place. With a travel lock, the shaver won't get accidentally turned on. If you travel a lot, this lock-on feature will be handier than you'd expect.
The SmartClick Beard Styler gives you five different trimming length options, allowing you to grow a short beard or stubble. With its comb and rounded tips, your skin is safe from irritation.  You'll notice that a lot of shavers have rounded tips, but few are as well implemented as on the 8900.
Pros
Quieter than other shavers
Follows the contours of your face
Quick charging
Has received a lot of positive reviews
Doesn't irritate your skin
Cons
Blade assembly needs to be taken to rinse the heads
Thick facial hair may require several strokes to get a smooth shave
Who is it Best For?
The 8900 is for men with sensitive skin, in particular, those vulnerable to acne. It is very good at giving you a close shave but it doesn't compromise or gets rough with your skin. This shaver is also for style-conscious men who want a shaver that works quickly and reliably.
If you have acne or other similar conditions, you'll notice the difference in the feel and operation. The 8900 just feels smoother on your skin and as reviewers have pointed out, it's not going to worsen your acne.
Verdict
The 8900 shaver manages to combine the best of both worlds, giving you a close shave while keeping your skin free from acne. Quick, efficient and safe, the 8900 is one of the best shavers Philips has made.
[optinform]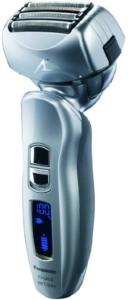 The Arc4 makes our list because it doesn't irritate your skin, but it still does a good job of shaving facial hair. The Arc4 also has high-quality foils, a versatile pivot head, and a powerful motor for the best results. The Arc4 has received a lot of good reviews and as we'll show there are good reasons why.
Features
The Arc4 system uses specially designed foils to collect the whiskers. The foils work in combination with the blades to cut hair close to the skin without aggravating your acne. These are Micro-fit Panasonic blades, and they're set in 30 degree angles for sharp, clean cuts.
The blades are designed to shave the hair in as few strokes as possible. The foils and blades are both made for sensitive skin, so they shave gently. This is important if you have acne because rough blades could irritate your skin. This is one of the features on the Arc4 that makes it attractive for those with acne.
The Arc4 has a Multi-Flex active head that allows it to move smoothly along the contours and curves of your neck, jawline and cheeks. The shaver head is cordless so you'll feel comfortable using it, and there's a pop-up trimmer so you can put the finishing touches on your facial hair.
A close look at the shaver's head shows that it curves. This design enables the shaver to cross along your jawline and chin without breaking. You can also move the Arc4 in circles, rotary style. With this kind of versatility, you can shave in different ways.
The Arc4 is equipped with a linear razor motor that's built for maximum performance. It is more powerful than a standard shaver and also has longer battery life. If you've had problems with shavers that die out quickly, this is what you need.
The Arc4 uses 30-Degree Nanotech Blades for cleaner and more efficient cuts. These blades are 100% hypoallergenic, stainless steel, and shaves at the root for the best possible results. With these 30 degree blades, you'll get a smooth, close shave without skin rashes or inflammation.
You can use the Arc4 n wet or dry conditions. If you're pressed for time you can use the Arc4 dry. When you've got the time you can shave with gel, foam or in your shower. Some guys prefer to shave dry while others are wet, but the point is you can do both here with similar results.
Pros
Blades are sharp and precise
Gives you a close shave without causing irritation
Foils and blades are hypoallergenic
Pivoting head is flexible
Long battery life
Cons
One reviewer said the blade dulls quickly
Some customers find the shaving head too large
Who is it Best For?
The Arc4 is one of Panasonic's most popular shavers, and it's perfect for males with sensitive skin as the shaving elements are hypoallergenic. This is also ideal for men with thick beard and who needs regular facial hair maintenance. The Arc4 is also versatile enough for shaving leg hair. Even if you don't have a lot of acne, you'll like the design of the Arc4 and how it shaves facial hair without fear of inflammation.
Verdict
The Arc4 is a remarkable electric shaver. It cuts beard, mustache, and other facial hair with ease, but it won't cause any acne outbreak on your skin. If your shaver is causing all kinds of skin problems and making your acne worse, the Arc4 is worth considering.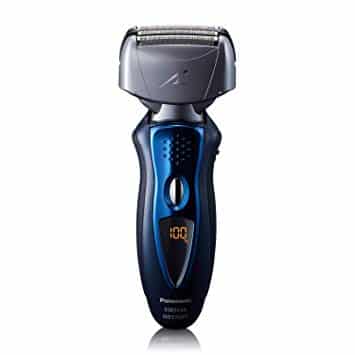 Micro-thin stainless thin foils; a high-performance linear motor drive; a flexible pivoting head and linear motor – all important features of the Panasonic electric that combine to give a quick, close, and comfortable shave.
It gets better because, for one, you are not likely to get skin irritation from using this shaver. Additionally, if you travel a lot, this shaver could come in handy because it comes with a universal dual converter and a travel pouch.
Features
With fewer strokes and in lesser time, the Panasonic ES8243A ARC4 electric shaver features micro-thin, stainless-steel foils that help ensure a very clean shave. This important feature helps prevent wear and tear on the
Another feature of the Panasonic ES8243A which gives that maximum closeness is its flexible pivoting head which glides evenly to shave the contoured parts of your face such as the chin, jawline, and neck.
For faster shaving, the Panasonic ES8243A features a quiet, high-performance, rechargeable cordless razor. The razor operates at a speed of 13000 cycles per minute, making it about 5 times faster than a 10,000-cycle-per-minute electric shaver.
There is a pop-up trimmer, which works particularly well for trimming and detailing the mustache and sideburn.
The Panasonic ES8243A with its curved razor electric shaver head, lets the shaving machine make even and effortless passes as it rolls along the chin and jawline area.
Another useful feature of the Panasonic ES8243A is its foil shaver. This feature allows the shaver's head to move in a circular motion for more coverage.
 Pros
Very well made and feels good in the hand
Gives consistent, even, and cleaner shaves
Will not irritate sensitive skin and leaves no rash on the neck
Always ready–saves you a lot of time
Waterproof–can be used in the shower
Versatile–can be used wet or dry
No razor burns
Easy to use and clean (no need for investment in cleaning fluids).
Cons
The storage case has no room for the charging cable.
No built-in stand.
The razor is somewhat loud.
Who Is It Best For?
The ES8243A is specially made for men with sensitive/tender skin.
This shaver is also for style-conscious men who want a shaver that can maintain their beard line.
The Panasonic ES8243A is also commonplace among bald-head shavers.
Verdict
Decent in price without compromising on efficiency, the Panasonic ES8243A is the shaver to have if you are prone to skin irritation.
If, however, you are not prone to skin irritation, you can use this shaver to put fine details to your beard or mustache, or to achieve a "socially acceptable shave."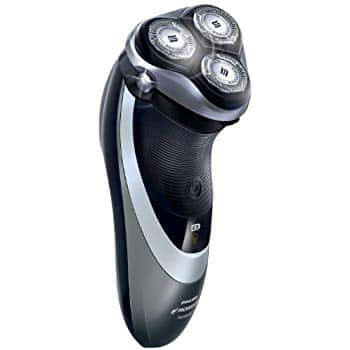 Whether you have chosen to use it wet or dry, the Philips Norelco shaver 4500 will render anyway. Add that to the one-hour timeframe it takes the Philips 4500 to charge fully for up to 50 minutes of shaving time.
And this is without mentioning the high performance of this device, which has been equipped with very thoughtful features that give a smoother and cleaner shave … at a fraction of the cost of other electric shavers in the same category.
Features
The Philips 4500 comes with dual precision shaving heads for longer hairs and short stubble. The whole head can move on a pivot, enabling the razor to perform well. That way you can get a clean, smooth shave in less time.
The Skin Protection System limits skin irritation.
The integrated pop-up trimmer effectively trims sideburns and mustaches.
You can clean out the hair chamber with the supplied brush instead of using water. The user manual provides instructions on how you can completely separate the shaver head from the razor.
The lithium rechargeable battery is supposed to last for about 50 minutes when fully charged. 3 minutes of charging from empty should give you a 5-minute shave.
The charging circuit turns off entirely after the battery is fully charged, so the razor does not consume any power if left plugged in beyond a full charge.
The charging indicator changes color to indicate when you can get at least one shave from the charge on the battery.
The battery can go from an empty to a full charge in one hour according to the user manual.
Pros
Quiet
Can be used wet or dry
No need for shaving cream or gel
Provides a fast shave that's also gentle on the skin
Provides a closer and smoother shave
Blade replacements are less expensive
Doesn't tug at hair or make a mess with the cuttings
Holds and delivers charge excellently
Good handling and gives a good, close shave
Cleaning is easy and convenient
Shaves faster and with little or no irritation.
Cons
Can't be used while plugged in
The razor does not have a replaceable battery
Rotation speed seems slower
No battery level indicator
No case or stand.
Who Is It Best For?
The skin protection system of the Norelco 4500 means it is safe for men with sensitive skin. And of course, you can use this electric shaver to trim hair off your head.
Verdict
A less expensive electric shaver, the Norelco 4500 also keeps you from spending money on shaving supplies. If you have acne or tender skin and are looking for an affordable electric shaver, this is it: a simple shaver that provides a good shave with full comfort.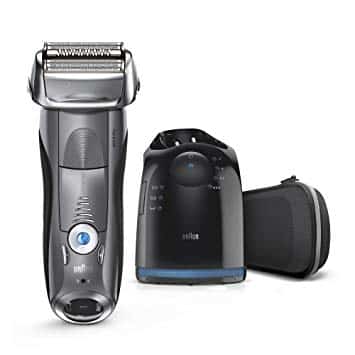 Do you want to take total control of your shaving?
When it comes to personalization and flexibility, there are very few shaves that come close to the Braun Series 7. If anything, this shave lets you adjust the power to your skin type and shaving style. Also, the Braun Series 7 quickly and automatically adapts to the features of your face.
Features
Because the Braun Series 7 is 100% waterproof, designed to top-notch German craftsmanship (and coincidentally made in Germany), expect this electric shaver to last you a long time (the manufacturer says seven years!).
The Built-in Responsive Intelligence feature (inclusive of its Sonic Technology which can deliver up to 10,000 micro-vibrations per second to reduce friction) of the Braun Series 7 also helps as it uses an advanced processing chip to accurately predict the amount of power that is required to give a cleaner, closer, and gentler shave on different areas.
The Braun Series 7 has three synchronized shaving elements and one skin guard. This takes care of those pesky whiskers and other finer hairs, thus letting you achieve a smooth shave with fewer strokes.
Have tender or sensitive skin? Like, one prone to acne or quick tear? No problem, as the five personalized shaving modes of the Braun Series 7 will let you adjust the razor power to your skin type and shaving style.
With the Braun Series 7 razor's skin-friendly precision trimmer feature and 8-D flex head, you will totally forget that you used to worry about tight areas such as under your nose or sideburns.
And you can trust the beast of a Li-Ion battery to serve you without fail. The battery charges fully in 1 hour and reliably delivers up to 50 minutes of shaving out of the plug. Charging is faster too, as a one-minute quick charge gives you up to 5 minutes of shaving time.
Pros
100% waterproof electric razor
Quick charge, longer shaving
Can be used wet or dry; foam or gel
Easier to clean
Cool-looking design
Gives a very close shave
Gives a comfortable shave (its massaging and pulsating motor makes this possible)
Cons
Replacement blades are difficult to find and can be expensive
A hard-to-read LCD screen
No travel lock
Some users of this electric shave reported that it dulls rather too soon
Some users have also reported issues with the cleaning station
Who Is It Best For?
The Braun Series 7 is good for just about every skin type, with great features for sensitive skin. You can choose one of the five power levels.
For men who possess light, sensitive beards, this product is suitable. It is also suitable for men with a medium beard.
Verdict
For men with light to medium beards, and particularly for men with very sensitive skin, the Braun Series 7 is a worthy companion.
Razors Vs. Electric Razors: Why Electric Razors Are The Best For Sensitive Skin
The reason electric shavers are the best for sensitive skin is that they leave no cuts, nicks and/or razor burns.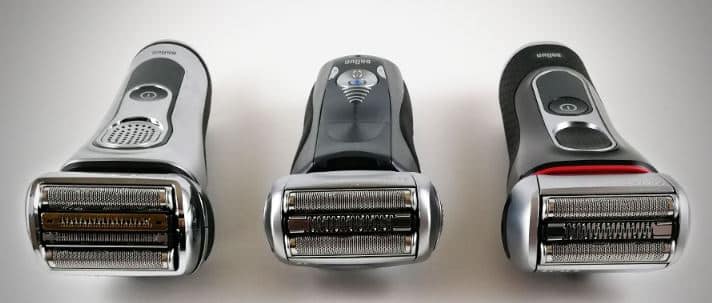 Prominent among sensitive skin conditions is acne. Since razor blades cut close to the skin, it's very easy to cut your acne accidentally.
Electric shavers are generally a lot better for shaving when you have acne because such a condition is factored into the overall product design.
Razor Bumps Vs. Acne
Razor bumps occur when hairs grow into the skin rather than up out of the pore. These ingrown hairs, because they share similarities with acne, can sometimes be mistaken for acne. Razor bumps are not the same as acne.
Acne, on the other hand, is when oily and small dead cells occupy the hair follicles. The end result is some white, dark dots here and there which can be quite painful. The face among other body parts is a known risk area.
Very Important Tips For Buying The Best Electric Shavers
Before buying an electric shaver, make sure replacement parts are readily available and affordable. (You can reach out to the manufacturer to ascertain this).
Also, some electric shaver manufacturers are just poor on customer support. Use your experience from inquiring about replacement parts to make your final decision.
Really Smart Tips For Getting Cleaner And Closer Shaves With An Electric Razor
The steps below assume that you have an electric shaver that can be used with shaving cream. This means that you have an electric razor of the Wet/Dry type that allows you to use shaving creams.
Before we get into it, we must first state that there will always be some days when your acne chooses to act up worse than other days.
Whenever this happens, it is best to avoid shaving altogether and let your skin's natural healing process take its course. This healing effect will soothe the breakouts and reduce the inflammation:
Wet Shaving: Wet shaving with an electric razor can vastly improve the comfort and closeness of your shave.
Shaving Cream: A quality shaving cream for sensitive skin will soften the hairs and provide lubrication, allowing the razor to cut the stubble efficiently and close to the skin.
Dual Foil: Buy an electric shaver that is suitable for your skin, hair type, and hair volume. You should probably consider a dual-foil shaver if you have very sensitive skin. A triple foil rotary head electric shaver is suitable for a wide range of beard types including those with longer stubble and sensitive skins.
Process: How To Use An Electric Shaver for Acne Prone Skin
1. Start By Prepping The Face: Never shave without prepping your face and neck if your skin is sensitive. First, prepare some warm water and gently splash it on your face. What will this do? It will dilate the blood vessels and therefore increase blood circulation to the skin. In addition, the warm water will hydrate your skin. The hydration will make your skin more supple and pliable. As you might have imagined, you can just shave in the shower as well.
2. Lather: You need a proper shaving cream for sensitive skin – a shaving cream that is both thin and creamy. Use it to lather the skin evenly – remember to coat the area well – but it should be thin. There are alternatives that are just as good as well, coconut oil is an excellent replacement. Lathering helps the shaver glide the skin and therefore reduce irritation.
3. Shaving With The Grain: Well you surely heard this one before, shave with the grain. It simply means you should shave your hair in the same direction it grows. if you do otherwise and try to get a very close shave, then you risk irritating your skin.
4. Aftercare: When you have finished shaving, ensure you use alcohol-free skin toner or an antibacterial gel, such as benzoyl peroxide and salicylic acid. Remember, the shaver would have aggravated the skin, so one of these products will prevent bacteria.
Finally, you need to be careful and not use an electric razor that is going to pull your hair or it will just worsen your acne. Check out our article on why your electric razor may be pulling your hair.
Conclusion
Acne is often triggered by allergies, and it's not just food. Oftentimes the soap you use or the shaver irritates your skin, triggering an acne outbreak.
A healthy diet, sufficient sleep, and a quality shaver can prevent this, however. Some guys prefer the Norelco while others go for the ES-LA63-S Arc4, but the truth is both are effective in keeping your skin blemish-free. To learn more about electric razors including foil razors and how they compare to rotary razors, go over to our article on how electric razors work.