The secret to looking younger is having great skin. There are many different skin types so that is why there are many different types of skin products also.
One product may be good for one person but not so good for another. It is very important to choose the right type of product for your skin type.
Many people have sensitive skin, so they need to buy products that are not so harsh for the skin. When a product, such as shaving cream, contains harsh chemicals that make contact with the facial skin, it can cause an allergic reaction.
Even though it is nearly impossible to completely erase the chances of an allergic reaction from happening, there are still, however, some ways to avoid it as much as possible.  Today we will discuss the different types of sensitive skin shaving creams available.
List of Best Hypoallergenic Shaving Creams: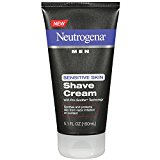 The Neutrogena Shaving Cream is specially designed for people who have sensitive skin.
It provides with a smooth shave and facilitates the razor blade by providing great lubrication to avoid cuts and bumps.
What makes this shaving cream more special is that it does not clog pores.
If the pores are clogged they get contaminated with sweat and other impurities on the face, these clogged pores cause acne and breakouts.
The Neutrogena not only does not clog pores but also contains ingredients that make the skin look healthy and nourished.
The Aveeno Therapeutic Shave Gel is also a very good product for people with sensitive skin.
This product contains many natural ingredients that are really beneficial to the skin. One of the ingredients is oatmeal, oatmeal is known to be a natural product that is beneficial for facial skin.
Many times the facial skin gets irritated because of the extreme dryness that it is suffering from. This product makes sure the skin is moisturized so that there is less dry skin that can cause irritation.
It is very important for a shaving cream designed for sensitive skin to avoid all unnecessary ingredients that could cause skin irritation. One of the ingredients that a sensitive skin shaving cream does not need is fragrance.
The Art of Shaving Shaving Cream provides us with unscented shaving cream to avoid harsh chemicals.
This product helps avoid razor burns and cuts by lifting up the hair and providing the blade a smooth glide on the skin.
This helps the razor cut the hair smoothly and avoids any pulling of the hair and removes irritation. Another way that this product avoids irritation is by acting as a moisturizer for the facial skin. A well-moisturized skin is healthy and smooth.
Traditional Shaving Creams For Sensitive Skin
In addition to everything mentioned, Proraso and Taylor of Old Bond Street are two traditional shaving creams that are good for sensitive skin. Check our article on Proraso vs Taylor of Old Bond Street to learn more.
Our Favorite:
Choosing the perfect shaving cream is a personal preference, but we do have some recommendations. If you're looking to spend a few extra dollars on your shaving routine and products, then it would be a good choice to go with The Art of Shaving Shave Cream because it is a product that will do a great job of protecting your skin from irritation because it avoids all that by lifting the hair on the skin and gives a smooth shave.
For someone who is trying to stay more under budget should go for the Aveeno product, as it is a decent-sized amount for a few dollars and it is very suitable for sensitive skin because it reduces dryness and moisturizes the skin.
A more mid-level product would be the Neutrogena Shaving Cream because it lasts long and is only requires a little bit of the product.
As it would not clog the pores it is suitable for sensitive skin and will give less irritation while shaving. Moreover, the right shaving cream can prevent shaving cuts which can be dangerous.