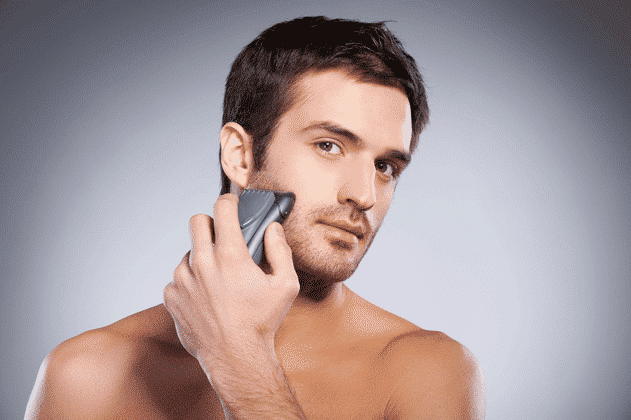 If you're reading this it means you're looking for the best wet dry electric shaver,
and that's exactly what you're getting here.
Like you, we prefer the convenience of being able to shave in wet or dry conditions, so we went online and picked out the top 3.
Panasonic ES8103S Arc3 Men's Electric Shaver Wet/Dry with Nanotech Blades
Click here to see reviews and prices on Amazon.com
The Arc3 shaver is filled with features to give you a comfortable, smooth, close shave. The ES8103S uses a 3 blade system to deliver the best possible shave, and the design provides wider coverage than other shavers.
Features
The shaver head moves up and down and side to side, making it easy to follow your face's contours.
The blades are stainless steel, set at 30-degree angles, and nano polished to ensure precision. These blades are also hypoallergenic.
A 13,000 cycle per minute motor powers the shaver.
There are three floating multi-arc blades integrated into the shaver for a smooth shaving experience.
A pop-up trimmer is included, designed specifically to groom your sideburns and mustache.
The ES8103S is 100% designed for wet and dry weather use, and you can use gel or foam if you like.
Pros
Removes fine hair easily
Solid construction
Provides a close shave
Easy to clean up
Shaver's head is flexible
Cons
Battery life is just average
Very thick hair may require multiple passes
Who is it Best For?
The ES8103S is for men who want a close smooth shave, and it's also ideal for shaving stubborn hair around your neck. Performance and results are the same in dry and wet conditions so that shouldn't be a concern, and women can use the ES8103S too.
Verdict
The ES8103S is a versatile shaver and packed with some really useful features. The blades are precise and shaving around the chin, sideburns and other areas of your face produce good results, so we recommend it.
---
Braun Series 3 3040S Wet and Dry Waterproof Foil Cordless Shaver for Men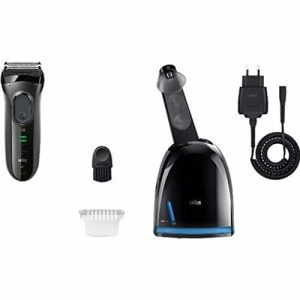 Click here to see reviews and prices on Amazon.com
The Braun Series 3 3040S is a good example of a quality shaver. It is built for efficient sideways movement, giving you complete control and accuracy with each stroke. Like other Braun foil shavers, the 3040S protects your skin.
Features
The 3040S has a triple action cutting system, allowing it to cut short and long hairs with each stroke.
The shaver uses Braun MicroComb technology to direct hair into the cutting mechanisms, shaving more hair without triggering any skin allergies or rashes.
Pros
Great for close shaves
Follows the contours of your face without cutting the skin
Cuts short and long hairs well
Comfortable to hold
Shaves hard to reach areas
Cons
One customer review says the design style isn't as good as other shavers
Shaving cassette quality could be better
Who is it Best For?
The 3040S is for men who have had trouble shaving short hair around the neck and jawline, as the shaver reaches those areas quickly. It's also perfect for men with sensitive skin and thick facial hair.
Verdict
The 3040S is one of the better shavers that Braun has manufactured, and it's comparable to high-end shavers in terms of performance. If you're looking for a practical shaver, this is as good a choice as any.
---
Philips Norelco Electric Shaver 5100 Wet & Dry, S5210/81, with Precision Trimmer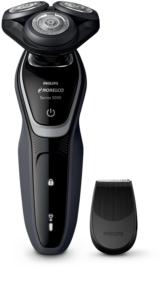 Click here to see reviews and prices on Amazon.com
The Norelco 5100 is a high-quality shaver that makes shaving quick and comfortable. Its main feature is the MultiPrecision blades which remove short and long hairs, giving you a smooth, close shave.
One great feature is that it works well with shaving creams. For people who ask the question do you need shaving cream with an electric razor, this one works well because it is both used for dry and wet shaving.
Features
Its MultiPrecision Blade System provides a close and quick shave, as each blade is designed to remove stubble and short hair. Unlike other shavers, it's only going to take a few strokes.
LED Display: the 5100 LED shows important information, ensuring you get maximum performance each time you use the blade. Indicators for replacing the head, cleaning, and travel lock and battery level are shown.
Its Super Lift and Cut Action dual blades allow for quick, close shaving. At each stroke, the first blade lifts the hair and the second cuts under your skin, giving you smooth results.
Quick Charging Time: the 5100 has a lithium-ion battery charger for long life. A full charge takes just 1 hour and is good for 40 minutes or roughly 14 shaves. If you just need one quick shave, a 5-minute charge will give you enough power.
Easy Cleanup: just open the heads and clean with water.
The 5100 has a SmartClick trimmer to finish your shave. A click brings up the trimmer for easy sideburns and mustache maintenance.
Aquatec Wet and Dry: with the Norelco Aquatec technology you can shave in wet or dry conditions. You can shave while in the shower, with gel, foam or do a quick dry shave.
Its heads move in different directions, which leads to quicker and closer shaves.
Pros
Shaves beard quickly
Easy to clean
A single charge is good for several sessions
Works well with shaving cream
Cuts long and short hair quick
Cons
Not the most ergonomically designed shaver
The 5100 shaver runs only in cordless mode
Who is it Best For?
The 5100 is ideal for men on the go, as the blades provide a quick and reliable shave. This also a good option for men who shave their beards regularly, and it's also for men who prefer wet shaving as it is waterproof. Just like the other Norelco shavers, 5100 can be used by women to shave.
Verdict
The Norelco is another good shaver from Philips, and its speed is one of the best in its class. If you're in the market for a shaver that can do the job quickly, the 5100 should be on your watch list. In short, this is a good buy.
Conclusion
What sets a great consumer product apart from the merely good is convenience. With shavers, there's nothing more convenient than being able to shave in dry and wet conditions. That's why we picked these 3 out, so no matter what the circumstances are you'll be able to shave.