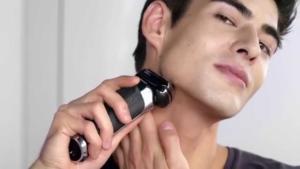 Braun makes a lot of quality shavers and while that's a good thing, it does present the problem of deciding what to buy. To make things easier for you, we have gone over several Braun shavers and picked the top three. By examining their features and pros cons, you'll be able to tell the difference and what the best Braun shaver is.
Braun Series 7 790cc-4 Electric Foil Shaver for Men with Clean and Charge Station
Click here to see reviews and prices for the Braun Series 7 790cc Shaver on Amazon.com
The Braun Series 7 offers close shaves using the latest technology to keep you comfortable. The 790cc-4 in particular has been designed to remove lots more hair in a single stroke, but there's more.
Features
Four Shaving Elements: each element is designed for a specific facial hair type, which allows it to capture hard to remove hair in a single stroke. This reduces the amount of strokes too, saving you time.
Sonic Technology: Braun's Sonic Technology adapts to your beard thickness so if you've got a thick beard, more power is automatically supplied.
Multiple Shaving Modes: there are five modes to choose from, including Turbo and Sensitive. With the press of a button, you can fine tune the shaver to suit your skin type.
Adaptability: the Series 7 have 8 D contour adaptation, and its flexible head allows it to move along gently on the contours of your skin.
Waterproof: the Braun is 100% water resistant up to 5 meters, making it easy to rinse and clean the shaver after use.
Pros
Shaves cheeks and above the lips very well
Doesn't cause any skin irritation
Solid construction
Instructions are easy to follow
Lightweight
Cons
Long stubble is sometimes left on the neck area
One customer said it takes effort to shave under the chin and neck
Who is it Best For?
The Braun Series 7 790 is an all-around shaver for men with sensitive skin. This is also the perfect shaver if you like a close shave without worrying about skin allergies or irritation. This is also for women who want a dependable shaver for their legs.
Verdict
The Braun Series 7 790 is an exceptional shaver and provides just the right mix of performance and comfort. It uses the latest technology but doesn't compromise when it comes to the results, so it's a good choice.
Braun Series 3 3040S Wet and Dry Waterproof Foil Cordless Shaver for Men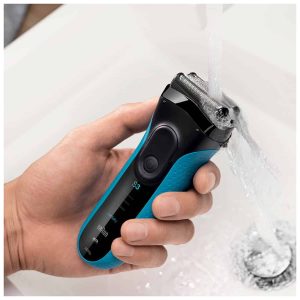 Click here to see reviews and prices for the Braun Series 7 790cc Shaver on Amazon.com
The 3040S is ideal for men who need a close and fast shave. The Series 3 is feature packed and is versatile enough for use with gel or foam though it's not necessary. Let's take a look at its other features.
Features
Its SensoFoil engineering allows for smooth, close shave without irritating your skin.
Its MicroComb technology pulls hair in, allowing the 3040S to cut 3 beards without causing skin redness.
The 3040S has three cutting elements, and each one contours to the curves of your face.
You can shave with the 3040S wet or dry. Some prefer one or the other, but either way you're going to get the same results when shaving.
The 3040S uses a rechargeable Ni-MH battery so you don't have to keep replacing batteries.
The 3040S is ergonomically designed for convenient use.
Pros
Comes with a pop up trimmer
Comfortable to hold
Can be used for dry and wet shave
Produces a close shave
Shaving cream not needed
Cons
Takes more effort to press buttons than previous models
May take repeated strokes to cut jawline and neck hair
Who is it Best For?
The 3040S, like the others in the Braun Series 3, is for men with thick facial hair. This is also for men who are on a budget but don't want to compromise when it comes to results. An all-around shaver, women will find the Series 3 ideal for shaving their legs too.
Verdict
The 3040S is an affordable but effective shaver. If your old electric shaver doesn't provide the results you want, give the 3040S a try, as a lot of men find it satisfactory.  There are a lot of shavers that claim to be versatile but the 3040S is one that truly delivers.
Braun M90 Mobile Shaver, 1 Count
Click here to see reviews and prices for the Braun M90 Mobile Shaver on Amazon.com
The M90 is a lightweight, portable shaver that allows you to shave any time you want. Compared to other bulky shavers, the M90 is versatile enough to be used at home, work or on the road.
Features
The SmartFoil has a distinct foil pattern that simplifies removal of hair in various locations. The wide and flexible foil adapts to your face's contours, giving a smooth, comfortable shave.
A long hair trimmer is included, which makes it easy to maintain your sideburns and moustache.
The shaver can be cleaned with running water.
When you're not using the foil, its twist cap provides protection. The twist cap also serves as a handle extension, making it more comfortable to hold.
There is no need for a plug as the M90 uses batteries (included). The running time is 60 minutes.
Pros
Portable and can be used anywhere
The compact beard trimmer is great for touching up
Its floating foil is wide
Razor is easy to wash
The trimmer is precise and works great for long hair
Cons
Requires batteries to run so it is not rechargeable
Doesn't come with a razor head cover
Who is it Best For?
The M90 is best suited for men with short straight hair, and it's also for men who prefer to use a foil razor rather than a rotary type. Men who prefer a portable shaver will like this too. The M90 is also effective for men whose skin get irritated with rough razors and want something more soothing and comfortable.
Verdict
The M90 may look like one of the simpler shavers in the Braun Series, but it's actually one of their more efficient products. If you want a close shave without having your skin scratched on a budget, the M90 is worth a look.
Conclusion
Braun is one of the most popular shaver manufacturers today, and that's not surprising   given how varied their products are. You could easily spend hours deciding what to choose, but we're confident any of the three shavers here will meet your requirements.