Thanks to today's amazing electric razors that have made shaving easy and enjoyable by ensuring a perfect shave. But it's hard to maintain them if you don't know when to replace their blades. hence, read on to find out how often you should replace the shaving heads of famous Norelco electric razors.   
In general, Norelco shaver heads should be replaced at least once every 4 months, especially if your hair is very thick or very coarse. However, if the shaver is lightly used and your hair is not thick, it can last put to 12 months. 
Let's find out more about Norelco shavers.
When To Replace The Shaving Heads Of Norelco Razor?
Among all popular electric shaving razor brands, Norelco has gone ahead because of its efficient, affordable, and easy-to-use electric razors.
Their razors have sharp shaver heads that work like razor blades in giving fine, smooth, and safe shaving results. Besides cleaning them regularly, it's important to replace the Nolecro shaving heads about once every 4 to 12 months for maintaining their efficiency.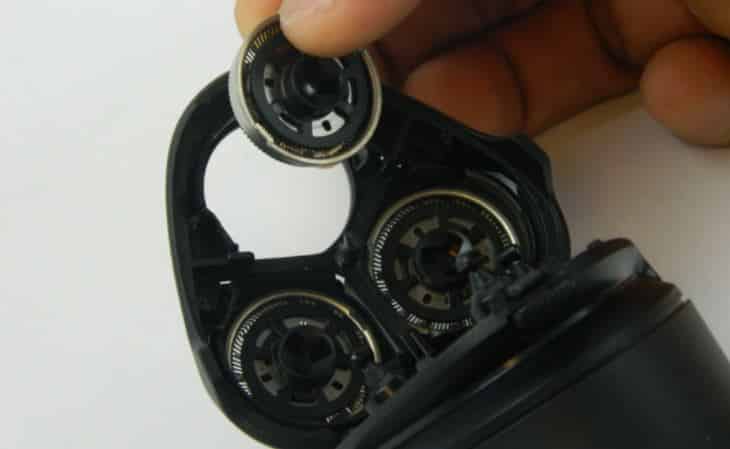 Please note that it is only a general estimation that is mentioned in the manual guide from the Philips Norelco brand. Following this good rule of thumb has actually worked for a majority of the Norelco electric razor users.    
Of course, it also depends on how often you share your head.
Should I Follow This Rule?
You don't need to implement this suggestion even if you can see a lot of dirt between the razor blades.
In that case, you should instantly replace the shaving heads of your Nolecro electric razors. The time limit of 12 months can be both increased or decreased depending on your ease and frequency of shaving with the razor.
For thick and rough hair, the shaving heads are likely to get easily clogged up with hair and eventually lose efficiency and around 4 months would be a better timeframe for replacement. Whereas, the 12 months time frame for replacing the shaving heads is ideal if you have sparse and soft-textured shaving hair. This is especially if you have to think uneven hair. 
Whatever the case may be, don't replace the shaving heads unless you identify these signs in your Norelco shaving razor:  
How To Know When To Replace Your Norelco Razor Shaving Head
1. No Close-Shave  
A close shave means cutting the hair close to the skin which will help with reducing the chances of nicks and cuts during shaving.
After some time, electric razors will hardly give close-shave results mainly because of dull blades. Sometimes the razor may give a close shave at one area on the face but not at another area.  
2. Effortful shaving:   
Electric razors are known for offering a smooth and effortless shaving experience. However, old or heavily used electric razors may start asking for more effort and concentration while shaving.
The blades often get less effective and tugs or pull the hair that makes shaving horrible. If you notice this change in your razor, make sure you look at this shaver head to know the reason   
3. Excessive heating: 
Unlike other razor types, electric razors have a small DC motor that runs on the electrical power provided by wire or rechargeable batteries.
A new electric razor offers increased running times without getting hot. While blades that usually experience wear and tear can develop friction that not only heats the motor but also takes a long time to shave.   
4. Ease and comfort:  
Electric razors that are roughly used for a long time can't offer comfort while shaving. This means you would need to apply extra pressure and pay more attention which would make your shaving experience terrible.   
Norelco Shaver FAQs
Can I Replace The Battery In My Norelco Shaver?
Yes, you can replace Norelco Shaver batteries, but the batteries are usually soldered to the board so you will need to use a soldering iron to remove the old batteries and install new ones. You can find replacement batteries on online storefronts such as baif.com
What Does Orange Light Mean On Norelco Shaver?
The orange light on the Norelco Shaver is the battery symbol that indicates the charging status of your shaver.
The light comes on and blinks orange when the battery is about to run out. Once the battery is fully charged, the light stays on for 15 or 30 minutes and then automatically turns off.
How Do I Know If My Norelco Is Charging?
When charging, the indicator on your Norelco will start flashing. Once the shaver is fully charged, the charging indicator will light up for approximately 30 minutes and then automatically turns off.
Is Philips Norelco Oneblade Good For Pubic Hair?
The Philips Bodygroom is a great choice for pubic grooming. The "body" section is really just a skin guard for sensitive areas such as the pubic region.
Can The Norelco Shaver Get Wet?
Norelco Shavers are most effective on dry skin, but you can use them on wet skin (some Norelcos have a dry/wet shave feature), or even with shaving gel or foam.
Actually, you can even use it in the shower because it is waterproof.
How Long Does A Norelco Shaver Last?
It is a general suggestion from most brands that foils and blades should be replaced about a year to a year and half after use to ensure your electric shaver continues to perform as optimally as possible.
Does Norelco Shaver Get Dull?
Yes they do, it may just take a while. The blades have to be replaced as often as they get dull. Although the shaver itself is very durable and can work for years without issue, the blade can become dull with use or can even rust and so need to be changed regularly to prevent shaving accidents and keep the shaver in prime working condition.
Are Norelco Shavers Self-Sharpening?
Self-sharpening is a feature that comes with its travel mode, which ensures that The Philips Norelco shaver blades will provide a great shaving experience for up to a year, which is ideal for people who have to be frequently on the move.
Are Norelco Shavers Waterproof?
Yes, they are. Waterproof shavers are indicated with a printed bath or shower symbol on the back of the shaver, which tells that they are safe to be used in showers (although it's best not to dunk your shaver in an actual bath).
How Do You Shave With A Norelco Electric Shaver?
Here is how you shave with the Norelco Electric Shaver:
If your Norelco has a wet shave feature, dampen your skin
Apply a thin layer of shaving cream, gel, or foam to your skin
Turn on the shave
Run the shaver over your cheeks and jawline in both circular and straight motions. Make sure you work the shaver against the grain, or growth, of the hair
Conclusion
Using an electric razor with dull or inefficient shaving blades is not worth it when you can replace them with new ones. Don't delay in performing this important maintenance step of your Norelco razor to increase its lifespan and durability for the next shavings.