There are two essential methods men use to shave their facial hair – the dry or wet method. Most people, however, prefer wet. For wet shaving, you can use several products to do that, the oldest being soap. In this article, the focus is on gel and foam.
Shaving foam provides a heavy lather, but shaving gel is more lubricating. In addition, shaving gel is transparent, so you can see the skin underneath which helps when shaving.
Shaving Gel vs Foam Comparison Table
[table id=8 /]
Shaving Foam 
Shaving foam is a lubricating substance applied to the face when shaving to avoid razor burns while providing moisture to the skin. They are always available in tubes that you can squeeze into your hand. Some of them come in aerosol spray cans.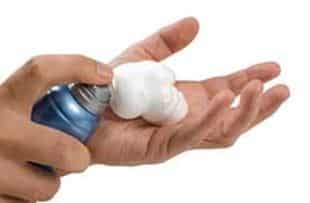 Shaving foam is always already turned to lather; hence no need to work it again; you put it on your hands and smear it on your face. You can also use a brush to spread it.
Pros
Shaving foam contains ingredients that soothe, moisturize, and nourishes your skin hence protecting you.
It has a thick layer that efficiently protects your skin from razor burns when shaving the face.
Shaving foam is a ready-to-use product since it is already turned into lather hence reducing the work done.
You can use it to remove a stain from your shirt by simply adding a little of it on the spot for 15 minutes and then rinsing it off.
With shaving foam, you run a low risk of your shaving razor clogging. This makes it easier to clean your shaving tools which in the long run increases the shaving blade's life span.
Cons 
Shaving foam may give a thick lather, but in the end, it is always messy. After use, you have to ensure that you clean the shaving blade thoroughly by rinsing it well. Also, the thick layer may form a shaving barrier.
There is a possibility of allergy caused by the ingredients used, such as aluminum.
The shaving foam is most likely to be washed away easily by water, thus making the shaving cumbersome.
For you to have a good lather, you still will need water.
Shaving Gel 
Shaving gel is another alternative for those who prefer wet shaving. This lubricant comes as a gel that is applied on the face while shaving, and it is always translucent. The shaving gel provides a moisturizing effect to the skin and prevents razor burns. It always comes in tubes that you can squeeze.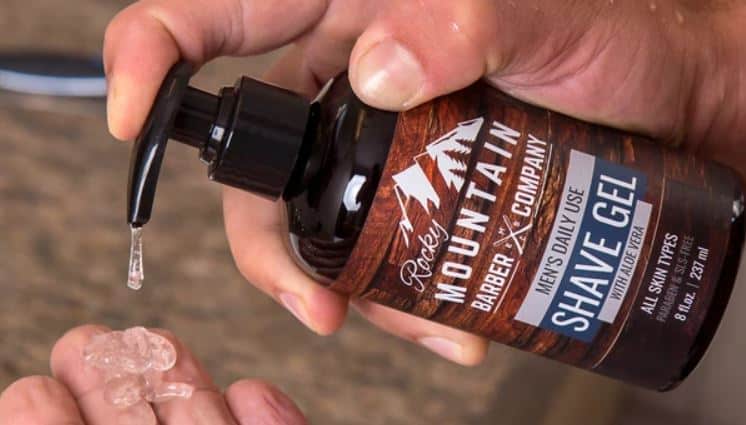 Unlike shaving foam, you have to lather shaving gel by rubbing it on your palm before spreading it on your face. Alternatively, you can use a shaving brush for this purpose.
Pros 
Because of its translucent nature, one can easily enjoy visibility of their area of work. You will be able to see which parts are already shaved and which one is not. This visibility further gives you a chance to do proper shaving even if you are trimming the beards.
Shaving gel contains ingredients that hydrate your skin, leaving it healthy and refreshed even if you have dry skin.
Shaving gel softens facial hair.
Because of its common nature, you can easily purchase shaving gel from any shop or supermarket countrywide.
Using shaving gel is a good way to prevent shaving cuts because the gel is transparent.
Cons 
Just like shaving foam, shaving gel can clog your shaving razor, especially if you are used to creating thick layers.
Shaving Foam Vs. Shaving Gel Overview

Lather
As you may have noticed, shaving gel and shaving foam vary in a lather.
Shaving foam, it is already made in a lather. However, you are required to apply a little water to it for the best experience.
On the other hand, shaving gel is thick; hence you only need to rub it on your palm or use a shaving brush to apply it.
Since most people shave their faces in the morning and depending on your schedule, you may need a shaving lubricant that does not consume your time by requiring you to add water for a better lather.
No Water Shave
Some people do not like to use water while shaving as water may leave their skin irritated, and itching and they prefer shaving lubricants that do not use water. In this case, shaving gel would be ideal as there is no water use, unlike shaving foam. This also speeds up your process of shaving in the morning amidst your tight schedule.
Fragrance
Most fragrance products may give the skin an irritating effect; hence when choosing a shaving lubricant, always go for a less subtle fragrance.
Research shows that most shaving gels today have no fragrance in them, thus making it your best morning shaving lubricant.
Most shaving foams have fragrances laced in them. A significant challenge here is that sometimes the chemical used to make the fragrance may not be known to you; hence high chance of causing allergy and irritation of the skin.
Price
We all need products that help us save money. Shaving gel and foam differ significantly in their retail prices. To determine the best outcome for you, consider your shaving frequencies, as this will help you make an informed decision.
Because of the wide use of shaving gel, they have a higher shelf price than shaving foam.
Hair Softener
Soft hair is pretty easy to maintain, and hence you need a product that can do that right for you. For those men who have stiffer and coarse hairs, which are always very difficult to cut down, shaving foam is enriched with ingredients that can get deep in the hair shaft, thereby softening it. This makes it much different from the gel.
Easy Usage
While shaving gel may look easy to use since you do not need to add water, rinsing may be difficult, especially if water is used. On the other hand, shaving foam is easy to apply and rinse off but not so easy when cleaning the shaving equipment.
Glide
Glide can be said to be the ability of the shaving razor to move the razor on your skin. This process should be effortless, and as such, you need a product that can help you in that.
Both shaving gel and foam are in a position to provide a good glide. However, those who use shaving gel are likely to have ingrown hairs and razor burns because the gel tends to form a thick barrier between the skin and the shaving razor. Therefore, you have to get to know your skin type.
Which Shaving Gel Is Best?
1.      Best Shaving gel for sensitive skin: Gillette Satin Care Women's Shave Gel, Ultrasensitive
This gel is praised for being both affordable and convenient to use. It smells so great and works right for people with dry and sensitive skin. Also, despite being marketed as women's, the gel works really well for men too.
2.      Best Shaving gel to buy in bulk: Gillette Series Shaving Gel Sensitive Skin
According to many happy users, this gel works pretty well for men with sensitive skin too. Besides, it's very cheap, does not clog multiblade razors, and helps you get a shave free from cuts.
3.      Best Shaving gel for dry skin: Skintimate Raspberry Rain Shave Gel
Apart from helping you get a safe, close shave, this gel hydrates dry skin and makes it silky soft after the shave. Besides, it's very affordable.
4.      Best fragrance-free shaving gel: Aveeno Therapeutic Moisturizing Shave Gel
It's true some people try to avoid fragrances like plague. For such people, this shaving gel will be a priceless gift. It soothes the skin and is an excellent barrier between the razor and the skin.
Shaving Gel Vs. Foam, Which Is Better? 
Both shaving gel and foam have different properties that make them suitable for various shaving conditions. Therefore, it is not easy to say that one is better than the other as use conditions may vary. Whichever of the two you choose, it should be friendly to both your pocket and your skin as you shave.