Nothing can be comparable to the effect of shaving cream after shaving. Proraso and Taylor of Old Bond Street are the two famous names in the world of shaving creams. But, choosing one or the other is always a tough call. In this article, we'll discuss which one is the right fit for you. 
Taylor of Old Bond Street (TOBS or TOOBS) is a centuries-old classic shaving cream that is great for wet shaving with a consistency somewhere between a soft cream and a harder soap that creates a nice lather quickly. Proraso is well known for its fresh and modern eucalyptus scent. Proraso is a little harder than TOBS.
Taylor of Old Bond Street Sandalwood Shaving Cream Bowl, 5.3-Ounce
Proraso Refreshing Shaving Cream for Men
Taylor of Old Bond Street Sandalwood Shaving Cream Bowl, 5.3-Ounce
Proraso Refreshing Shaving Cream for Men
Proraso vs Taylor of Old Bond Street Fragrance and Ingredients
Taylor of Old Bond Street Fragrances
Taylor of Old Bond Street offers a good range of flavors that goes beyond the staple sandalwood to include exotics like grapefruit and limes as well as notes of geranium, rosemary, lavender, and liquid amber.
In fact, you will also note hints of fern and orange blossom resting with a base of sandalwood, patchouli, vetivert, powdery musk, and rock rose.
If you have sensitive skin and usually don't like heavy shaving cream fragrances, TOBS is normally still ok for most men.
In reality, their range goes far beyond sandalwood and into exotics like grapefruit and limes. But sandalwood is always a classic. It is rich without seeming overly opulent and creates a nice lather quickly with a brush thanks to its softness.
Proraso Fragrances
Proraso is well known for its string, modern Eucalyptus tones. In addition to smelling great, it also helps to tone and purify the skin had facial hair.
The addition of menthol also helps to add a cool and refreshing effect that also revitalizes the skin.
However, the Proraso formula is actually vegetable stearin-based enriched with botanical and natural oils to protect the skin when shaving, leaving it soft and hydrated.
In addition, Proraso also provides options for red which is sandalwood, along with white and blue varieties.
Proraso vs Taylor of Old Bond Street Fragrance Hardness
Both Proraso and Taylor of Old Bond Street produce a thick, creamy, soft lather. However, when it comes to hardness, Proraso is a little harder than TOBS because it is created using the Italian hot soap process. This process is a rigorous soap-making process, which results in an ultra-rich soap.
Is Taylor of Old Bond Street Good? 
Men love shaving creams to reduce irritation, soften the bred bristles, and add an extra layer of protection between the razor and the skin.
From being high quality and proving great for a safety razor to making rich lather, they're the ideal skin lubricant for shaving everywhere.  
How Does Taylor of Old Bond Street Work?  
Men say that shaving cream works magic on the skin and smoothly glides the razor over the face. Not only is it easy to apply on the skin, but it also gets easily absorbed without creating any sticking mess.   
How Long Does Taylor of Old Bond Street Last?  
Most of the shaving creams from Taylor of Old Bond Street have a life span of about 6 months. With high lubrication and perfect quality, their shaving creams are definitely worth instead of having a dozen other shaving lubricants.   
Being a traditional English Classic, Taylor of Old Bond Street has shaving creams for everyone's taste in scent. From rose, coconut, sandalwood, limes, and grapefruit, there's hardly any exotic flavor that you won't find here.   
It is because of their wide range of exotic rich fragrances that has made Taylor of Old Bond Street a here-to-stay brand for shaving creams.   
Does TOBS Create A Rich Lather?  
Without being overly opulent, the shaving creams are rich in fragrance and quality creating a nice lather in a matter of few minutes.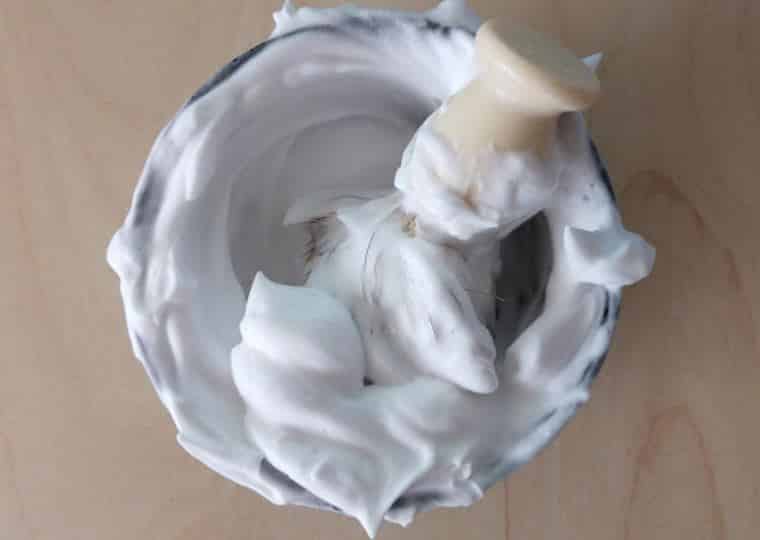 Thanks to its ultra-softness and high-end ingredients that give shaving results like no other shaving lubricant.   
Is Proraso The Best Shaving Cream?  
We say definitively that it's the best shaving cream, but Proraso is undoubtedly your old-school nostalgic slick shaving creams that create a thick lather on the face. Originating from Italy, the brand has shaving creams that date back to 100 years old wet shaving regimens.
Till today, Proraso has kept its roots intact in only using the quality ingredient in the making of its shaving creams. Its unique, traditional, and effective recipe for shaving creams has passed from generation to generation of wet shavers.   
Some of its key ingredients include eucalyptus, menthol, and glycerin, giving a refreshing sensation with only in few whips. Not only the effect but the exotic fragrance is very long-lasting even when the shave is over. Nevertheless, their shaving creams are a little harder due to the Italian hot soap process while making the creams.  
There is also a version of Proraso shaving cream that is intended for sensitive skin.
How Much Does Proraso's Shaving Creams Cost?  
Proraso's shaving creams are a fantastic shaving product to get at a competitive price of approximately $6-7 and use for 4-6 months easily.  
The best part about using Proraso's shaving cream is that it can make lots of lather even with a small drop and cover the whole face perfectly.  
Following the traditional way, Proraso'ss shaving creams come in aluminum tubes that make it easy to squeeze them till the last drop.  
The World's Top 10 Shaving Creams
Best Overall: Proraso Shaving cream tube 
Topping the list, the Italian Proraso brings a subtle scent to revamp your shaving experience.
With just a tiny drop of shaving cream, you can lather your entire face. While the tube allows you to squeeze out even the last drop with one tube lasting approximately 4-6 months, the Proraso shaving cream is also the most affordable.
Falling below proraso in the top ten list include:
Musgo real shaving cream
Truitt & Hill 1805 shaving cream bowl
Castle Forbes lime essential oil shaving cream
Geo. F Trumper extract of limes soft shaving cream
The Bluebeards revenge shaving cream (100ml)
Omega shaving cream
The gentlemen's refinery "The standard" shaving cream
The art of shaving cream – unscented
Taylor of old bond street sandalwood shaving cream
Conclusion  
Choosing shaving creams is more than just purchasing the products and spending money. It's something that decides your overall shaving experience and the after-shaving results. Either you select Proraso or Taylor of Old Street Bond; both have shaving creams with unmatched closeness, comfort, and perfect finish. The fact is, overall both brands offer fantastic quality at a great price. Ultimately, it's probably best for you to try both and see which works better for you.