It's rare to find shaving creams with natural medicinal ingredients that enhance shaving, like the Santa Maria Novella shaving cream. Many men love the scent and freshness of menthol that this cream offers. Continue reading this detailed review of Cream Da Barbara and decide if it's the right choice for you.
Cream Da Babra Shaving Cream Review 
Made in Italy, it is one of the best shaving products that not only work extremely well but also last longer.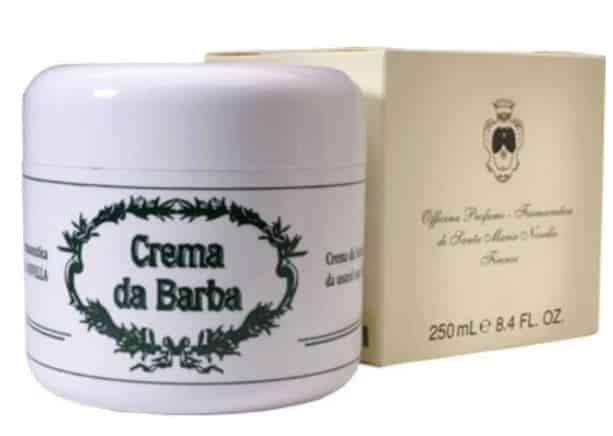 Unlike other shaving creams, it is formulated with a special medicinal formula, including all-natural ingredients like menthol, camphor, eucalyptus, etc. 
From producing thick and rich lather to deeply moisturizing the skin, it gives impressive shaving results, especially on dry skin types. Here's a quick breakdown of all the other characteristics of this Cream da Barba shaving cream.
1. Packaging
Santa Maria Novella has, without a doubt, the most beautiful packaging in white color. The cream comes in an average-sized 250 ml/ 8.4oz white-colored tube with an easy-open screw-on lid.
It protects the cream in the tube and keeps it out of contact with water or moisture.  
2. Texture 
If you've used thick shaving cream before, you will love the dense texture of this Santa Maria cream.
Compared to thick creams, it easily covers the shaving area with its rich lather in the blink of an eye. 
Note:
The best practice to make a rich lather is to open the lid of the cream, leave it for a few seconds and in the tub and then dip the brush in it. As a good rule of thumb, try to use a small diameter brush with soft bristles and touch only the surface of the cream. 
3. Application
The application of this SMN shaving cream is easier than it sounds. Since it contains menthol, you will feel a cooling sensation on your face right after applying it.
However, a small quantity of the cream on the brush is enough to coat the face well and make lather easily. If you're allergic to menthol, Santa Novella Maria may not be the best option for you. 
No matter which razor you use, the cream's content is smooth enough to let the razor glide easily over the shaving area without cutting the skin. After using the cream, don't forget to close the lid tight, or else the cream will dry and lose all its effect. 
4. Ingredients
Besides menthol for cooling and freshness, the shaving cream includes some of the best quality ingredients that do wonders in moisturizing, nourishing and making skin smell great after shaving.
Medical components with the vegan formula set the cream apart from other creams and offer excellent slickness, lather, and protection to give you peace of mind when shaving. Some of the ingredients are
Coconut oil 

Glycerine

Sodium hydroxide

Leaf oil

Parfum

Menthol

Camphor

Eucalyptus
5. Price
It's quite expensive but worth every penny for giving the same excellent results even after many shaves. Coming from a popular brand, it is priced at $52 all over Europe. 
What Does Santa Maria Novella Smell Like?
Santa Maria Novella generally gives out a Citrus Aromatic scent largely accepted by both women and men. Some of the top notes you will get from Acqua di Colonia, a Santa Maria Novella, include Neroli, Bergamot, Tangerine, Amalfi Lemon, Clove, Lavender, and Rosemary.
Conclusion
With top-notch quality and the inclusion of natural ingredients, Santa Novella cream stands out in the crowd for making shaving a heck of fun. Although it's a bit pricey than other creams in the market, you won't regret your decision to buy the best brunch for your shaving.