If you are like many of us, shaving is something that you may not like to do, but you still find yourself doing. Many factors are responsible for this. From our experience, your shave is just as good as the cream that you use.
If you get one that contains the right ingredients that cut down on irritation, protect and hydrate your skin, and make your entire shaving experience pleasurable, you will always be looking for your next shaving day. This is why we love shaving cream with aloe vera.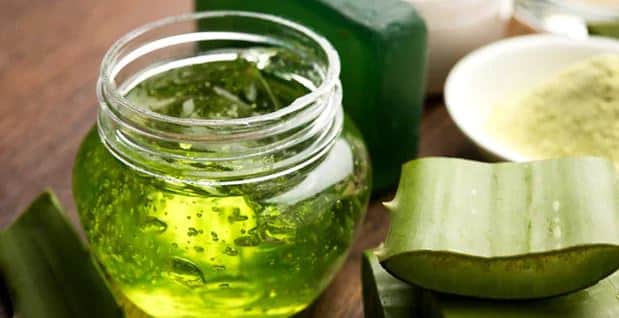 Shaving cream with aloe vera is excellent for reducing irritation and soothing your skin. We have compiled a detailed review of the top 5 most valuable shaving creams with aloe vera.
Read on not only for a short list of these products but other pieces of information that we believe will help you get the quality of shave that you deserve.
Please also note that some of these shaving creams are more like gels. To learn more, check out our guide on shaving cream vs shaving gels to understand the similarities and differences.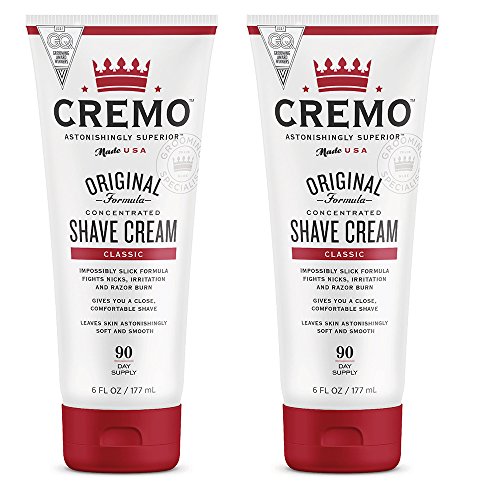 Depending on your needs, Cremo may still be what you require to get to your shave-heaven. This amazingly rich shaving cream may be a little costly, but it is actually astonishingly superior to many of its counterparts. Unlike many others, it does not create a thick lather. And for you to apply it, you only need your fingers.
Cremo cream does not contain air pockets, and that makes it unique. The absence of air helps to create a particular barrier between your blade and your skin. This way, it significantly decreases the chances of irritation, cuts, and nicks.
Moreover, this cream contains astounding ingredients that make it more valuable. Some of these are aloe vera, olive leaf extract, macadamia seed oil, and lemon extract. The essential oils, as well as aloe vera, will help your skin to stay moisturized after being shaved.
That is not all. This cream works with most types of razors. So, if you have a high-quality blade, you will not necessarily need to buy another one to be able to use it.
Pros
Needs just a small quantity
Citrus scent
Guarantees moist and irritation-free shaves
Cons
Lacks lather
A bit expensive
Let us start the list with this exceptionally rich cream. Without it, your reviews of the best shaving creams with aloe vera cannot be complete. If you want a product that will allow your razor to glide across your skin and reduce the risk of nicks on your face, Clarins Men Smooth Shave Foaming Gel is what you are looking for. It will meet this need and also treat you to a subtle, nice, and refreshing scent.
With a combination of aloe vera, wintergreen, and galangal in a single foaming gel, Clarins guarantees you one of the smoothest shaves. Each of these ingredients serves a particular purpose in getting your face to the best shape. Aloe will moisturize your face and galangal will revitalize it. What's more, wintergreen will give you that exceptional minty-post-shave feeling.
This cream is also alcohol-free. What does that mean? You will experience incredibly less of that infamously horrible burn after the shave. So as you can see, when it comes to a man's face, ClarinsMen has the answers that you require.
Pros
Ensures Razorblade glide safely and smoothly across your face
Eliminates irritation as well as razor burn
Prevents nicks and cuts
Softens and smoothes your skin
Cons
Needs your expert handling and control
This conditioning shave cream is appropriate for you if you are torn between using a slick gel and a powerful cream. It is a nourishing hybrid that is animal cruelty-free and is best for softening the most stubborn of stubbles and readying it for the cleanest shave.
Moreover, the manufacturer has carefully formulated it without dangerous chemicals, such as mineral oil, gluten, parabens, sulfates, and petroleum.
The ingredients that have been added to this cream make it extremely valuable. Vitamin E will ensure that your skin remains conditioned at all times. Aloe will soothe your skin and ensure it stays moist at all times after the shave. That is not all.
This hybrid has a spicy, sophisticated scent that is commonly known as the desert line. How is it made? This scent originates from the combination of lime, thyme, vetiver, ginger, eucalyptus, and basil. So, you can be sure you will be treated to the refreshing, spicy scent of this cream.
Pros
Guarantees softness of stubble for a splendidly relaxed feel
Great for vegans
No post-shave irritation
Cons
Microbeads can be unfriendly to the environment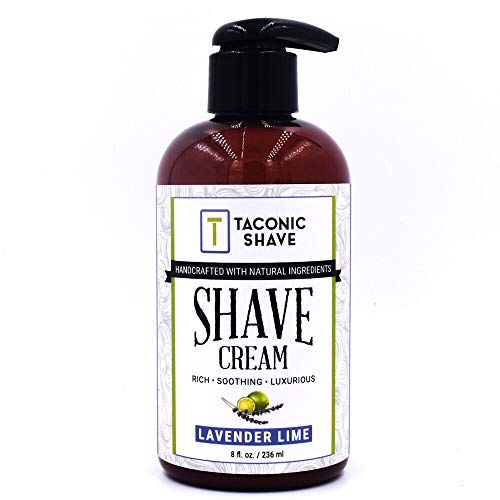 Taconic Shave Cream Lavender Lime is what you need to be able to end your shave on a high note. It is handcrafted with lots of natural ingredients as well as the essential oils that enable it to cool, heal, and hydrate your skin without any issues. The unique herbal extracts, which include aloe vera that is fused with witch hazel, lavender buds, calendula flowers, and others, are highly effective at soothing and nourishing the skin of users after either cleansing or shaving.
The safflower and coconut oils and organic aloe help the solution to have a high-quality lather that provides much protection to the skin. You will be safe from general irritation, razor burn, and blemishes if you use this product. Other than that, you will enjoy the feeling of calmness on your beard due to the soothing effect of the lavender and lime scent.
Remember, Taconic Shave Cream is a highly potent formula. This means you will be able to use just a little and reap these exceptional benefits for several months.
Pros
Calms and awakens the skin
Just a little is enough
Its lather is great for retouches
Cons
Takes a little bit longer to build the perfect lather
A little more expensive that the ordinary soap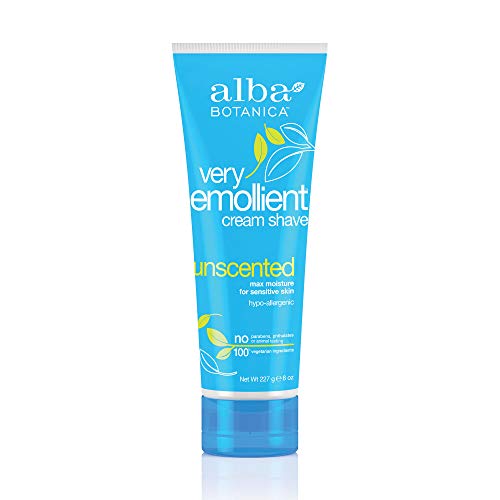 Alba Botanica shaving cream will also appeal to you if you want an all-organic product. The manufacturer of this cream did not harm any animal to be able to help you preserve your skin. Moreover, you will be pleased that it contains no harmful preservatives.
As you likely know by now, all organic extracts often produce the best results. This means that if you are one of the purists out there, Alba Botanica Moisturizing Cream Shave is a must-have. That is not all. If you are a vegan, you can also benefit from it. This cream is packed with a high-quality, certified formula that contains not only essential oils but also crucial botanicals.
Other than aloe vera, which I profoundly love due to its ability to keep your skin moist and protected, this cream contains other essential vegetarian ingredients in the right quantity. They make it the perfect solution for people with sensitive skin. But it will have a significant effect on your normal skin as well. Few others can also help people with these types of skins, but they are not in the market or are costly.
Due to the careful selection of the ingredients, Alba Botanica Moisturizing Cream Shave will not only moisturize your skin but also replenish it for an extra smooth texture. You can see it can grant you the hustle-free shaving experience that you may never want to forget.
One thing that you need to keep at the back of your mind is that you should be generous enough to be able to reap the expected results for a long period. Here, I am not going to tell you that you can use just a little to be safe. However, that should not discourage you at all. The price of this product makes the need to use generous amounts reasonable. Also, you do not have to apply something extra after each shave to be able to obtain excellent results.
Before you make your decision, you also need to remember that there are many rivals of this cream that last longer. However, some of them contain harmful chemicals that can make your life very difficult. This particular option will never give you a rush or bump unless you are allergic to organic products.
The manufacturer has likely added some amount of fragrance to their formula. It has a unique type of smell. Some people may not like it. But the majority of users say they like this odor. Try it out if you want to have a surreal experience of the fragrance that is mixed with mint aloe.
Pros
Softens the air on the body
Cruelty-free
Doubles as aftershave
Mainly tailored for dry and sensitive skin types
Cons
Needs to use a lot
May have an adverse impact on allergic skin
Things to Consider When Buying Shaving Cream With Aloe Vera
1. Is Aloe Vera Good For My Skin Type?
Shaving cream with aloe vera is all about protecting your skin. Many people not only use it as shaving cream but some men use aloe vera as aftershave as well.
There are plenty of excellent shaving creams, but some of them may not help you. For sure, what is right for your neighbor may not be suitable for you.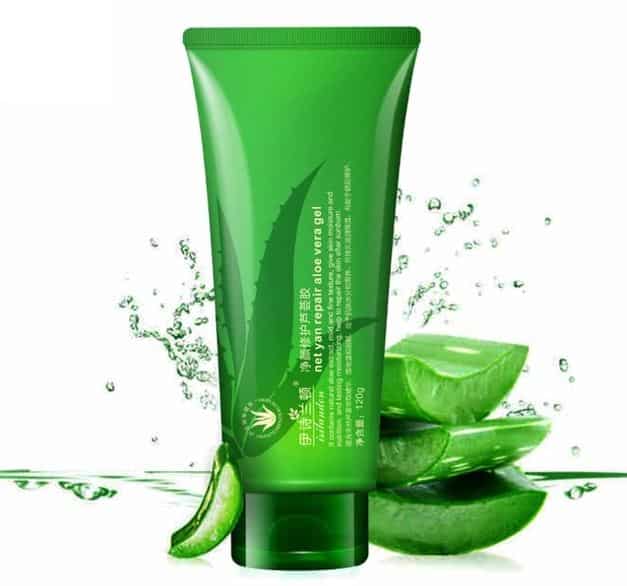 For you to avoid the risk of buying a cream that will not help you and get a good idea about what your own skin requires.
If your skin is sensitive or a bit oily, you should know this before you make your move. You need to get a cream that is tailored to meet your unique needs.
However, if you have normal skin, your case may be different. You can choose any quality shaving cream out there. Remember, using the right shaving cream is an excellent way to prevent shaving cuts. Remember, shaving cuts can be dangerous.
2. Are Aloe Vera Creams Organic?
Aloe vera is organic and therefore is a shaving cream with aloe vera organic? Well, most are, as long as there aren't any other inorganic ingredients. In fact, some of these shaving creams contain little toxins.
When people ask can you eat shaving cream, SOME aloe ver shaving creams would quality as low toxicity and so consumption in small amounts should be too deleterious.
The beauty of organic products is that they are always risk-free except in a few instances. One disadvantage however is that organic shaving creams expire faster. To learn more, check out our guide on how long does shaving cream last?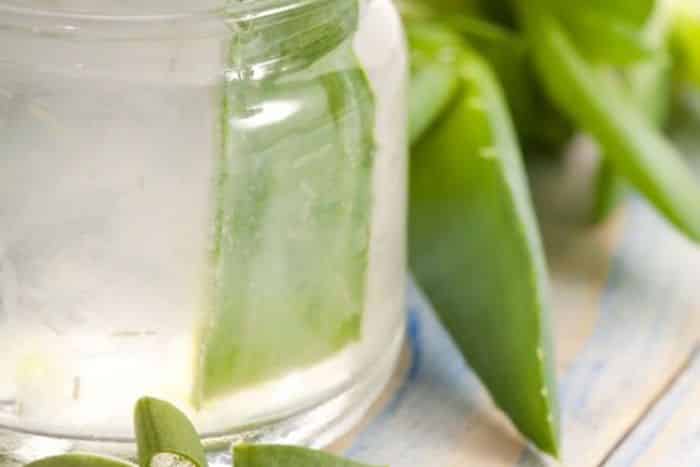 When you visit Amazon, you will see plenty of shaving creams, and all of them are appropriately branded to win your heart. Read the labels, but be sure you avoid chemicals as much as possible. Chances are, they will do more harm than good to your skin and health.
You may have heard that nothing beats nature when it comes to our health. That applies here too. We appreciate this truth and recommend to people who need the best shaving creams to go only for products with natural ingredients, such as aloe vera.
Aloe vera is ideal for all people. In particular, this component of the above products is the one that prevents cuts, nicks, and irritation. Remember, it is a natural lubricant. As such, it also ensures the razor glides smoothly on your skin. Besides, it also prevents razor bumps and reduces redness and inflammation.
Additionally, aloe hydrates the skin properly. Above all, just like other organic products, it is generally safe. However, if you are allergic to natural products, you may need the guidance of your doctor before making your buying decision.
3. Are Aloe Vera Creams Ordorless?
If you can see odorless creams on Amazon, consider buying them. Of course, most of them are natural products.
It is true that some organic ingredients, such as aloe and lavender, can be used to create an appealing smell.
So, the general rule is that you should do due diligence before you settle on any cream that has a soothing fragrance.
4. Do a Test-Run
Shaving cream with aloe vera can be a bit frightening for some people simply because it's not very popular.
If possible, just buy a small quantity of a new cream that you think is great. Use it for the first few days as you check for the signs of razor burns as well as bumps on your face.
Also, consider whether you like the overall experience. What about the reliability of the promises that made you buy the product and not the other? Think about them too.
Also, be sure that the cream and or razor are working together to deliver the best experience. You may need to buy the same cream brand as that of your razor to avoid problems that may arise due to the lack of compatibility.
The Bottom Line
There are plenty of shaving creams out there, but shaving cream with aloe vera? Not so many, but still probably too many to choose from.
But for the best experience, choose those that are tailored to your type of skin.
If possible, only buy organic products and do test runs in advance. In some cases, you may not have the opportunity to do a serious test run. As such, you should focus on alternative methods to mitigate potential risks.
Also, remember to use a high-quality razor and follow the right shaving procedures. Irrespective of the cream that you choose, you should ensure that your goal is to protect your skin from all forms of danger.