Most aftershaves on the market contain harmful chemicals that are terrible for your skin. One excellent alternative to these toxic substances is to use aloe vera as an aftershave. However, is this a good practice? Can you really use aloe vera s aftershave?
Yes, aloe vera can be used as an aftershave because it will soothe the skin, reduce irritation and close the pores. In fact, it is the best natural alternative to chemical aftershaves. Many men use aloe vera with lidocaine as an aftershave.
Please keep in mind that you shouldn't use aloe vera if you are allegoric to it. Based on its strength, aloe vera could cause an allergic reaction.
Let's find out more about this miracle plant and why it's an excellent option to be used as an aftershave.
Why is Aloe Vera So Good  For Your Skin?
Aloe vera, aka lily of the desert, burn plant, and elephant's gall is one of the most sought-after medicinal plants.
Aloe vera offers health benefits for your holistic health but it is also great for your skin. The benefits of aloe vera come from the fact that it is rich in vitamins, minerals, fatty acids, and polyphenols.
Moreover, Aloe Vera is free! Some aftershaves can be rather expensive. For example, Creed aftershaves are very expensive.
Does Aloe Vera Help With Cuts After Shaving?
To be precise about the benefits of aloe vera, it is primarily an immunity booster. It strengthens the body by improving the detoxifying abilities of your body and skin.
Aloe vera gel also has an anti-septic effect that efficiently helps in the healing of wounds and provides protection from bacterial and fungal infections. Many people also use aloe vera as shaving cream and there are many shaving creams that contain aloe vera.
Therefore, when it comes to any accidental cuts while shaving, aloe vera is an excellent choice.
What Are The Effects Of Aloe Vera On The Skin?
In its purest form, aloe vera soothes and calms your skin, something that is extremely essential when shaving. It also provides a texture that is very refreshing and soft for the future growth of hair.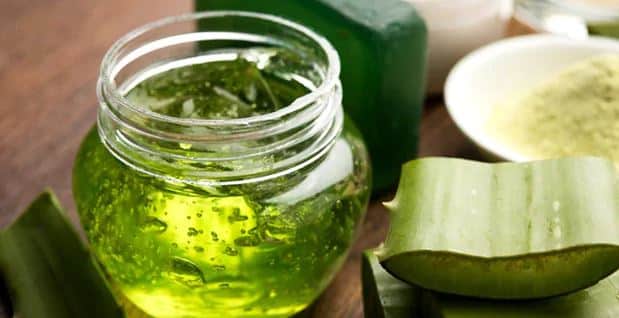 Aloe Vera gels into your skin quite naturally and it is quick to absorb. You can peel off the foreskin and massage the gel over your freshly shaved skin.
In no time, the gel will be quickly absorbed into your skin, without creating any sort of irritation.
You will also feel refreshed and soft and the feeling will be much different and natural as compared to when you use an aftershave.
Other Benefits Of Aloe Vera For The Skin
Aloe vera benefits the face and the hair by protecting them and enhancing the roots and the cells.
The anti-bacterial abilities and easy availability of aloe vera make it a must-use medicinal plant.
One can use it as a conditioner, hair mask, face mask, massage gel, natural laxative, face scrub, and even as a moisturizer.
When it comes to aloe vera's usage as an aftershave, it covers every possible aspect, the best one being:
The antibacterial and antiseptic properties of aloe vera allow it to soothe shaving cuts
You will not experience that discomforting itch that normally comes as soon as you apply aftershave. Aloe vera is purely natural and doesn't lead to stinging and itching.
It restricts any sort of fungal infection which is easy to develop in cases of cuts
Aloe's vitamins and minerals will work wonders for your skin and facial hair, including that beard!
You can save money on some fancy aftershave and just grow a plant instead.
Best Aftershaves With Aloe Vera
Below is a list of the best aftershaves with aloe vera available on the market:
Bestseller No. 1
99.9% Organic Aloe Vera Gel for Face, Hair, Sunburn Relief, Pure Aloe…
✅ORGANIC PURE ALOE VERA GEL – Your skin is more sensitive? Come here! Our pure aloe gel for face…
✅QUICKLY ABSORBING – This pure aloe vera gel is extracted from natural freshly aloe vera leaves,…
✅MULTIPLE USES – Pure aloe gel for face and body great for use as an after sun skin care,…
Bestseller No. 2
Aloderma Organic Aloe Vera Gel for Skin + Tea Tree Oil, Made within 12…
NATURAL BEAUTY: Whether you're looking to reduce redness, fight wrinkles, or just give your skin…
NOURISH & REVITALIZE: Aloe vera face moisturizer is a great product for those looking to give their…
SHINY & CLEAN HAIR: Aloe Vera for Scalp is a great product for those looking to nourish their hair…
Bestseller No. 3
BIGHTURE Aloe Vera Gel, 100% Aloe Vera Organic from Freshly Cut Aloe…
✅ [Aloe Vera Gel 100 Percent] – BIGHTURE pure aloe vera gel is made from authentic aloe vera…
✅ [Suitable for All Skin Types] – BIGHTURE organic aloe vera gel is great for relieving scalp…
✅ [Multiple Uses] – BIGHTURE 100% aloe vera gel is excellent for using as an after-shave, hair…
Sale
Bestseller No. 4
Can I Use Aloe Vera Gel to Shave My Legs?
Yes, you can use aloe vera gel to shave your legs but you should note that it does have some side effects.
Some of these side effects include dry skin and a greasy residue on your razor.
Can I Sleep with Aloe Vera Gel on My Face?
Yes, you can sleep with aloe vera gel on your face. This is because aloe vera gel is made up of water, glycerin, and mineral oil.
All of these are natural ingredients that will not harm your skin when you sleep with it on.
Is it OK to Use Aloe Vera on Your Face Everyday?
The answer is yes. Aloe vera can be used to relieve a variety of skin problems when properly utilized.
Therefore, it's a great option to consider for use on your face every day. It's also quite safe and beneficial.
Conclusion
While shaving can make you look suave, it can certainly make your skin rough if you don't moisturize properly after shaving.
Shaving is an important manly routine and there are ways to make it more comforting for your skin.
The aftershaves available are filled with chemical softeners and aren't quite healthy for your skin, but aloe vera will do the job just as well.
Related Articles