Regardless of how long you've been shaving, it's natural to get nicks and cuts, especially if you're shaving carelessly. After disappearing for years, styptic pencils are finally making a massive comeback on the market and are again an important part of men's shaving equipment. But, what is a styptic pencil and how do you use one? Read on to find out all about the difference styptic pencils make in your shaving.
What Is a Styptic Pencil?
To put it simply, a styptic pencil is an anti-hemorrhagic (stops bleeding) medicated shaving stick used to stop bleeding from shaving cuts right away.
If you've ever wondered what to do if you cut yourself while shaving, then a styptic pencil may be the right choice for you.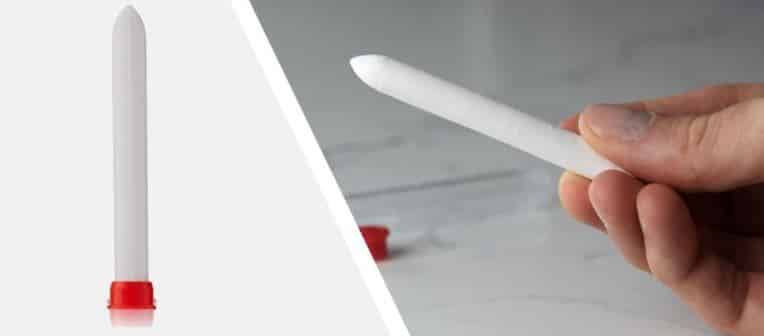 Of course, the best solution is to prevent shaving cuts because, despite popular belief, shaving cuts can be dangerous. However, preventing them is not always easy.
What Is a Styptic Pencil Made Of?
Numerous companies manufacture styptic pencils using different ingredients. However, some of the common and main ingredients include anhydrous aluminum sulfate, alum block, wax binder, and more.
Let's discuss the role of different ingredients in styptic pencils.
Anhydrous Aluminum Sulfate:
Simply, anhydrous aluminum sulfate is a soluble salt of sulfuric acid that appears in crystalline form.
The presence of astringent chemicals in this salt performs (vasoconstriction) – constricts the body tissues to stop bleeding from the shaving cuts.
An alum block is a crystalline stone aluminum that is known for its antibacterial properties.
Not only it closes the cuts and stop bleeding but also prevents minor post-shaving skin issues. Some of these are skin itchiness, razor burn, skin inflammation or redness, etc.
As described by name, wax binder 'binds' all the ingredients and forms a smooth consistency to adjust the mixture in a stick-shaped styptic pencil.
It is mostly opaque but sometimes can appear transparent depending on the wax type used in it.
How To Use a Styptic Pencil?
A lot of men still believe styptic pencils are a key staple in their shaving kits. This medicated stick works as an anti-hemorrhagic agent that promotes homeostasis and cleanses the circulating blood on the skin.
Not only for shaving but styptic pencils are also used for a variety of emergency medical reasons as a homeostatic agent. It simply coagulates the blood flow and seals the cut when applied directly to the affected area.
However, using a styptic pencil is extremely simple and quick if you follow the below-mentioned instructions carefully.
Step-Step Guide To Using a Styptic Pencil:
The very first step is to do nothing but simply avoid using toilet paper on the bleeding cut at any cost. Toilet paper can dissolve easily in the open wound causing more pain when you try to pull the dried piece of paper.
For small cuts, moisten the styptic pencil by dipping its tip in a bowl of water for a while and directly rub the pencil on the cut. Make sure you wet the pencil just on the tip otherwise it will get expire soon.
Next, rub the styptic pencil in one specific direction over the cut for a few minutes and keep rubbing. Press it gently on the cut and hold for a few seconds till it disables the blood flow.
For deep cuts, clean the blood first by washing the face with lukewarm water. Next, apply the same process as mentioned above but rub the styptic pencil for a long time as you have to cover a larger area for deep cuts.
Apply gentle and light pressure on the wound so that the situation doesn't worsen up on your painful cuts.
However, the pencil would cause an unpleasant sting when applied to the wound. To get rid of this, you can apply an alcohol-free or natural aftershave like aloe vera on the wound after using the styptic pencil.
This magical shaving tool can miraculously do wonders for your harsh shaving cuts, nicks, and all other skin problems that often make your shaving terrible. Below are some more reasons why you should get a quality styptic pencil right off the bat.
Styptic Pencil Uses
Prevents Infection: Using a medicated shaving stick for cuts can prevent the surrounding bacterial and fungal infection from entering the wound.
Reduces Blood Loss: It also helps in lessening blood loss from the wound so that you don't look like a zombie after shaving.
Helps To Seal Cuts: Shaving carelessly or in hurry can cause you multiple bleeding shaving cuts. In that scenario, a styptic pencil becomes your ultimate savior grace to help seal out all the cuts and look flawless as you step out after shaving.
No Need For Toilet Paper: Having a styptic pencil relieves you from sticking too many tiny flecks of toilet paper on the face and causing potential infections.
Blood Clotting Tool: Applying a styptic pencil has been used as an efficient blood-clotting tool for decades that relieves you from worrying about the harsh cuts or nicks after shaving.
Close The Pores: They also help in closing the pores to ensure that no dirt, hair, or shaving lubricant enters the wound.
Aftershave: Styptic pencil works as one of the best, most affordable, and long-lasting Aftershaves that neither expires too soon nor causes skin allergies.
Treating Shaving Cuts Comparison Table
[table id=3 /]
Things To Consider While Using a Styptic Pencil
Every styptic pencil differs from one other in terms of shape, life span, and results in its production on use. While some may work well with a quick cleaning of the blood while others can be a great help for stopping the blood flow.
A quality styptic pencil performs both jobs flawlessly. Depending on the ingredients used in it and shelf-life, styptic pencil performs on your shaving cuts and makes your shaving pleasant and worry-free every time.
With that said, here are a few things to consider while using a styptic pencil. Whether you're going to use a styptic pencil for the first time or have been using it for ages, these tips will help you make the best out of your styptic pencil.
Keep The Lid Covered: Most styptic pencils come in a handy lipstick form that has a lid covered on them. Therefore, don't forget to cover the lid of the styptic pencil after use to save it from getting in contact with your shaving mess.
Be Gentle: While using a shaving stick for cuts, make sure you are smooth and gentle with it, especially during the pressing. Applying unnecessary aggressive pressure can break or damage the fragile stick of the styptic pencil badly.
Keep It Dry: Like all other shaving essentials, it's also important to store your styptic pencil in a dry and safe place.
Wet The Tip: As already mentioned, only wetting the tips of a styptic pencil is adequate and important to get the job done. Dampening the whole styptic pencil can make it useless for the next use or erode it quickly.
External Use Only: It's strictly recommended to use a styptic pencil only for external use as it contains an alum block that can cause harmful reactions when used internally. Such as: under the mouth
What To Do After Using a Styptic Pencil?
Once you have applied the styptic pencil on the deep-open wound or minor cuts, the next step is to take a single piece of gauze or a clean piece of cloth for cleaning the skin area around the cut.
After applying a styptic pencil directly to the affected area, it's time to seal the wound. Take a generous amount of healing or anti-septal cream and apply it on the cut. It will ensure the removal of all germs, and bacteria and let them heal easily.
This is an optional step to quickly heal the cut by removing its mark that doesn't look good on your clean and glowing face after shaving. Secure the cut by covering it with a fresh Band-Aid so that it doesn't pain while getting in contact with water.
Shifting to a new razor can sometimes be scary as you don't know how it will do during the shaving process. However, using a multiple bade sharp razor is more likely to cause more and deep shaving cuts and nicks than a safety razor with minor cuts.
Either razor you choose, you simply need to grab a styptic pencil in case of getting terrible shaving cuts.
Just don't stop midway rubbing it till the blood clots and have a white residue covering it. Lastly, wait for a few minutes and rinse the cut to apply the steps after using a shaving stick for cuts as mentioned.
Factors To Consider When Shopping For a Styptic Pencil
A styptic pencil simply looks like a crayon but it's not made for doing art. However, choosing one is not hard if you know exactly what to look for when buying a styptic pencil.
Among hundreds of different styptic pencil brands, very few of them actually guarantee effective results on shaving cuts.
With that said, here is a list of factors to consider when you're looking for a good styptic pencil.
There are two common types of styptic pencils present on the market – traditional styptic pencils and liquid roll-on styptic. Before buying one, you should be clear about which type you need.
A traditional styptic pencil is like a wax stick to stop bleeding when you rub over the cut while liquid oil-on styptic is dropped on the targeted cut to stop the bleeding.
Strength Of Styptic Pencil:
As mentioned, styptic pencils can differ in terms of strength and it shows in the results. Strong styptic pencils can immediately clot the blood and seal it safely.
Whereas, weak styptic pencils or liquid roll-on styptics can take a few minutes to close the wound and help in the healing of the cut.
Choose The Ideal Styptic Pencil:
Shaving can sometimes be an urgent errand to be done anywhere and anytime. For any styptic pencil, you choose, make sure it is lightweight, handy, and easy to use plus store it after using.
The long durability of styptic pencils can make them ideal to use for months to years. The only condition here is to take care of your styptic pencil and not create a mess before and after using it.
Having considered those factors, here are some excellent choices:
Sale
Bestseller No. 1
Bestseller No. 2
Clubman Jumbo Styptic Pencil, Treat and Seal Shaving Cuts Instantly,…
STOPS BLEEDING FAST: Ideal for razor nicks and minor cuts, this styptic stick from Clubman Pinaud…
POST-SHAVE ESSENTIAL: Formulated with 56% Aluminum Sulfate to help treat and speed up the healing of…
GREAT VALUE FOR MONEY: Perfect for long term use, this styptic pen comes in a large jumbo size so…
Sale
Bestseller No. 3
Can I Use A Styptic Pencil For A Deep Cut?
Styptic pencils are not for deep cuts. They are for small cuts due to shaving and irritation. If you suffer a deep but, you may want to visit a medical facility as soon as possible. Ensure that you attempt to stop the bleeding by applying direct pressure on the cut with a clean cloth, tissue, or piece of gauze.
Conclusion:
Using a styptic pencil is a fun thing to do during shaving and holds immense importance during your shaving routine.
There's no science behind using a styptic pencil but it is indeed an art in terms of how you apply it to your skin. Follow the simple recommendations laid out in this article and you should be just ok.