For many young men, using shaving razors is a sign of maturity. This fascination has resulted in the question – are shaving razors age restricted?
Yes, shaving razors are age-restricted in most countries, including the USA and UK. It is illegal to sell or purchase razor blades and razors when under the age of 18. It is also an offense for a person to sell razors to anyone under the age of 18. 
However, there is one exception that applies when the purchaser is under 18 and that is if the razors are permanently enclosed in a cartridge or housing where less than 2 millimeters of the blade is exposed like a Bic disposable for example.
If you purchase razors online, the site selling the razors should have over 18 conditions in their terms and conditions. By agreeing to their terms and conditions, you are confirming you are over the age of 18 when buying razors.
Why Are Shaving Razors Age Restricted?
In most countries, they often prohibit an underage person from purchasing a shaving razor. Remember that shaving razors are quite sharp. It is quite hard to monitor an underage person using a sharp object.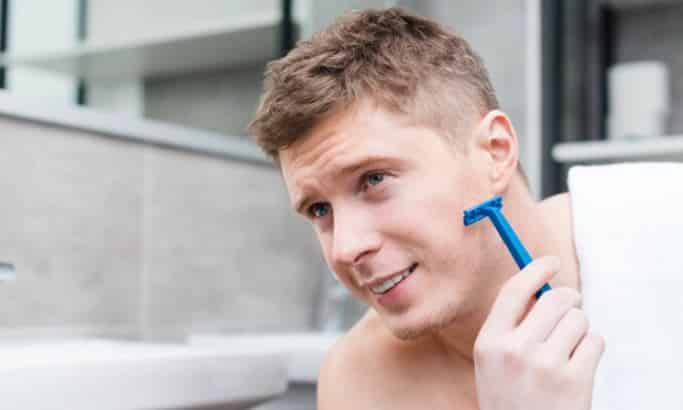 The main reason razors are prohibited for underaged persons is that there have been some crimes committed by children against other children in the past (e.g cutting and stabbing).
Types Of Shaving Razors That Are Age Restricted
The age restrictions should apply to all shaving razors as long as they don't fall with the exemption mentioned above. However, there are some razors that are very dangerous and are specially restricted.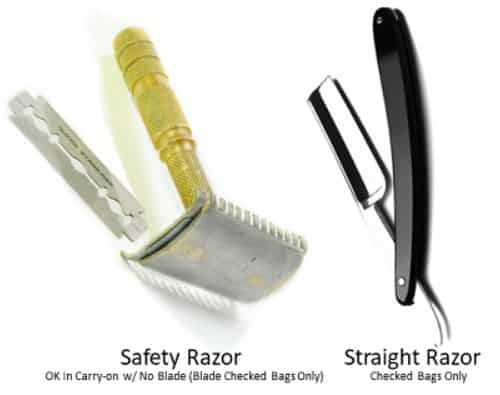 Here are some of the shaving razors that most traders require their clients to be of age for them to purchase them:
Straight razor – This is a type of razor preferred by most barbers. Find out more here.
Single-edge safety razor  – The blade has one sharp edge that offers a nice, clean shave. Find out more here.
Double-edge safety razor – This is a razor with a protective barrier situated at the edge of the blade and your skin. Find out more here.
Cartridge razors – These are types of razors where the users can easily replace both the handle and the blade. Find out more here.
Types Of Shaving Razors That Are Not Age Restricted
However, the exemption to this rule is considered safety. as we mentioned, the exception states that an underage can buy a shaving razor only when the razor has a blade positioned in a cartridge where less than 2 millimeters of the blade is displayed.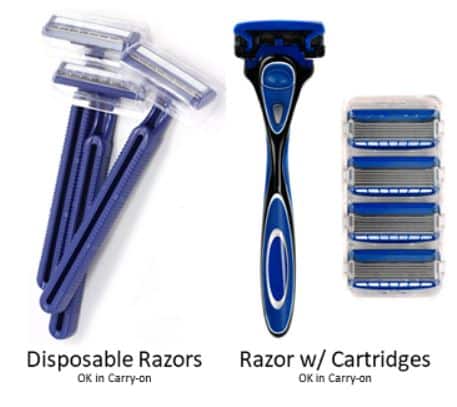 Such razors include disposable razors and razors that have replaceable cartridge heads. These are safer and so are exempted.
Consequences Of Selling Shaving Razors To An Underaged Person
Different countries have different fines for the offense of selling razors to underaged persons.
For example, in South Croydon, London, the owners of Swan Pharmacy incurred a fine of close to £8,000, with £2,134 costs and a £170 victim surcharge after selling one of their razor blades to a fifteen-year-old boy. In this case, that the transaction was a test purchasing, where a member of the authority's trading system witnessed it.
Please note that British law (Criminal Justice Act 1988, as amended by the Offensive Weapons Act 1996) states that both the business owner and the salesperson can get penalized for any illegal transactions.
The repercussion for selling a shaving razor to an underage is either to get six-month imprisonment or pay a fine of $6000 or both.
Guide To Traders Selling Shaving Razors
It is common for traders to fall for decoys like the one mentioned above that are set by the authorities.
Hence to avoid finding yourself on the wrong side of the authorities, it is best that you ensure that you read through the guidelines below:
Ask for ID: If you are not sure of the buyer's age, you should ask for some identification. You could ask for a driver's license or a valid passport.
Make use of the "Challenge 25" policy: This policy states that you ought to train your employees to identify customers who look under 25. Only ask for identification if the customer is buying looks underaged. By doing this, your team will find it easier to sieve out people who look older but are underage.
Train your staff: It will be of benefit to train your staff and conduct refresher training for your team to be up to date with the law. To be on the safer side, make certain that you document the training as it will come in handy in court.
Signage: Make sure that you put up signs that remind both the customer and your staff about your age restriction. This is because the signs might reassure an unhappy customer who has to present their identification.
Having refusals books: If the store has any age-restricted products, it is imperative to keep a refusal book. You can easily refer to the book as it will help you see if the staff is responsibly conducting the purchases. To top it all, having a refusal book acts as proof that you are running a responsible business.
Till prompts: If the store has a till prompt, you ought to incorporate a till prompt for products with age restrictions. However, if you do not have a till prompt scanner, you can still use a sticker as it will serve the same purpose.
Product placement: This is an excellent approach you can use, especially if your store has many age-restricted products. While using this approach, make sure that you place the products where they will have to ask the staff to help them access them instead of self-selecting.
Closed Circuit Television: Having CCTV in your store can be an excellent strategy to deter underage sales cases. Having CCTV also helps you monitor any blind spots.
Online sales: If you have a website, it is imperative to have secure systems that can verify the customer's age or at least put the conditions in your terms of service that visitors must agree to.
If you are a trader and you do not know much about the laws you need to follow while selling age-restricted products, ensure that you contact the relevant authorities.
Razor Alternatives For Underage Persons
If you are underage and need to shave, there are other options you can use to shave and still look groomed up. These options include hair removal creams. Of course, these creams only offer a temporary solution.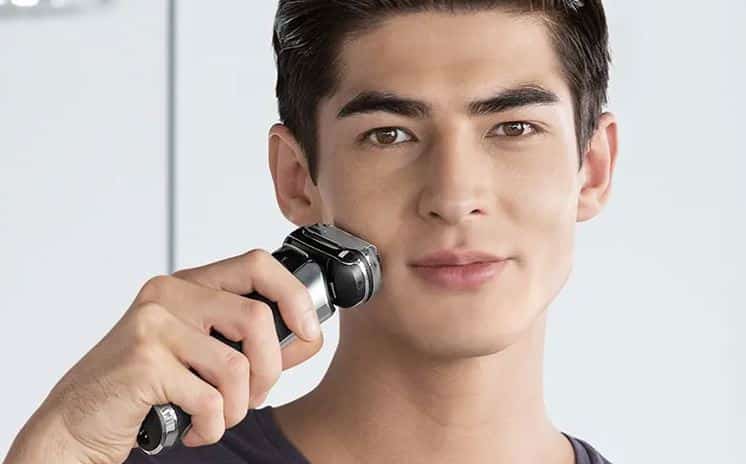 Of course, a quick and easy option is to use scissors. Scissors aren't age-restricted and are easy to use. You could also use an electric shaving razor as well.
Tweezing is the other option you can use. However, while using this option, it is ideal to understand that it will work well only when used in an area with few hairs.
If you are looking for a permanent solution, it will help make use of laser hair removal. The downside is that this method is quite expensive. However, the good thing is that the method perfectly works on any part of the body.
If you are underage, it is best to avoid purchasing shaving razors, especially if you have no intentions to use an alternative to shaving razors. However, you can ask your guardian to accompany you to a store if you really need shaving razors.
Can a 16-Year-Old Buy a Razor?
There is one exception for people who are 18 or younger to buy razor blades.
That is if the blade is permanently enclosed in a cartridge or housing where less than 2 mm of any blade is exposed.
These would be things like disposable razors and replacement razor blades.
Conclusion
The beauty of using shaving razors is that they offer consistent shaves. Moreover, shaving razors are gentle on the skin, if used properly because they cut the hair directly. By using a shaving razor, you are sure to have that baby face look after shaving.
Of course, you need to be at least 18 years to buy a shaving razor. Make sure that you are of an age when purchasing or ask your parent or guardian to get the razors for you.