You've seen a lot of razors for shaving and trimming, but what about the best razor for beard shaping? There aren't a lot of shavers that can do this, and using one that isn't capable could have disastrous results.
To save you time and money, we took it upon ourselves to review the top razors. After a lot of comparing, these six were left standing.
Best Razor For Beard Shaping On Amazon
The following are the very best razors that you can use to shape your beard on Amazon:
Let's get into a little more detail:
---
The Philips Norelco Multigroomer is an all-in-one trimmer. It offers the opportunity to easily trim the beard, head, and any other part of the body. With the Phillip Norelco trimmer, you can also style your facial hair using the 23 pieces that come with it.
Features
It has a high-end dual-cut technology that gives precision cutting.

It is easy to clean and washable

Comes with 19 trimming attachments

Has a long-lasting battery life.
Pros
Rechargeable battery

Fully washable

Self-sharpening

Full body usage 

Non-irritating
Cons
Doesn't work well on a full hair

Replacing the battery may not be very easy.
Who is it best for?
The Phillips Norelco Multigroomer is a good trimmer for everyone that desires an Al look. However, it is best with short and average length hair trimming.
Verdict
This trimmer is an ideal selection for all body trimming purposes. It gives a smooth, neat, and well-groomed beard, hair, and body trimming.
---
The Remington Beard Boss Styler is a professional selection for men of style. It trims the beard in a neat way according to your preference. The kits are easy to use, giving you a perfect trim that fine-tunes your beard.
Features
The Remington Beard Trimmer is waterproof which makes it good use in the shower or on a wet beard.

The trimmer has an advanced blade geometry and combs that are easily adjustable.

Has a detail trimmer that gives a precise beard styling result

11-pieces kit with detailed trimmer
Pros
Long-lasting lithium-ion batteries

Ease of use

Waterproof

Extended neck

Precision shaping
Cons
Cleaning difficulty

It only trims, it's hard getting a good cut on buck hair.
Who is it for?
This is for men that want nice and precise beard trimming. It comes with different kits for styling the bear how you want for a stylish cut.
Verdict
The Remington Beard Boss Trimmer is a good beard essential for men of style. It comes with everything you need for a well-trimmed and styled beard. This is a perfect choice you can make for a good beard practice.
---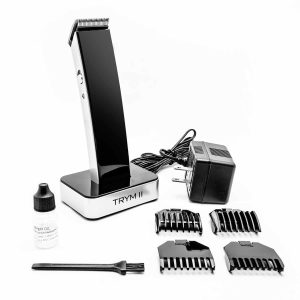 The Trym II lives up to its promise of giving men a modern grooming kit. It has a quality hair clipper, but in addition to that, you also get a bunch of quality accessories that make shaving easier.
Features
The Trym II utilizes a light but sharp blade, superior to those used by previous models. The blade is made from special compounds that make it ideal for cutting and repeated use.
The kit comes with a wide range of attachments to make it easier for you to shave and maintain your beard. The kit includes four attachments for trimming, 9 mm, 6 mm, 3 mm and 1.8 mm in length.
The kit also contains a power adapter, charging base, blade oil, cleaning brush, and the previously mentioned attachments.
The ergonomic handle makes the shaver enjoyable to use.
Pros
Can be used to trim all types of body hair
Powerful motor
Battery lasts a long time
Different attachments enhance its versatility
Quality packaging
Cons
Feels a little too light
Doesn't produce a stubby appearance as well as other shavers
Who is it Best For?
The Trym II is perfect for men who are looking for a practical solution to shaping and trimming beards. If you're the type who doesn't like to overpay for shavers and trimmers this is going to appeal to you too.
Verdict
The Trym II is a solid kit and comes with all the accessories you'll need. This is perfect for trimming beards, yes, but it is also an all-around facial and body groomer. There are fancier kits available, but the Trym II holds its own just fine so it's a good purchase.
---
The Norelco Multigroom 7000 face styler delivers the best-in-class styling with Philip's most advanced shaving technology. It comes with dual-cut blades for maximum precision when shaping your beard and overall styling from head to toe. Additionally, its rubber grips and steel frame offer superior control to achieve the best grooming style.
Here are some of the qualities that make it one of the best razors for beard shaping:
Features
With dual-cut technology, you can enjoy maximum precision with 2X more blades. The blades sharpen themselves by lightly brushing against each other as they work, offering great reliability.
The Norelco face styler features Philip's most powerful Li-ion rechargeable battery with a 5-hour battery life. Additionally, you can use the trimmer while still plugged in.
This grooming kit has 23 pieces to take care of all your trimming needs. That includes a foil shaver, a metal trimmer, a nose, and ear trimmer, six trimming guards, two stubble trimming guards, three beard guards, and two body trimming guards.
The trimmer and its attachments are washable, so you're free to rinse them under your faucet for easy cleaning.
The trimmers frame boasts stainless steel material for durability and rubber detailing for comfort and easy control.
The trimmer's blades are non-corrosive and self-sharpening to stay for a long time.
Pros
The trimmer's blades  offer a clean shave
It work's for all kinds of shaving including head and body
Its 14 unique cutting guards offer quick and convenient trimming
Fully washable trimmer
Powerful Li-ion battery for multiple shaves
Cons
Low-quality carrying bag
Doesn't feature a stand
Who Is It Best For?
The Norelco multi-groom 7000 is the best razor for beard shaping ideal for anyone who hates clogging their bathroom cabinets with multiple pieces of grooming equipment. It's an all-in-one shaving solution for you if you're to keep your beard and hairline in check.
Verdict
While it's not perfect, the Norelco Multigroom 7000 is the best razor for beard shaping and overall body hair trimming. It's also a great step forward from Philip's multi-groom 5000 series. The face styler handles precision trimming with ease while saving you money on ear and nose trimmers. Additionally, it has phenomenal battery life.
---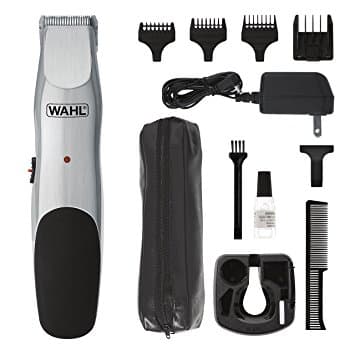 The Wahl Groomsman is a cordless beard and mustache trimmer, making it extra convenient to use. It's one of the most affordable options on the market, and it does an excellent job of keeping your facial hair in check. Here are some of the qualities that help the groomsman trimmer stand out from similar cheap electric shavers, making it the best razor for beard shaping under a budget:
Features
With three fixed-length guide combs, the Wahl Groomsman Trimmer helps you maintain your beard at your desired length. It features a stubble guide, a 3/16-inch full guide, and a 1/8-inch medium guide comb. Moreover, you get an adjustable six-position comb.
The Wahl cordless trimmer uses self-sharpening blades positioned high under the guide comb for great precision.
Its ergonomic design gives it a good grip, and you won't have issues tackling the tricky nose area.
The powerful battery featured in Wahl's groomsman trimmer can last for three to four full grooming sessions per charge. You can also use it while it's still charging.
The groomsman comes with plenty of accessories including four guide combs, a sturdy beard comb, and a durable zip-lock bag for the safety of your trimmer while on the move.
Pros
The long-lasting battery can go up to two months
Has a memory function
Enough accessories for full maintenance
It features three fixed-length combs and a six-position adjustable comb
Cons
Not fully waterproof and hence you should avoid cleaning it under the faucet.
Some find it a little loud
Who Is It Best For?
Thanks to its versatility, I believe the Wahl groomsman trimmer is the best razor for beard shaping for first-time beard growers looking for an inexpensive razor. This cordless trimmer is also ideal for men looking for an upgrade from their earlier Wahl models at a budget-friendly price.
Verdict
If you want a budget-friendly shaver to groom your facial hair, then the Wahl Beard and Mustache Trimmer is your best bet. Its cordless design with six adjustable lengths and four different guide combs allow great precision, offering convenience and flexibility.  As such, the Wahl groomsman is great for men who like a close trim.
---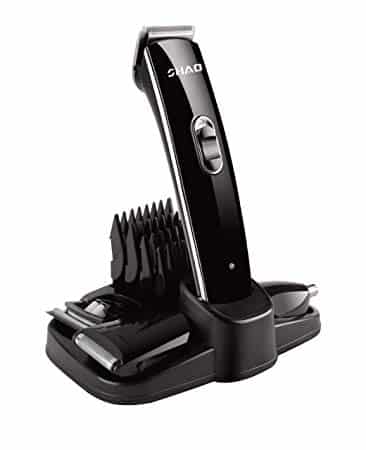 The Shao 5-in-1 electric shaver is built with premium high-carbon stainless steel to make it durable and easy to handle. It features Shao's cutting-edge design from their hair-cutting experts, making it comfortable to hold. Moreover, it features a range of superior qualities:
Features
This Shao multi-functional beard trimmer comes with five different detachable heads for an authentic look. It features a wide T-blade for mustaches and beard trimming, top-ups, body grooming, and haircuts.
It comes with five haircut combs and long hair positioning combs to let you trim your hair to the length that suits your look.
The rechargeable battery can store an 8-hour charge that supports haircutting for 70 minutes continuously.
The blade head is detachable, and you can wash it underwater. However, it's not fully waterproof.
Pros
Elegant and highly durable
Thumb-friendly design for comfort and convenience
Detachable head for easy cleaning
Self-sharpening blades for fast and easy trimming
Cons
The head is a little challenging to load and unload
The user manual is lacking
Who Is It Best For?
With a comfortable ergonomic design, the Shao 5-in-1 beard trimmer is perfect for both beginners and experienced users. The blades feel professional when trimming your beard, with the shortest trimming result ranging at 0.5mm without the attachment guard. That makes it the best razor for beard shaping for men who fancy a close shave.
Verdict
If you want an elegant and durable trimmer at a budget-friendly price, then the Shao 5-in-1 electric shaver and beard trimmer is the best razor for you. While it's designed for beard trimming and shaping, this multi-functional razor efficiently cuts your hair and also saves you money on nose trimmers.
---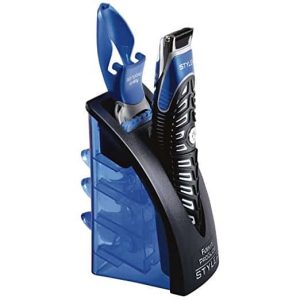 The Proglide Styler is a versatile body and beard groomer, and it's easy to use. While the Proglide Styler is designed for beard trimming, it's just as good for shaving and trimming in general. Let's check out the qualities that make it the best razor for beard shaping for guys with sensitive skin:
Features
The Proglide Styler is waterproof, making it easy to rinse and clean. You can also use the razor as you shower. Wet or dry, the result is the same.
Braun-engineered design means it's highly maneuverable. Shaping beards can be difficult if the razor is inadequate, but the Proglide does the job.
There are three combs in the razor, and they're of varying lengths for greater contour control.
The Proglide Styler is approved by dermatologists for use on sensitive skin.
If you would rather go for a clean appearance you can use the ProGlide Precision Edging Blade.
Pros
Easy to use
Good for close shaves
Beard edges are even
Stroke moves along facial contours
Precise results
Cons
One customer reviewer said the razor clogs after a while
Doesn't work as well on long hair
Who is it Best For?
The Proglide Styler is the best razor for beard shaping ideal for short to medium-length hair and beards. You can use this to shape thick beards, but it's going to need more passes. You can also use the Proglide Styler on other body hair with similar results.
Verdict
We're giving the Proglide Styler a buy recommendation based on its beard shaping capabilities. It's 3-in-1 approach really works and gives your beard a nice, clean look. Lastly, the razor is approved by dermatologists.
---
The Beard Boss Perfecter kit comes with a quality trimmer so you can fine tune your beard. Whether you prefer a traditional, consistent look or something different, this kit has the tools to make it the best razor for beard shaping and stubble removal.
Features
The Perfecter has a Turbo Mode for extra power, precision, and speed.
The kit offers pinpoint accurate ground blades for beard grooming and stubble management. They're also self-sharpening.
The trimmer is full-sized, which allows you to shape and style your beard in different ways.
There is a foil cover included, enabling you to shave on the jawline and neck without difficulty.
You can charge the Beard Boss in just five minutes for a quick shave.
This is a 100% waterproof shaver. It won't get damaged in the shower, and rinsing under running water is all it takes to clean it.
The trimmer comes with five combs so you can pick and choose the right one for your beard.
The kit includes a storage/travel pouch, five combs (fixed), 1 adjustable comb, full-size foil shaver and a trimmer.
Pros
Comes with useful accessories
Makes beard shaping easy
The trimming head works very well
Long runtime allows for plenty of shaves
Waterproof
Cons
Hair gets trapped in the attachment occasionally
Cleaning brush not included
Who is it Best For?
The Beard Boss is for men who want to look and feel good about themselves.  Men who need to manage their beards will also appreciate how the Beard Boss keeps your facial hair looking good. For stylish guys, this is the best razor for beard shaping.
Verdict
The Beard Boss Perfecter kit is the complete package.  Like the other shavers here, it's not without shortcomings, but its ability to shape your facial hair is exceptional. For these reasons, we're giving the Beard Boss the thumbs-up.
---
Choosing The Right Beard Shape For Your Face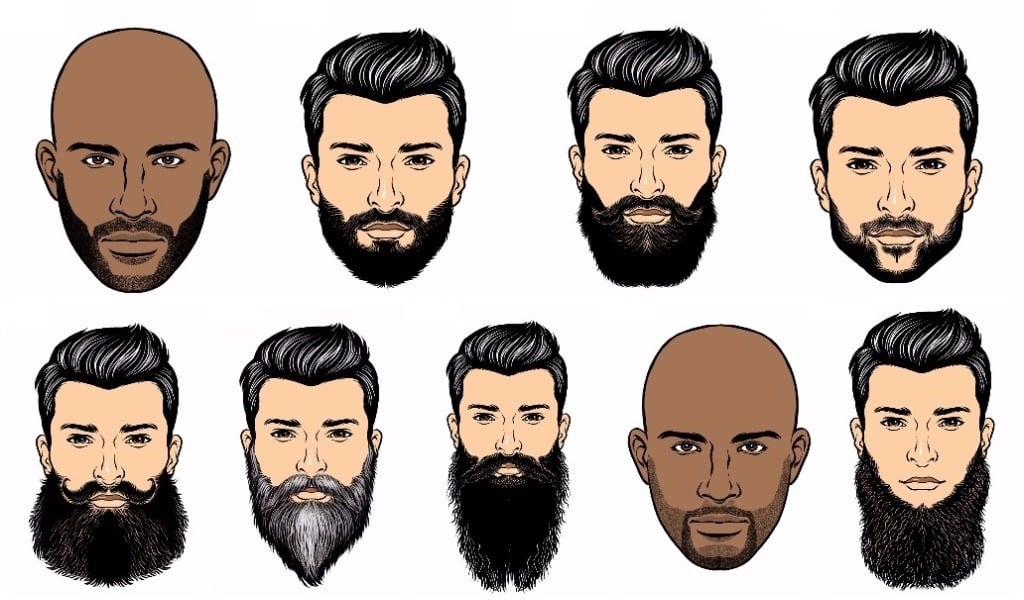 When shaping your beard, you need to ensure that it matches the shape of your face for the best results.
Luckily, you have plenty of time to choose a shape that compliments your face during your first month of growth.
The key here is to try and achieve symmetry when shaping the beard. That's because the visual appeal of your beard all depends on symmetry.
Depending on the shape of your head, the oval is the shape to aim for when sculpting the beard. That's why men with oval faces have an easy time experimenting with different beard lengths and shapes.
That means you must identify the shape of your face before trimming your beard. You can ask a professional barber for help if you're not confident with this.
Shaping Your Beard At Home
Those who prefer to groom their beard at home can find something to take measurements as we are going to measure your jawline, cheekbones, and forehead. You'll also need to determine the distance between your Crown and chin.
The longest measurement shows the shape of your face. It's advisable to use a ruler instead of a tape measure, for accurate results.
Aside from taking measurements, you'll need to observe your facial features in the mirror to see if there is something you'd like to highlight.
They can also help you determine which features you want to draw attention from. The goal is to see everything you can change to make your face look proportionate.
Shaping Your Beard To Compliment The Shape Of Your Face
Oblong, Triangular, And Oblong Face Shape
Men with these types of face shapes have the same problem when it comes to shaping their beards.
Their beard needs to be shaped to give the head some width. That's achievable by trimming the beard at the tip of your chin to shorten it and leaving the cheeks and sideburns to be thicker.
They make your face look wider than your natural shape, but they will make it distorted if you outgrow them.
Square And Round Face Shape
The two face shapes naturally look wider than the other three. That means your beards need to have a shape that will make it look longer.
You can achieve balance by keeping the sideburns and cheeks shorter and gradually growing the beard on your chin.
How To Tell When To Trim Your Beard
To maintain a well-groomed look, pruning your beard is vital. Even if you're eager to see your beard grow longer, now's the right time to get some premium stubble trimmers and begin to master the shaping technique.
It's great to start shaping your beard when your facial hairs have all grown out as you'll have an easy time sculpting your new look.
Before you start trimming your beard, I would advise washing your facial hair with special beard soap. However, you need to dry it first to avoid cutting off too much.
After drying, you'll also need to brush or comb it out towards the chin from the cheeks. Try making it as straight as possible to know the actual length of your beard. It will also help to remove the remaining oil build-ups.
It's important to brush your beard daily as it helps you to know the areas that need a trim and also helps to prevent knots. That gives your beard the appearance of added volume.
How To Shape Your Beard
After brushing your beard, now it's time to take your trimmer. Set the clippers to the highest level when starting, and you can switch to a lower level later.
That prevents you from shaving off too much beard. However, you need to apply light pressure when gliding the trimmer over your beard for the best results.
For men with thin beards, you'll need to move your trimmer upwards, cutting across your facial hair. On the other hand, men with a thick beard should move the trimmer downwards to follow the natural growth direction.
Nevertheless, it's important to trim your cheek line, mustache and neckline no matter the shape you want to achieve.
Shaping Your Beard Cheek Lines
Most men have a thicker beard on the chin than on their cheeks. As such, it's logical to start shaping your beard from the cheeks. That will ensure that your beard is even without going shorter than necessary on the sides.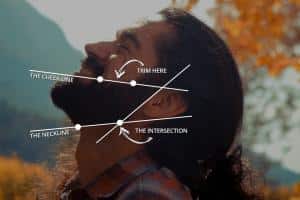 When shaped appropriately, cheek lines require minimal maintenance.
You will only need to cut off any strays that start growing away from your natural cheek line. The only rule to keep in mind is that the beard cheek lines must be shaped to preserve the balance between volume and tidiness.
Shaping Your Neckline
Shaping your neckline is very important to beard grooming as it makes the beard look more natural when done properly.
However, it may ruin your overall appearance as your beard looks sloppy and unkempt if you fail to pay enough attention to it.
Shaping your neckline starts by getting a clear idea of where you need to begin trimming. Shaving experts advise starting to cut the neckline at one 1-1.5 inch above your neck's midpoint.
You can put two fingers above your Adam's apple to see where your neckline begins and cut off everything below.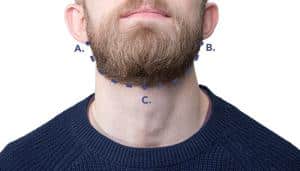 When shaping your neckline, cut your beard to form a "U"-shape that stretches from one ear to another.
However, you need to be careful to cut both sides on the same level, or your jaw might seem like it lacks coverage.
You can finish by shaving the remaining coarse hairs on your skin by going with the grain to ensure that the hairs take longer to grow back.
While trimming your neckline, your shaver will need to be set two settings lower than the length of your beard.
You can start with a longer setting and switch to a lower one later if you don't feel confident enough. Nevertheless, your hairline needs to be shaped every week or at least after two weeks.
Shaping Your Mustache
Often overlooked, a mustache is one of the essential parts of proper beard grooming. The common misconception is that the mustache will blend with the beard after some time. However, your mustache can ruin your beard's perfect shape if not properly trimmed.
A properly shaped mustache should not cover your lip. However, the upper lip area is curved more than other parts of your face, making it hard to trim it properly with clippers.
In this case, you can use beard scissors to shape your mustache following your lipline. Nevertheless, this can be a little tricky for many, so beginners can start by cutting hair by hair to avoid mistakes.
Conclusion
Shaping your beard takes more work than mere shaving, so you need to make sure the razor is up to the task.
Aside from trimming your beard, a well-rounded razor should make it easy to shave and trim your facial hair.
With tons of razors in the already clouded shaving market, it's not easy finding the best razor for beard shaping. However, the Proglide Styler, Perfecter, Trym II  or any of the other three trimmers can get the job done. None of these are perfect, but you'll have an easier time maintaining that sharp looking beard.