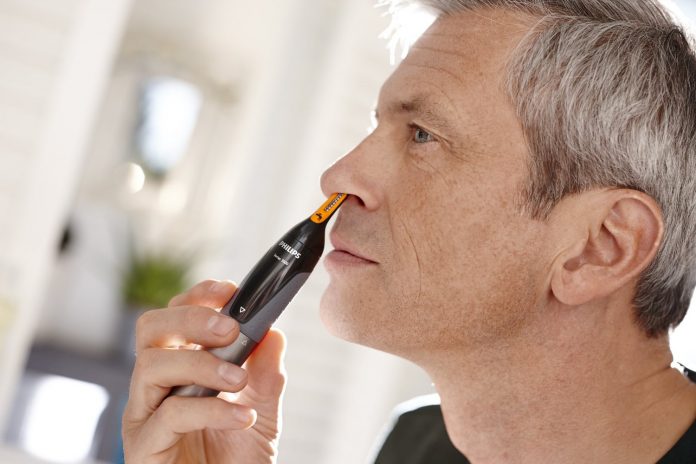 You've probably spent hours looking for the best nose trimmers for men and can't decide which one is right for you.
With more and more men becoming conscious of their grooming, the demand for nose trimmers has risen, and all sorts of products have appeared online.
Not all these nose trimmers are as capable as they claim, so we did the research, reviewed the top products and came out with a list of the top 3.
Here they are, and as you'll see we cover the features, pros, cons and other essentials.
Panasonic ER-GN30-K Nose Ear & Hair Trimmer, Wet/Dry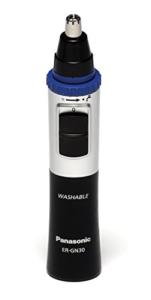 Click here to see reviews and prices on Amazon.com
The ER-GN30-K is designed not just to trim nose hair as it's also an ear and hair trimmer. It is equipped with a dual-edge blade that lets you cut hair in different ways, plus it has other features.
Features
The ER-GN30-K is a multi-purpose trimmer. While it's designed mainly for nose hair trimming, you can use it to detail beards and mustaches. This doesn't shave as well as regular shavers, but for detailing and finishing up it works just fine.
The ER-GN30-K has dual-edge stainless steel blades. These blades are hypoallergenic to prevent allergic reactions. Our nose area is sensitive, and using the wrong blades could trigger allergies and make things worse, but the good news is the ER-GN30-K has accounted for that.
The blades are aligned and cut in a way so your nose is left with just the right number of hairs to ensure filtering. There's a reason why our noses have hair, so it's important your trimmer does not remove everything. That's what the ER-GN30-K does for you automatically.
The unit is easy to clean up thanks to its Vortex cleaning system. Once you're done using the ER-GN30-K, dip it in water. Turn the trimmer on and the blades will turn, pulling water in. This rotating water stream removes stubble hair to keep the rotator and blades clean.
A cleaning brush is included for your convenience. This is not an ordinary brush, but one that has been designed specifically for use on the ER-GN30-K. Anytime you need to clean the trimmer, just bring this up.
The ER-GN30-K is battery powered and cordless so it's easy to use. This allows you to use the ER-GN30-K anytime. Be it for a thorough trimming or a quick trim, the trimmer is ready.
Pros
Easy to use
Dry and wet use allowed
Easy to clean
Hypoallergenic
Can be used on eyebrows too
Cons
The trimmer feels a little too light for some customers
One customer said the trimer broke quickly
Who is it Best For?
The trimmer is for style-conscious men who want a dependable nose trimmer. It's nothing fancy but it gets the job done. This isn't a shaver so don't expect it to perform as such, but for trimming nose hair the ER-GN30-K works. For first-time users, this is also something you'll find easy to use.
Verdict
The ER-GN30-K is a well-designed nose trimmer. It makes trimming from various angles easy, and being able to use it in wet or dry conditions is a plus. There's really not a lot to complain about as the ER-GN30-K trims hair well.
Professional Water Resistant Heavy Duty Steel Nose Trimmer with LED light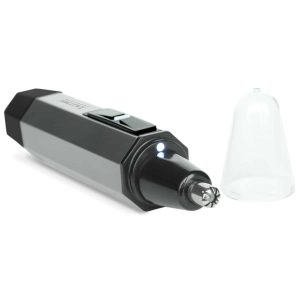 Click here to see reviews and prices on Amazon.com
This nose trimmer from ToiletTree Products is powerful but easy to use, and it makes cutting hair pain free. If you're balking at the thought of cutting nose hair, this trimmer is what you're looking for.
Features
The trimmer is waterproof and can be used in the shower conveniently. Not all trimmers are as water-resistant as they say, but the Steel Nose Trimmer is one of those. In fact, you can use this in wet conditions all the time without performance deterioration.
The trimmer body is constructed of solid steel, which makes it superior to the plastic used in other trimmers. A common criticism with some nose trimmers is they have a flimsy quality to them, but the Steel Nose Trimmer has a solid, heavy feel.
The Steel Nose Trimmer has a lifetime warranty. Some shavers only have a one or two year warranty max, so this alone sets the Steel Nose Trimmer apart from the rest. It also says a lot about the manufacturer's confidence in its design.
The blades are made of stainless steel so each nose trimming session produces the smoothest trim.
The LED light assists in trimming hair, especially those that are hard to reach.
The Steel Nose Trimmer uses an advanced rotary cutting system that enables hair to get in the trimmer from the sides and the top. This makes it easy to get rid of stray hair.
Pros
Can be used by men and women
Safe for ear hair
Cleaning is easy
Cuts clean
Solid-body
Cons
Doesn't detail eyebrows well
Not very good for trimming facial hair
Who is it Best For?
The Steel Nose Trimmer is ideal for those who have never used any of these devices before.
It is easy to use and cuts nose hair with great accuracy. Women can also use the Steel Nose Trimmer, so it's an all-around accessory.
Verdict
We recommend the Steel Nose Trimmer for its dependability and accuracy. The body has a solid feel to it and just holding it you get an idea of its quality. Overall this is a well-made trimmer and worth buying.
Wahl Ear, Nose and Brow Lighted Trimmer #5546-200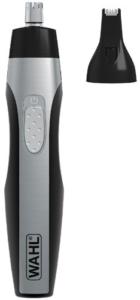 Click here to see reviews and prices on Amazon.com
The Wahl nose trimmer has a simple design, but don't let its appearance deceive you.
The Wahl is a versatile accessory for trimming nose hair as well as brows, mustache, and ears. This isn't a shaver but as a trimmer, it's packed with features.
Features
The trimmer comes with interchangeable heads for nose, ears beard, and brows. This means you can use one for your nose and the other for the rest, making it a  hygienic product
The reciprocating head eyebrow guide ensures your eyebrows are properly groomed.
The detachable cutting heads can be cleaned in tap water. No need for any fancy cleaning solutions here. Once you're done using it, just use tap water.
You can use the Wahl in the shower as well as dry conditions.
The mini-spotlight ensures no unwanted hair is left behind. Even if the lighting condition is less ideal, you won't miss a thing.
Pros
Pulls hair painlessly
Cleaning is straightforward
Works fine for men and women
Durable and holds up to repeated use
Can be used for mustache trimming
Cons
Doesn't feel as sturdy as other trimmers
One customer review says it doesn't close trims well
Who is it Best For?
The Wahl nose trimmer is for men and women who need a versatile trimmer. It's mainly for nose trimming, but it's just as good for detailing your brows. Both men and women should find Wahl useful.
Verdict
Wahl makes a lot of quality grooming products and this is one of the best they've got to offer. It's hypoallergenic, light, and doesn't cause any discomfort. If you want a nose trimmer, the Wahl is an excellent choice.
Conclusion
Male grooming is no longer considered vanity but a necessity. Aside from shaving, nose trimming should also be part of your regular grooming habits.
If you've never done this before it might seem a little odd or even outlandish, but if you're going to maintain a clean appearance, leave no stone unturned. With any of the products above, cutting nose hair is easy.