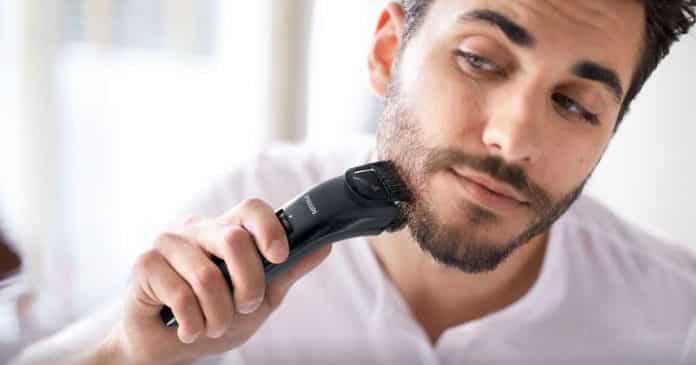 Many men prefer a more rugged look, but do not want a full beard or goatee. To them a small amount of stubble is perfect.
The problem can be finding a beard trimmer for stubble, as most are designed to provide a smooth, clean shave.
Another issue is to find a beard trimmer that is not going to pull as many hairs as it cuts, especially in the more sensitive areas such as your neck.
Obviously, no one wants to spend years, and hundreds of dollars, searching for the best beard trimmer for stubble look, so we have compiled a list of the five best trimmers for your look.
Review of the 5 Best Beard Trimmer for Stubble Look
Conair is well known for producing a multitude of hand-held grooming devices. The GMT900 iStubble is a high-tech beard trimmer that will meet all of your needs, whether it is for a full beard or just that stubble look so many men want today.
The GMT900 features an electronic length control with fifteen settings and an LED display shows you the exact length in millimeters that your stubble will be.
The floating head helps ensure that you will have an even shave every time.
While the Conair GMT900 iStubble Facial Trimmer is well reviewed by an overwhelming majority of its owners, there is one problem that is mentioned from time to time: the head is too big for some tight areas. The area most frequently mentioned is under the nose.
That is a tight area for most beard trimmers, so it should not be an unexpected issue. [Buy on Amazon]
Remington has been making beard trimmers for decades. The MB is a great all-around tool for trimming your facial hair and edging your sideburns.
It offers simplicity with a rotary length adjustment tool, yet the height adjustment holds even when you apply pressure, helping you avoid thin or bald spots in your beard.
The nine length settings will help you create and maintain the stubble look or a full beard.
While there are many good things to say about the Remington MB-4040 Mustache and Beard Trimmer there are a few not-so-good as well. The first is that this model can not be washed, so cleanup can take a little longer.
The second is that the lowest setting is 1 mm. For some men, that is not low enough to create the exact stubble look they prefer. For shorter stubble, you may prefer the Remington MB 4040. [Buy on Amazon]
Philips Norelco is a highly regarded name within the beard and mustache trimmer industry. The company has been on the cutting edge of innovation and quality since it was founded.
The Philips Norelco QT4070/41 Beard Trimmer 7300 was formerly known as the QT4070 Turbo Vacuum Beard, Stubble and Mustache Trimmer Pro. The only change between the two products is the packaging.
The 7300 pairs eighteen settings(from .5mm to 18 mm) with Philips Norelco's innovative vacuum system for easy cleanup. The electronic length control and LED display give the 7300 a space-age look that compliments its cutting tenacity.
The Philips Norelco QT4070/41 Beard Trimmer 7300 has all of the features that you would look for in a beard trimmer, possibly making it the best beard trimmer for stubble look; however, it does have one issue that you should be aware of: the clear compartment that holds trimmings.
It latches with a flimsy plastic tab and will frequently break before the trimmer gives out, so you may have to improvise a way to keep the door shut. [Buy on Amazon]
The Bodygroom 7100 is another superior beard trimmer for the stubble look from Philips Norelco. The 7100 is specifically designed to be used anywhere on your body.
The five variable settings allow you to find the right length to meet your needs whether on your face, chest, or groin, while the 3D pivoting foil head ensures a consistent, nick-free shave every time.
Philips Norelco is so sure that you will enjoy the Bodygroom 7100 that it comes with a 45-day risk-free trial and a two year warranty.
Despite its many great features, the Philips Norelco BG2040/34 Bodygroom 7100 does have one issue that you should keep in mind: it can cut your boys if you aren't careful.
The lowest setting is a bit close when trimming your scrotum, so you must go slowly or risk a painful nick in an area where no one wants to feel pain. [Buy on Amazon]
Braun is perhaps the best known manufacturer of beard trimmers in world. Each member of the 7 series offers an amazing shave or trim, with the ability to line up your sideburns and neck line.
The 790 CC features Braun's patented Pulsonic Technology, delivering 10,000 vibrations per minute, ensuring the most consistent trim imaginable. This unit offers multiple settings so you can create the perfect stubble.
The 790 also features ActiveLift and a pivoting head to cut flat hair anywhere on your face. To round out its features the 790 CC has Braun's Clean & Renew system. All you do is plug in a cleaning cartridge and the shaver will clean and lubricate itself.
There are two main drawbacks to the Braun Series 7- 790 CC Pulsonic Shaver System. The first is that it is designed specifically for facial hair.
While it may be used in other regions of your body, you will have the most success on your face and neck. The second is price.
This shaving system is much more expensive than the others mentioned in this review; however, the 790 will last longer than the others, so it is worth the additional expense.  [Buy on Amazon]
Related Articles:
What is the best electric shaver for men 
Best electric razors for sensitive skin