For people who have sensitive skin, shaving can be torture. Skin irritation, burning, and acne breakouts can drive you to the brink of madness.
Trying to avoid these conditions has led many people with sensitive skin to ask whether they are better off using an electric razor or a manual razor.
The answer comes down to physics. Manual razors produce more drag and friction as they cut, resulting in more intense skin irritation. Based on that, electric razors are better for sensitive skin.
5 Best Electric Razors for Sensitive Skin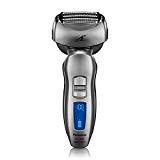 Many people may associate Panasonic with a multitude of products other than electric razors for sensitive skin.
All that aside, Panasonic offers a number of high-quality shavers and has for many years. The Arc 4, also known as model ES8243A, uses a foil head for a closer shave that is less irritating than the rotary heads used in other electric razors.
It can also be used with a shaving gel to further minimize friction and skin irritation. The Arc 4 features a multi-stage LED display so you know how much time you have left before you must recharge the shaver and has a Turbo mode for easy cleanup.
The Arc 4 features four blades that vibrate are 13,000 CPM. While that is quite fast, people with a heavy beard or very coarse hair complain that it can still pull and say that they prefer one of the five-blade systems from Panasonic, since they cut at 14,000 CPM. [ Reviews]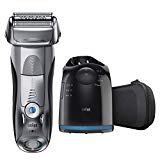 Braun is a name everyone immediately associates with electric razors and for good reason.
The company has been producing top-of-the-line electric razors for a very long time. The entire Series 7 are great razors whether you have coarse hair or not, but the series did not have a wet shave option until the 799 came along.
The wet shave option allows the 799 to give a close shave while practically eliminating skin irritation. The 799 also incorporates Braun's Pulsonic and ActiveLift technologies to ensure this shaver gives the closest shave imaginable.
Complaints about this product are limited to the customer service provided by Braun itself. The vast majority of their electric razors are very reliable, but occasionally something may go wrong. When it does, you are in for a headache. You may be better off just replacing the razor.[ Reviews ]
The Panasonic ES-LA93-K falls into the Arc 4 family of Panasonic electric shavers, making it similar to the one reviewed earlier. This model was recognized by Men's Health magazine for its outstanding performance and reliability, as well as its sporty design.
The LA-93 features four cutting blades that vibrate at 14,000 CPM for an unbelievably close shave, wet or dry. What little irritation you may experience after using this unit can be eliminated by using a moisturizing shaving gel.
The Panasonic ES-LA93-K incorporates Panasonic's proprietary Vortex self-cleaning and self-lubricating technology. All you need to do is insert a cleaning cartridge and walk away. The unit is fully charged in one hour and will provide 45 minutes of continuous use after a single charge.
This is easily one of the most popular electric razors for sensitive skin, but it does have one frequently mentioned drawback: the self-cleaning cycle is very noisy. The cycle is loud enough to become annoying in small places such as a hotel room or a tiny apartment. [ Reviews ]
The Philips Norelco 8020X combines all of the features that you need in a top-of-the-line electric shaver with a Nivea dispenser.
The 8020X has three independently moving rotary heads so it can contour to your face for a closer shave, while moisturizer is constantly dispensed to reduce friction and skin irritation.
Irritation is further reduced by using "glide rings" to reduce friction as you shave.
This is a solid, all-around electric razor for sensitive skin. The price can be intimidating, but the comfort and longevity of the 8020X make it worth the extra money.
In addition to the price, you are going to have to buy the moisturizer at least once a month. [ Reviews ]
Philips Norelco has been a top name in the electric razor niche for decades, so it only makes sense that their products appear more than once on this list.
The HS8420 offers three independently moving heads for the closest shave imaginable. The moisturizer used with this shaver contains MICROtec to reduce friction as much as possible. The sure grip handle allows you to get a close shave in the shower or out.
The charge indicator and charging stand are handy since no one wants their razor to die halfway through a shave.
The Philips Norelco HS8420 is said to be less powerful than the 8020X, so it may pull if your beard is either thick or coarse. [ Reviews ]
Razors for Young Boy's Sensitive Skin
You may have found this article because you were searching for electric razors for a young boy. If that is the case, you need to be careful. Check out our article on shaving for young boys where we answer the question – should a 13 year old shave his mustache.
Bottom Line
For overall performance, price point, and longevity, the Panasonic ES-LA93-K is the best electric razor for sensitive skin.
With its ability to provide a close shave and the flexibility to use any shaving gel you prefer, it beats the more expensive models hands down.
As we have said, electric razors are better for sensitive skin, so to find out more, check out our article on how electric razors work.
Related Articles: