Even if you think a beard would be cumbersome and time-consuming, you want to have the option available.
After all, there is something manly about facial hair, even if it is just the overnight growth you leave in place on the weekends.
Maybe you can grow a beard like a champ, but you need help maintaining or thickening it. That is where beard vitamins come into play.
Beard vitamins are just like the supplements we take to counterbalance our whacked-out diets. The only difference is that they are thought to promote the growth and strength of facial hair.
Table could not be displayed.
Top 5 Best Beard Vitamins
There are a lot of beard vitamins on the market today. Many of them are about the same as snake oil or love potions: plenty of hooplas, but no substance.
So, we took the time to compile a list of the best beard vitamin options out there.
Click here to see reviews and prices
We are going to start with what may be the best beard vitamin available. It combines most of the essential ingredients of a multivitamin with added beard-enhancing Vitamin D, Biotin, and Zinc.
Every ingredient in IRON BEARD is essential for a man's health!
Of course, Biotin and the other B vitamins hair growth and will help you achieve full, thick coverage. In addition, hydrolyzed collagen provides 18 essential amino acids. As you may know, amino acids are the building blocks of hair protein.
Alright, we are pretty high on Iron Beard, but nothing is perfect, so let's have a look at some cons of this product.
The biggest issue you may have is it may simply not work for you. It doesn't work for everyone. In addition, it needs a few weeks to show results.
Click here to see reviews and prices
Viviscal is a hair growth supplement that has undergone five clinical trials and proven itself capable of growing and thickening facial hair as well as head hair.
It will take at least six weeks to see any real increase in hair, but you will notice quite a bit of beard thickening after six months.
The product includes many beneficial ingredients, but AminoMar, a trademarked item, and Biotin are the two most effective.
Viviscal has one major drawback that you should be aware of: it is expensive. Like Rogaine and other hair growth products, it takes at least six months of continuous use to see optimal results.
Additionally, the hair growth benefits do not continue if you stop using Viviscal. That does not mean your new hair will fall out. It means new hair will stop appearing.
3. Shen Min Hair Regrowth-Advanced Men's Formula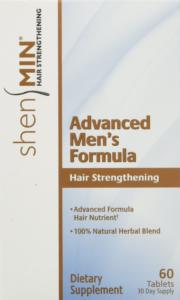 Click here to see reviews and prices
Shen Min Hair Regrowth-Advanced Men's Formula is another product that is marketed for regrowing the hair on your head, but it works well as a beard vitamin as well.
Keep in mind that companies market to the largest group of potential buyers, so these products are geared toward guys who are going bald.
Most guys with a beard know that they can shave the dome and go with a duster, so why not use all of the tools available to you? Shen Min works by strengthening your current growth and can stimulate other follicles to produce new hair.
On the downside, Shen Min does take the same dedication as other hair regrowth products. You are looking at six months or more of taking two pills a day.
4. Beardilizer Facial Hair and Beard Growth Complex 
Click here to see reviews and prices
Enough of the hair regrowth formulas and back to a dedicated beard vitamin. Beardalizer is said to be like a fertilizer for your face.
These beard pills are a nice little cocktail of facial hair frenzy designed to help you sprout a fuller, longer chin rug. As an added bonus, the botanical ingredients in Beardalizer moisturize your facial hair, giving it a luster it never had before.
The main caveat with Beardalizer is the same as you will see with many multivitamins: the smell. The pills have an unappetizing smell when taken and can produce a rather noxious smell when belched. Be sure to eat when you take these beard pills and keep a breath mint on hand just in case.
5. Now Foods Biotin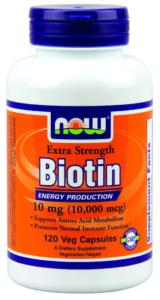 Click here to see reviews and prices
Let's step away from the products that only help your beard. Biotin is the ingredient that many beard vitamins base their growth claims on, so why not look straight to the source? Biotin is known to promote healthy skin, hair, and nails in every part of your body.
This is a great product for anyone who has a problem with skin irritation along with wanting a beard vitamin. Biotin can also increase your energy levels.
A majority of the people who take a Biotin supplement notice substantial hair thickening and growth after a few months. This is great news for those who are follically challenged up top and on their mug.
We tried to find a downside to Biotin, but came up empty-handed. The Now Foods version is a small pill, has no smell or aftertaste to worry about, and does not produce a smell when belching. Biotin is a doctor-recommended supplement and has no drug interactions. As you can see, this is possibly the best beard vitamin available.
Final Thoughts
If you want a beard-specific vitamin, then VitaBeard is your best option. It offers the best growth potential along with the benefits of a multivitamin.
Let's not forget that it is gluten and GMO-free as well. Additionally, it is an affordable product. The benefits outweigh the smell issue.
On the other hand, if you just want a general supplement that doubles as a beard vitamin, your best option is NOW Foods Biotin. It offers many benefits for your overall hair and skin health as well as being the most economical to use over a long period of time.
Related Articles: 5 Best Shaving Soaps Reviews ; Best Stubble Beard Trimmer