Finding the best double edge razor blades should be easy, shouldn't it? Unfortunately, it is not. Some blades are too dull to cut coarse or thick facial hair, causing skin irritation through pulling.
Others are too sharp. A blade that is too sharp for your facial hair type can lead to cuts and skin irritation through excessive friction.
Either way, your face will suffer and you may become disillusioned with double edge razors and wet shaving in general.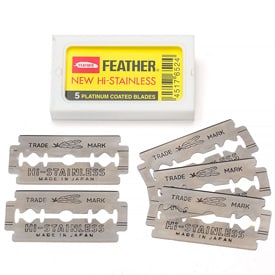 Finding the right double edge blade can be discouraging because no one can say there is a magic blade out there that is perfect for every shaver.
There are just too many skin and hair types for that. The best that anyone can do is recommend several that are easily available, provide a reliable shave for many users, and will not drain your wallet.
Most Versatile
Astra Platinum Double Edge Safety Razor Blades ,100 Count (Pack of 1)
Most Comfortable
Voskhod, 100 Double Edge Safety Razor Blades, 100 Count
Sharpest
Feather Double Edge Safety Razor Blades 200 Count
Most Versatile
Astra Platinum Double Edge Safety Razor Blades ,100 Count (Pack of 1)
Most Comfortable
Voskhod, 100 Double Edge Safety Razor Blades, 100 Count
Sharpest
Feather Double Edge Safety Razor Blades 200 Count
To that end, read on for a list of five of the top double-edge blades on the market today.
---
Most Popular Double Edge Razor Blades 
---
We will start with the most popular blades. These blades are easily recognizable by DE shavers and are all-time favorites. As such, we don't need to say much here, so we will do a quick review of each:
ASTRA blades are extremely popular and easily recognizable. The great thing about these blades is that they can fit all double edge razors.
In addition, they are made from the highest quality steel and provide long-lasting, smooth shaves.
Be careful of where you purchase these blades, however. There are several vendors selling fake ASTRA blades which are dull and uneven.
These blades will nick and tug at your facial hair and even worse – they might cut you! You can find official ASTRA blades here.
We should also state that we have noticed that ASTRA blades themselves have lost some of their quality. Some of the new blades pull, drag, and nick whereas the old ones were flawless.[Buy Here]
Another widely popular option is the Voskhod Double Edge Razor Blades. These blades are well known for their exceptional comfort due to the fact that they are Teflon coated for increased durability and smoothness.
These blades fit all Standard Double Edge Safety Razors including such as Parker, Merkur, and Classic Gillettes. The great advantage of these blades is the cost really. They are good blades at the price point.[Buy Here]
---
Sharpest Blades: For Experienced Users
---
The double edge blades in this section should only be used by experienced shavers and men who have coarse or thick facial hair.
These blades can be dangerous in the hands of a novice and may irritate your skin if you have average or thin growth.
Within the shaving industry Feather is well known for its precision manufacturing techniques and dedication to quality. You would expect nothing less from a Japanese manufacturer.

The company is also known for producing the sharpest razor blades in the world. The Feather Hi-Stainless Platinum blades could probably clean shave a wooly mammoth in a single stroke.
These blades are given a platinum coating to reduce friction and hold rust at bay.
The only drawback to Feather Hi-Stainless Platinum razor blades is the very sharpness that makes them famous. These blades are going to cut something, whether it is skin or hair depends on your level of experience with safety razors. [Buy Here]
Kai is another Japanese producer. The company is not as well known as Feather, but offers double edge blades that rival the sharpness and quality of any other product available.
Kai blades are made from medical-grade stainless steel, which is a fraction thicker than the blades produced by Feather. While nearly as sharp as Feather blades, Kai blades are slightly less aggressive due to their thickness.
Kai suffers from the same malady as Feather, the blades are extremely sharp. This limits their usefulness to inexperienced shavers.
If you are on the fence about whether you have the experience necessary, a five-pack is just a few dollars, so you will not break the bank finding out. You can also check out feather blades vs Polsilver Super Iridium to get an idea of the relative sharpness of these blades. [Buy Here]
Wilkinson is a German manufacturer that provides a great double edge blade for men who have coarse facial hair and sensitive skin. Wilkinson Sword blades are a level of sharpness below either of the Japanese products, but can still tackle coarse facial hair with ease.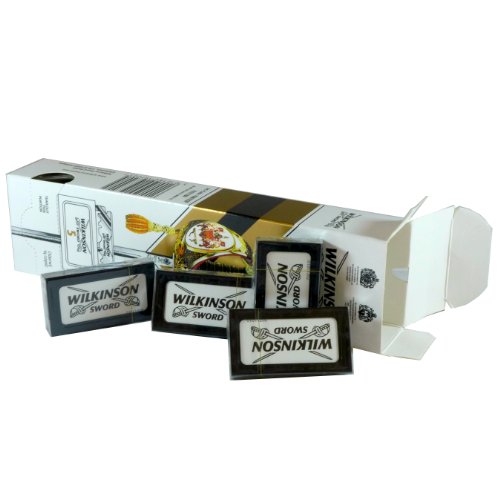 The unique coating of chromium, ceramic, and polytetrafluoroethylene (PTFE) on these razor blades allows them to reduce friction quite a bit, offering a comfortable shave to men with sensitive skin.
A feat that is often quite difficult to accomplish for men who have coarse hair as well as sensitive skin.
Wilkinson Sword blades seem to suffer from two drawbacks. Both of these can be attributed to the user as much as the manufacturer. The first is related to their sharpness. These blades are duller than Feather or Kai, but some buyers complain about their aggressiveness.
The issue seems to be that these buyers are pairing them with a heavy-headed razor, making them aggressive.
The second complaint is that they will develop surface rust. This issue crops up when buyers purchase the 100 count container then keep it where it can collect moisture. With proper care, this issue should not rear its head.[Buy Here]
---
Best Double Edge Razors Blades For Beginners
---
These products are duller and less aggressive than the three reviewed above. They are designed for first-time users and men with fine, wispy facial hair in mind.
One major advantage of the Personna Double Edge Razor Blades is that they are wrapped in new dispenser cartons which allows the removal of one blade at a time.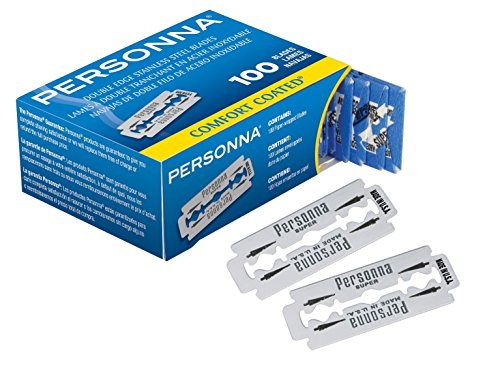 You should note that the Personna is shipped in two forms – lab prep and super comfort.
However, the lab prep blade is typically more than twice as expensive as the "super" comfort-coated blade because the lab prep blades are limited distribution. However, there is no other significant difference in their performance.
So, we recommend you save your money and get the cheaper option. [Buy Here]
Derby Extra Double Edge Razor Blades, 100 CountDerby Extra is probably the most widely used razor blade in the industry. Derby offers a product that is easily affordable and reliable to a fault.
The proprietary coating of chromium ceramic, tungsten and platinum allow Derby Extra blades to offer a smooth shave that is well-suited to men with sensitive skin.

On the downside, these blades are not very sharp. While that will help reduce friction while shaving, it eliminates Derby Extra from the conversation if you have much coarseness or thickness to your facial hair.[Buy Here]
Mekur is a German manufacturer that has been in the shaving industry for decades. These blades are made from high-quality stainless steel to exacting standards.
They are readily available anywhere in the world and will provide a close, comfortable shave every time.
These blades are forgiving enough to be used by a novice but sharp enough to tackle facial hair that is of medium coarseness and thickness.
The biggest knock on Merkur Super double edge blades is their cost. These blades are relatively expensive when you look at other entry-level blades across the industry.[Buy Here]
4. Honorable Mentions
In terms of sharpness, Polsilver Super Iridium and Feather blades are some of the best. Please check out our article on Polsilver Super Iridium vs Feather blades.
Final Thoughts
Derby Extra may be the best choice for first-time users. The forgiveness of the blade will allow a novice user to experiment with angle and head weight without cutting their face to shreds in the process.
The proprietary coating will help to keep skin irritation to a bare minimum as you learn to operate a DE razor.
On the other hand, experienced shavers will want to arm themselves with a Feather Hi-Stainless Platinum. The keen cutting edge will allow you to tackle the densest growth and the coarsest hair. You will still want to take care to lather heavily to reduce skin irritation and keep a soothing aftershave on hand.