Whether you use your beard as a fashion accessory or just want to look well-groomed, having a beard trimmer is an essential piece of a man LOOK BOX.
There are multiple varieties out there, and picking the one which will work best for you is generally a matter of compromise between the features you want with the price you are willing to pay.
Moreover, if that wet shaving stuff is just nonsense to you or just doesn't work with your schedule, beard trimmers are the way to go. Below is listed what we think are the best beard trimmers on the market.
5 Best Beard Trimmers Recommendation
[ws_table id="1″]
What to look for in a beard trimmer?
Beyond all the noise, the best beard trimmer will give you an even cut with different lengths so you can give yourself a perfect fade" Ben Kriz
As mentioned above, you have to compromise between features and maybe price when picking your beard trimmer. While shopping offline and online keep in mind the following:
Length Settings: You must be able to adjust the closeness of your trim. Quite a few of the mass beard trimmers produced only offer a couple of settings, but the best beard trimmers offer up to twenty settings for custom trim.
In addition to the number of settings, you want to be sure that the trimmer locks in place to ensure an even trim.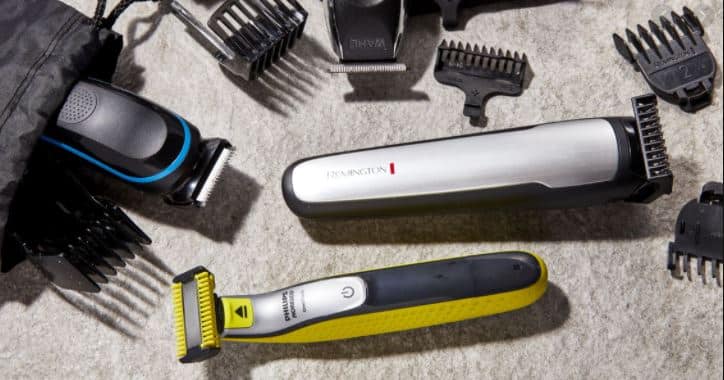 Cleanliness: Some companies have been pioneering a vacuum system to collect cut whiskers into a basket for easy cleaning, but they are rare still.
The majority of the best beard trimmers feature a way to rinse the blades quickly.
Blade Type: Many models feature stainless steel blades. Stainless steel is good, but carbon steel is sharper and more resistant to corrosion.
Top of the line models features carbon steel blades that are coated in titanium for ultimate sharpness and corrosion resistance.
Wet/Dry Shaving: Many low-end trimmers are corded and can not be immersed in water. That limits you to shaving outside of the shower, adding time to your daily routine.
The best beard trimmers are cordless and can be used in the shower.
Reviews of the Top 5 Best Beard Trimmers

Philips has been one of the top manufacturers of shaving equipment for decades. Their top entry in the beard trimmer market may well be the model QT4014/42, better known as the Beard Trimmer 3500.
Pros of the Philips Norelco Beard Trimmer 3500
Settings: the 3500 offers twenty settings for a customizable trim every time. The easy-to-use locking mechanism ensures an even cut on each stroke.
Blades: this model features titanium-coated blades that are self-sharpening and rounded to prevent skin irritation. The blade unit can be detached and rinsed for easy clean up.
Low cost: the 3500 is currently selling on Amazon for $34.95.
Cons of the Philips Norelco Beard Trimmer 3500
The first thing is that it doesn't trim neatly at the lowest settings, requiring multiple strokes in the same area. Secondly, it is noisy. While noise isn't a big issue, it can be inconvenient in a small apartment when your partner is sleeping.
To many people, Panasonic is better associated with televisions and stereos, but the company produces many top level beard trimmers. The model ER-GB40-S may be the best of them.
Pros of the Panasonic
Settings: the ER-GB40-S features 19 settings ranging from 1mm to 10 mm. The locking dial allows for a precise and even trim.
Blades: this unit features stainless steel blades that are hypo-allergenic and washable.
Wet/Dry: the Panasonic Cordless Mustache & Beard Trimmer can be used at the sink or anywhere you need to use it, shortening your morning routine.
Affordable: this model is currently selling on Amazon for $47 and features free shipping.
Cons of the Panasonic
When compared to other trimmers, the Panasonic seems underpowered, especially for men who are quite hairy or have coarse body hair.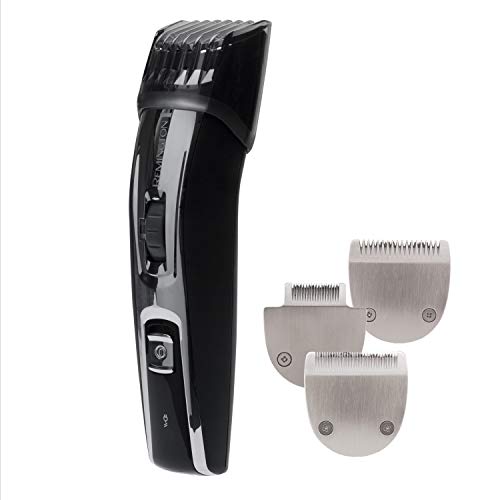 The Remington Mustache Beard and Stubble Trimmer model number MB4040 is a great entry from a well know manufacturer in the beard trimmer niche. Here are a few of its features:
 Pros of the Remington 
Settings: the MB4040 has nine settings. This is a bit limited compared to the models reviewed above.
Blades: this unit features self-sharpening titanium blades. These are the sharpest, most durable blades of the models reviewed so far.
Very Affordable: this unit is currently selling on Amazon for $29.95. That is the lowest price you may ever see for a trimmer featuring titanium blades.
Cons of the Remington 
The only noticable downside of this awesome beard trimmer is the limited settings range with only nine settings. Nonetheless it will get the job done regardless.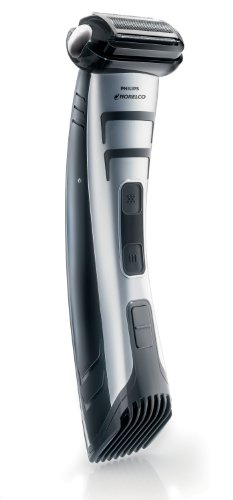 Here we are back to a Philips Norelco, so lets jump right into the pros and cons of the model BG2040/34.
Pros of the Philips Norelco BodyGroom 7100
Settings: the model BG2040/34 is limited to five settings. While that is a small range, the unit is designed for below-the-neck trimming only.
Wet/Dry Shaving: the BodyGroom 7100 can be used wet or dry. Using it in the shower ensures easy clean up after a full body grooming.
Cons of the Philips Norelco BodyGroom 7100
The only bad thing one can day about this trimmer is the very low amount of settings.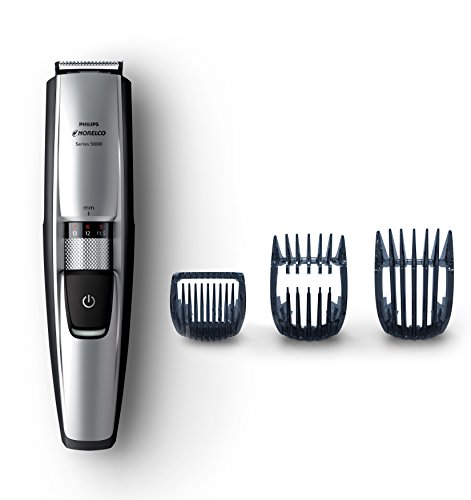 Philips Norelco seems to be predominating this list. That is mainly due to the company's experience in the niche. Here are the pros and cons of the model BT5275/41.
Pros of the Philips Norelco 5100 Beard Trimmer
Settings: the 5100 features 17 settings and has a lock-in feature to ensure an even trim with every stroke.
Washable: the BT5275/41is washable for easy maintenance, but it is not a wet/dry trimmer.
Affordable: currently listed on Amazon at $44.95 with free shipping, this is a very affordable beard trimmer.
Cons of the Philips Norelco 5100 Beard Trimmer
There is one recurring theme with this unit: it is underpowered for men who have coarse body hair.