Many wet shavers spend a great deal of time finding the perfect double-edged, or DE, safety razor.
Once they have found the perfect balance between handle length and head weight, they are over the moon with joy, only to have their hopes crash down around them with the first shave. Why?
The letdown comes from not understanding that the razor is only one-third of the equation. A successful shave must include the right safety razor blades for your skin and facial hair types and the best shaving soap.
As for the blade, there must be a mix of sharpness and forgiveness that can only be found through a small amount of trial and error. Below are the five best safety razor blades we recommend checking out.
Best Safety Razor Blades for Beginners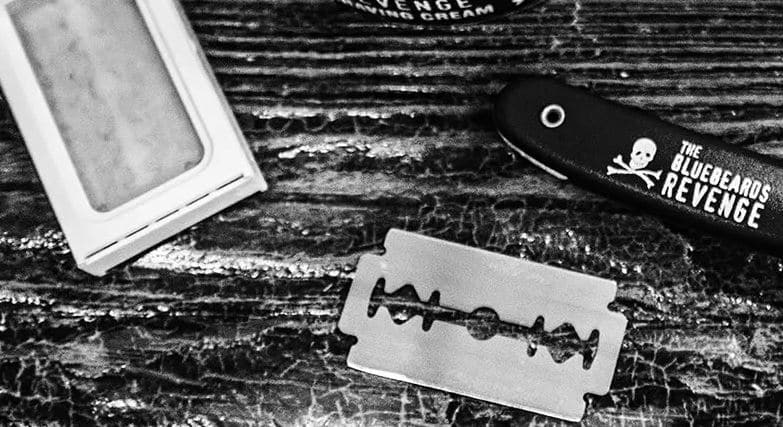 Certain blades are more forgiving and offer less chance for skin irritation and cuts. They can do this by being sharp, but not threateningly so, along with having proprietary coatings.
There are many blades that meet these vague criteria but let's review the two that stand out from the crowd.
Sharpest
Merkur Razor Double Edge Razor Blades, MK-911, 10 Count (Pack of 1)
Best Overall
Derby Extra Double Edge Razor Blades, 100 Count
Most Durable
20 Stainless Steel Double Edge Razor blades from KAI Cutlery
Sharpest
Merkur Razor Double Edge Razor Blades, MK-911, 10 Count (Pack of 1)
Best Overall
Derby Extra Double Edge Razor Blades, 100 Count
Most Durable
20 Stainless Steel Double Edge Razor blades from KAI Cutlery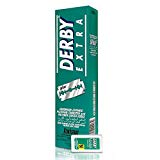 Derby is perhaps the biggest seller of razor blades in the world.
The company offers an inexpensive product that does an effective job. The blades offer a smooth cutting surface and are the most effective for men who have sensitive skin and facial hair that is of average coarseness.
The blades are made from stainless steel, then coated with a proprietary blend of chromium ceramic, tungsten, and platinum to further reduce friction and skin irritation.
The only downside to Derby Extra DE razor blades is that they are not the sharpest on the market. This eliminates them for men who have coarse or very thick facial hair growth.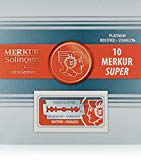 Merkur Super safety razor blades are made in Germany from the highest quality stainless steel available.
Merkur blades are a bit sharper than the Derby Extra, but can still be used by a novice shaver.
The additional sharpness allows them to tackle facial hair that has a medium coarseness and thickness, a job the Derby may not be able to accomplish without pulling.
On the downside, Merkur Super is quite a bit more expensive than the Derby and many other brands for that matter.
You will want to start with a 10-count package to be sure these are the blades you want without wasting too much money.
Top Safety Razor Blades For Experienced Shavers
Feather shaving products are manufactured in Japan to very exacting specifications.
One of those specifications is that every product must be as sharp as possible. These blades are honed to a fineness that would allow them to remove your head and that is why they should only be used by the most experienced shavers.
There are really no downsides to Feather Hi-Stainless Platinum razor blades other than their extreme sharpness. These blades should only be wielded after years of experience.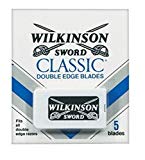 Wilkinson Sword is another German manufactured blade that will deliver a great shave. Where the Merkur Super is rather forgiving for a novice, the Wilkinson Sword is not.
These DE blades are less sharp than the Feather, but not by much. The Sword is very capable of tackling the coarsest hair and densest forest of growth. The unique coating of chromium, ceramic, and polytetrafluoroethylene (PTFE) on these blades helps reduce skin irritation to a better degree than some blades.
Some buyers have said that Wilkinson Sword safety razor blades develop surface rust over time. The majority of these buyers have used the 100 count package.
A large number of blades and the presence of rust lead many to think that they did not store the blades properly or may have bought too many at one time.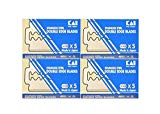 Kai is another Japanese product, but they are not as well known as Feather. Kai razor blades are made from medical grade stainless steel with the Japanese craftsmanship that you would expect. These blades are thought to closely rival Feather in sharpness and quality.
The metal used is slightly thicker than what is used in a Feather, allowing Kai blades to be less aggressive and harsh than a Feather; thus, offering a smoother shave for men with sensitive skin.
As with the Feather, the main drawback to a Kai safety razor blade is its sharpness. These blades can be dangerous in the hands of a novice or when paired with a heavy DE razor head.
The Gillette Silver Blue and the Gillette Platinum are excellent razors for experienced shavers. They are sharp and offer a close and even shave. To find out more, check out our article on Gillette Silver Blue Vs Platinum.
Conclusion
Novice DE razor users should start with a variety pack of safety razor blades from any manufacturer, but need to avoid the sharpest blades. If you do not want to begin with a variety pack, the Derby Extra would be a great place to start.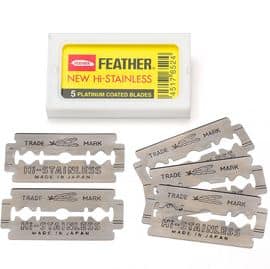 It offers great forgiveness on the edge as well as an affordable price. Any nicking and cutting you experience should disappear as you become more experienced with DE razors.
The experienced user really has two choices: Feather and Kai.
You will want to base your decision on the coarseness and thickness of your facial hair. The Feather DE razor blades offer a superior shave for the coarsest hair, but the Kai will offer less irritation if you have sensitive skin in addition to thick hair.
Each is sold in a five-count package, so you do not have to waste too much money finding which of the two is best for you.
Related Articles: