The safety razor is a simple device that has been in use for decades.
It had fallen by the wayside with the advent of the disposable razor and in favor of dry shaving techniques designed to make a man's morning routine much quicker.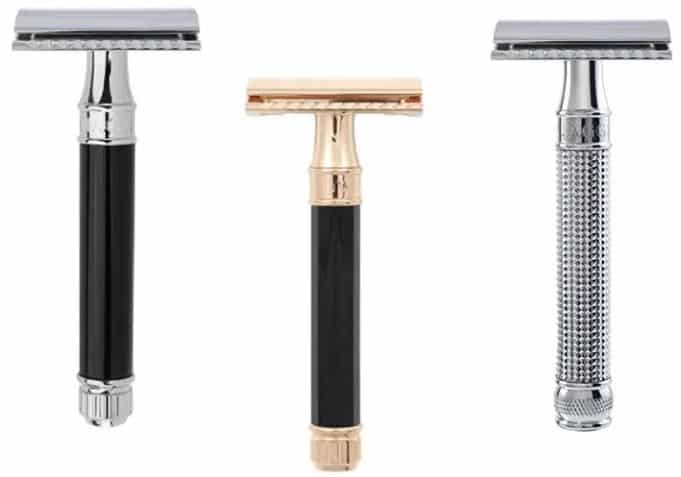 Of course, speed came at a price. To some, the quality of the shave suffered greatly and skin irritation became more common.
Now that wet shaving is back in vogue, there are many razors available and of course, you can use these safety razors with shaving cream. Common over-the-counter disposable razors out the number of blades and, of course, the need for so many blades.
The truth is that a single blade will suffice if you have the right safety razor and become skilled in its use. Below, we will describe the basic qualities to look for in a safety razor, then go on to review the best safety razors on the market today.
3 Best Safety Razors Recommendations
Best Overall
Edwin Jagger Double Edge Safety Razor
Best Large Handle
Double Edge Safety Razor
Best Long Handle
Parker Safety Razor, 99R Chrome Long Handle Heavyweight Butterfly Open…
Best Overall
Edwin Jagger Double Edge Safety Razor
Best Large Handle
Best Long Handle
Parker Safety Razor, 99R Chrome Long Handle Heavyweight Butterfly Open…
Review of the 5 Best Safety Razors
Click here to see reviews and prices
The Edwin Jagger DE89Lbl is a spectacular entry into the double-edged safety razor niche. Edwin Jagger is well known for its quality control standards, so you know that you will be getting a razor with even blade exposure on both sides of the head.
The DE89Lbl is a well-balanced, medium-weight razor that will fit the needs of novice and experienced shavers alike.
The sharp brushed finish and excellent lines create a sense of luxury each time you shave. This model also comes equipped with five blades, so it is shaved and ready upon arrival.
On the downside, many first-time buyers say they have had trouble with the screw portion of the razor. It seems as if this may be just an issue of not knowing to lubricate the screw upon arrival and about once a month. Just a touch of mineral oil will do.
Click here to see reviews and prices
The ZOMCHI Razors is a long-standing razor with cut-edge designs. It features a long non-slip design that comes with a long natural diamond-textured handle for a firm grip. 
It has a moderate weight of about 70g for clean and easy shaving. The metal shaving stick has a perfect match with most safety razors making it a reliable shaver for a better experience anytime.
It is delivered with one pack of 5 ZOMCHI platinum razor blades that makes it ready for use even from the first day. 
However, even though the ZOMCHI Razors is ideal for use by both males and females, the design may not be flexible for use without prior experience. Changing the blade and cleaning the head may be difficult for first-time users.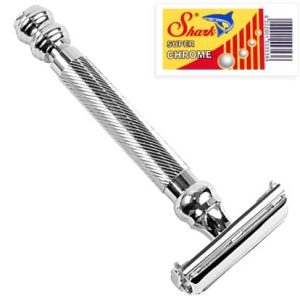 Click here to see reviews and prices
The Parker 99R is a long-handled safety razor that is heavier than many others. The weight and the long handle ensure that even the heaviest beard can be tamed with relative ease. The textured handle of the 99R guarantees that you will maintain a solid hold even in the shower.
On a more negative note, the Parker 99R can be a tad aggressive for the novice. You may experience quite a few cuts in the beginning. This will stop as you become more skilled.
Click here to see reviews and prices
The MÜHLE Grande Shaving stick is a double edge wonder from the German ore mountains. It features a finely designed long handle and closed comb safety razor. 
The Safety Razor company has been owner-managed for over three generations, enjoying a reputation for neat close shave delivery. The razor arrangements give a nostalgic feeling when grooming. Its closed-tooth comb is designed to prevent buildup while you enjoy a clean and smooth shave.
One uninteresting fact about the MÜHLE Grande is handling. This is because while it is a good selection for everyone, it might get a bit harder to get used to it. Using the MÜHLE Grande design for the first time might give you a few cuts.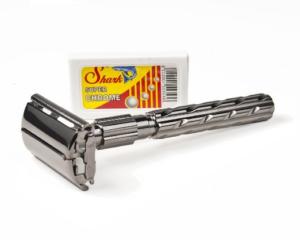 Click here to see reviews and prices
Another solid entry from Parker. The 22R is lighter than the 99R reviewed above, but it delivers a solid shave every time.
Since it is less aggressive than the 99R, it may be a better fit for lighter beards and less experienced safety razor users.
The design and finish are spectacular and your grip on the handle will be quite secure.
Now for the bad. You may have trouble seating a new blade. The butterfly opening works very well, but the blades do not always seat flat.
You will be forced to tap the blade once the razor is closed, so you may cut yourself before taking the first stroke.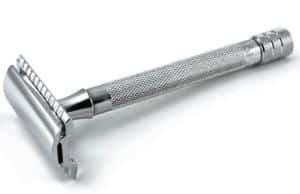 Click here to see reviews and prices
Merkur is an outstanding German-made razor. It features a long handle for those who may have large hands.
The double-edged design is perfect for a close shave every time. Finished in spectacular chrome, but made from stainless steel, the Merkur is not only a showpiece but a reliable shaver that can be kept in the shower or cabinet. The Merkur is packaged with one blade, so it is ready for use the day it arrives.
While the Merkur long-handled razor offers many benefits, it does have an issue to be aware of: replacement blades can clamp down off-center. This is going to cause an uneven shave and occasional cuts. The issue is more prominent with inexpensive blades.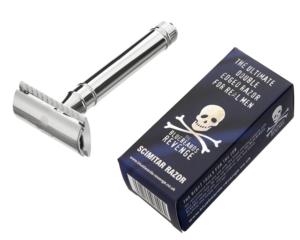 Click here to see reviews and prices
The Scimitar from Bluebeard's Revenge is a short-handled safety razor that is built in England.
The company enjoys a solid reputation within the industry and the Scimitar will provide a close shave on a consistent basis. The quality of the razor is given quite a bit of character by the etched pirate logo on the head.
The only really quasi-disappointment with Bluebeard's Revenge Scimitar is the smooth grip. The lack of texture can make it difficult to control the razor with wet hands, leading to unexpected cuts, especially in the shower.
Qualities of the Best Safety Razors
A safety razor is a very simple device. There are a few working parts, but you do need to keep two things in mind, primarily.
Safety Razor Handle
Start by considering the handle and overall weight of the safety razor. If the head or handle outweighs the other you may find it difficult to maneuver, leading to nicks and cuts on your face.
Safety Razor Weight
A razor that is too light may cause you to apply additional pressure while shaving. A razor that feels too heavy in your hand can cause you to do the same. Either situation will lead to cuts or an uneven shave.
How Safe Is Your Safety Razor?
The second quality to look for in a safety razor is blade exposure. Not really how much blade is exposed, just that an even amount is exposed on both sides of the cutting head. An uneven exposure will make it difficult to shave with the razor because you may never acquire a feel for how much pressure to apply.
Again, this can lead to cutting. At the very least, it will create an uneven shave, forcing you to spend more time on your morning routine.
The best safety razor manufacturers have quality standards in place to ensure an even amount of blade exposure across all of their products.
You also need a fairly safe razor when dealing with certain issues like random thick hairs or uneven hair growth. Many of our readers have asked why do individual hairs sometimes grow in darker and thicker or coarser than others and how to fix it. If you decide to remove those hairs, you need a quality razor.
Start With A Sample Pack of Blades
A final note to first-time safety razor users: you should start with a sample pack of blades. You may find that some will fit into your razor more easily and that others will offer a more comfortable cut. The only way to find the right blade for you is through experimentation.
Related Articles:
Best Electric Razors for sensitive skin