I'm going to give it to you straight, guys. When it comes to straight razors and safety razors, you really don't want to mess around.
You don't want to buy a safety razor because it is less expensive, because safety razors are one product that really does abide by the "you get what you pay for" phrase.
However, when it comes to accessories, you can certainly do some bargain hunting. And less expensive doesn't mean that you are forfeiting quality for the price.
Also, like we have pointed out in other articles, shaving mug and shaving brush sets are like golf clubs, you don't need all the same brand. It's alright if you like the Col. Conk brush, the Van Der Hagen mug, the Merkur razor, and the Feather blades.
We have put together a list of the best shaving mug and brush sets for you gentleman that are reasonably priced and are great quality as well!
---
Table could not be displayed.
---
1.

Best Overall: Colonel Conk Model 239 Mug and Deluxe Boar Brush Set
A pretty cool vintage shaving mug and brush, we have talked about Colonel Conk several times before. The Col. Conk brand is major when it comes to traditional shaving gear, so naturally, we wanted to include them in this article.
However, Col. Conk has limited options for mug and brush-only combinations.
That being said, the first thing to notice about this set it that it does include the razor, stand, and soap. So if you have those items and intend on keeping them, you may want to look at other options.
However, if you're either starting out with traditional shaving gear, or you would like to stick with the trusted Col. Conk collection, this would be a great set. The brush is boar, so those with sensitive skin may find it a bit harsh. Those who are familiar with the boar brushes will enjoy this one from Col. Conk.
It should be noted that the brush handle is plastic, not ceramic like the mug. This might be slightly disappointing at first but the fact that the brush works so well makes up for it. The mug is a beautiful ceramic with the Col. Conk logo on it.
This set is a bit pricey compared to the others so I would recommend this set to a serious beginner to intermediate user.
Overall, this vintage shaving mug and brush is a great, versatile set. We salute you Col. Conk!
Deluxe boar brush
Gold-tone Double Track razor
Gold-tone stand with fine hardwood base holds brush and razor
2.25 oz. Colonel Conk's world-famous glycerin shave soap
Old-fashioned ceramic apothecary mug
---
2.

Best For Beginners: Marvy Shaving Set With Mug, Brush, And Soap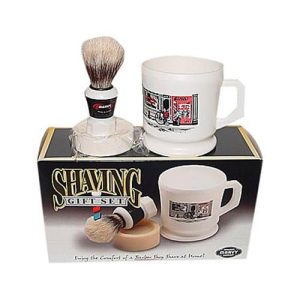 The shaving brush and mug set from Marvy is an excellent set for beginners! Those of you who have cracked your mug by forcing the soap down will be glad to know this bad boy is unbreakable (I do not recommend you "accept my challenge").
However, I would recommend you buy this set if you want to try out the process of mug and brush lather application.
This set will give you the freedom to play around with the process to see if it is for you without having to spend a lot of money on an expensive set!
Marvy has been an inexpensive provider of shaving gear for quite a while now. You certainly will not get an extremely high-quality piece from Marvy, however, you will get a great starter set for those who would like to learn to shave as their grandfather did!
Contains # 923 Shaving Brush made of 100% pure natural boar bristle
Unbreakable Plastic Shaving Mug imprinted with turn-of-the-century graphic
Bar of Shaving Soap which contains moisturizers to soften your face and beard for a smooth shave.
Enjoy shaving the way your father and grandfather did
The comfort of a Barber Shop at Home!
---
3.

Inexpensive:

Van Der Hagen Premium Shave Set
This set from Van Der Hagen is great for those who would like the Van Der Hagen name without having to spend a lot of money on an expensive set.
You can pick this set up for under $10.00! Not only is this set inexpensive, but it is also very sleek. The mug is ceramic, and both the mug and brush are matte black.
This set is great for anybody who is into wet shaving. This would make a great travel set, beginners' set, backup set, etc.
It's truly just a great, versatile, inexpensive set that can serve anybody's needs, whether you're just starting out, or you've been wet shaving for years.
Hypo-allergenic shave soap contains 40% humectants moisturizers to help soften even the toughest beard
The ceramic bowl is designed to make lathering easier by holding the shave cake in place and fitting comfortably in the shaver's hand
Handmade shaving brushes using the world's finest quality 100% natural boar bristle
A shallow bowl reduces mess and prevents tipping
---
4.

Best For Gift:

Omega 46065 Shaving Set with Brush, Holder, and Soap in Bowl
This set is a bit different than the other sets we are including in this article. This set doesn't necessarily come with a mug, however, it does come with the lather already easily mixed in the tub. This is another set with a boar brush.
Also, it is a good starter kit for those who want to get started to see if they like the process without having to buy all the fixings of a traditional razor set.
As I have stated previously, you don't necessarily need to splurge hundreds of dollars on accessories to get a good shave. This Omega is a great brush for those who love the boar brush.
We would recommend that you soak the brush in hot water before you shave with it if you are looking for a brush with a little more "give" than other boar brushes.
This will possibly give you the feel you want from the brush without having to spend hundreds on a badger brush.
Includes omega boar brush, shaving soap, and shaving stand
Everything you need to get started
Made in Italy
Makes a great gift
---
5.

Best Badger:

Van Der Hagen Men's Luxury Shave Set
Alright, this one is for those of you who prefer badger over boar bristles. The previous items listed mostly included boar bristles.
Brushes with boar bristles are less expensive, and they are great for those who enjoy a firm brush.
However, the badger bristles are great for those with sensitive skin, those who don't mind paying a little extra for a brush, and those who just simply enjoy the softer bristles as opposed to the firm (and sometimes abrasive) ones.
This set is quite a bit more expensive than the other Van Der Hagen set that we have included in this article.
Admittedly, it's all in the brush. If you do spend more on a shave set, make sure you're getting a high-quality brush. This set gives you exactly that.
The brush aside, the rest of the set definitely gets the job done. The cup is a beautiful black ceramic, and the stand is very effective. This is another set that would be good for any level of experience with wet shaving!
100% Pure badger hairbrush
Classic Monogrammed apothecary mug
Hypo-Allergenic shave soap
Combination brush & razor stand
---
6.

Best Wooden:

GBS Men's Natural Beech Wood Wet Shave Kit
This classic shaving mug and brush set is brought to you by GBS, a known manufacturer of high-quality beard grooming tools.
The kit is made of natural beech wood, giving it an elegant look on your bathroom counter or cabinet.
The wood used on the shaving bowl can resist bathroom moisture, fungus and mildew so nothing can interfere with your morning shaving routine. Additionally, it comes with a lid to help you avoid a messy counter.
The shaving brush is made of animal-free synthetic bristle designed with a 21mm knot. These synthetic fibers are super soft and dense, allowing you to whip up and incredible lather. Moreover, it comes with a 3oz Driftwood shaving soap made in the USA with all-natural ingredients.
The soap has a fresh, light masculine scent and works great with all skin types to prevent burns and irritation.
Natural beech shaving bowl with lid
Animal-free synthetic bristle shaving brush
3oz Driftwood natural shaving soap
Clean and classy design
Comes in a unique and elegant gift box
7. Old Spice Shaving Mug And Brush:Vintage Old Spice Shaving Mug And Brush
Old Spice is one of the most recognizable brands in the grooming industry. However, we weren't able to find a dedicated Old Speice shaving mug and brush. However, we did find this wonderful Old Spice shaving mug below as well as a shaving brush that's as good as anything we believe Old Speice would make:
---
Tips for Using a Shaving Brush and Mug
Before we get into our thoughts on some of the shaving brushes and mugs available, we actually want to tell you how to use them properly.
We want you to get the most bang for your buck and we feel that knowing how to use a product can often help in deciding which one to buy.
Following our tips will help you to use your new shaving accessories and will also result in a really awesome shave. Let's get started!
Step 1: Prep Your Face
Grab a face towel from your linen closet and get it fairly damp, but not soaking wet by any means.
Pop it in the microwave for about 8 seconds to get it nice and warm. You really don't want it to be too hot and end up burning yourself, so if you are unsure of the temperature settings of your microwave, go ahead and start out with fewer seconds and increase a little at a time.
When your towel is nice and warm, wrap it around your face for 10 to 15 minutes. We like to take a cat nap while we are sitting there draped in a towel, so feel free to catch a few z's too!
You can skip this step if you like to take a shave after you take a shower. The hot water from the shower will soften your facial hair up just as the hot towel will. Whether you opt for the towel or after-shower shave, the goal remains to get the closest shave possible.
Step 2: Time to Use the Brush and Mug
It's time to put away all of the other shaving items that you've used for years and just focus on your shaving brush and mug.
Random fact: men have been using these two things since about 1750! Using a mug is a really good tool to use with shaving soap and a shaving brush. Together they help you to work up an awesome lather that will help you get a super close shave.
You will want to first get your shaving brush full of super hot water and then lean over your sink to shake it out. Do try to leave just a small about of water inside to help with your lather.
Get the tips of your brush a little wet again and place it in your mug that already has your shaving soap or cream loaded in it.
Run your shaving brush in a circular motion for a few passes, adding a little more water if need be until you have a nice fluffy lather.
You're now ready to shave that handsome face of yours and feel the smoothness that came from the lather that you created with your shaving brush and mug.
Step 3: Clean Up
You will need to clean up your brush and mug right after using it to keep them in good condition.
You can do this by thoroughly rinsing your brush and hanging it upside down to dry. The mug may be rinsed out much the same way that you rinse a kitchen mug, but stay away from harsh soaps.
Take extra care to rinse out all of the crevices where the lather likes to hide so that you can avoid any build-up. We like to let our stuff dry in a safe spot and then put it away in a cabinet to keep the dust off.
Caring For Your Shaving Mug and Brush
Now That we've seen how you can get the best out of your shaving mug and brush, we figured you'd like to know how to care for your shaving kit.
That will ensure that your tools last for a long time, making beard grooming easy and enjoyable.
Keep reading to know what you must do!
Taking Care Of Your Shaving Mug and Brush
After using all the lather that you've worked for, rinse your mug thoroughly with clean water to avoid any bacterial growth.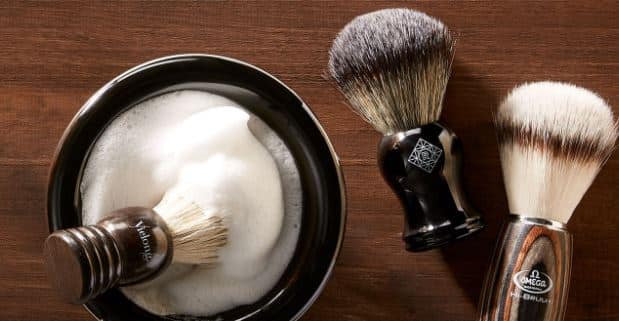 Ensure there's no soap or cream left hanging outside the mug. After all, you don't want that stuff to mix new lather every time.
Wipe the mug down with a moist cloth after rinsing, while paying close attention to all its crannies and nooks.
Some extra residue build-up may be left behind by the soap puck, so it's very important to clean that area nicely. You'll also want to set your shaving mug on a towel or hang it somewhere to dry.
Once your shaving mug is all clean and dry, you can keep it in your bathroom cabinet or any other safe storage.
Tucking it away in a clean place ensures that no dust settles on it or the soap. It will also prevent it from being broken, which is highly likely in a house with kids, pets or clumsy partners.
Maximizing the value of Your Shaving Brush
To maximize the value of your shaving brush, there are a few golden rules to keep in mind.
Firstly, you should always treat your brush gently and avoid using it with hot water. When using your shaving cup and brush to lather up or on the face, you should avoid splaying its hairs or pressing down hard.
That's because pressing the brush down may lead to broken hair or even worse, damage to its inner core.
When lathering up, experts recommend applying the lather in a circular motion on your face. However, I'd advise you to be careful when doing this as you risk twisting the hairs on your brush.
That means you should only use it tips if you choose to apply the lather in a circular motion. Nevertheless, you need to ensure you avoid any excessive pressure on your brush.
While you may have seen brushes that could survive washing, rinsing, and even being steeped in boiling water, I'd highly advise using it only with cold or warm water.
Hot water easily damages the brushes' hairs and can even melt the glue used to hold the knot of hair together. Even worse, the knot may fully detach from the handle. That's because the excess heat expands the hair quicker than the handle, making it crack.
Proper Aftercare For Your Shaving Brush
After using the shaving cup and brush, it's time to clean up the brush by running it under your faucet to eliminate all lather traces.
You can flick the brush over your sink to remove most of the water and then drag its hairs gently over a dry towel.

Once you've shaken out most of the water, hang the brush upside down in a stand where air can easily circulate and aerate it to dry completely.
It's best to leave the brush near an open window for better results. However, you must ensure that your brush isn't exposed to a lot of dust.
Wash your brush occasionally with your normal hair shampoo to kill any bacteria that may build up. However, you need to lather the knot a little before rinsing it with clean, warm water.
It's important to remove all the soap, cream or shampoo residues from the knot before drying it. You can squeeze the knot gently at the base, and any remaining soap will come out.
 How To Choose A Shaving Mug And Brush Kit
For some men, buying a shaving cup and brush seems like an unnecessary expense. We get it; you can always form a lather and apply it on your face using your hands. But are the results as good as what you can get with a shave brush and mug? No!
Purchasing a quality shaving mug and brush not only shows that you value wet shaving but also you desire to get the kind of lather that facilitates a close shave. There are also other advantages of using a quality shaving cup and brush.
Why Real Men Use Shaving Mugs
If you truly desire the best, closest shave possible, then there's only one way to go – a traditional wet shave.
However, just like any man who values wet shaving will tell you, trimming your beard this way requires a little commitment. It takes more than just a cheap can of aerosol shaving cream and a disposable razor.
Traditional wet shaving is a ritual. It requires both planning and preparation, along with the proper use of the right equipment.
A shaving mug is one of the non-essential items that make lathering easy for a wet shave. Moreover, it makes it easy to control the water and also build up lather easily if you are a beginner.
Those who prefer to form lather directly on their face instead of a bowl may still need to use a shaving cup.
However, whether you need one all depends on the type of shaving soap you're using. If your soap comes in its tin or bowl which allows you to add water directly on the soap, then you may choose to lather directly on your face.
---
How To Choose The Best Shaving Mug and Brush
---
How To Choose A Shaving Mug
While a shaving mug is a non-essential item for a wet shave, it wouldn't hurt to have a high-quality bowl in your cabinet.
Choosing the cup mainly depends on material and size, though some also consider the design, depending on personal preferences.
Here are various types of materials commonly used to make shaving bowls.
When it comes to buying a shaving mug, ceramic is one of my personal favorites. Ceramic or stoneware shaving cups hold heat better compared to other materials, giving you the joy of using warm lather. That not only helps you to get a close shave but also feels nice on your face.
Despite their amazing ability to hold in heat, ceramic shaving mugs have one problem – they tend to be fragile and will easily break if you drop them. The Colonel Conk Deluxe Set is one of the best ceramic mugs for beginners and intermediate users.
Thanks to its stylish look on your bathroom cabinet or counter, wooden shaving mugs/ bowls are great if you want something stylish and elegant. However, wooden shaving mugs don't hold in heat.
Nevertheless, they are relatively cheaper than others and are worth a try. Check out GBS Men's Natural Beech Wood Wet Shave Kit if a wooden shaving cup and brush sound like something you'd like.
If you have kids around or you're about your butterfingers, a metal shaving cup would be ideal for you. Metal doesn't hold heat like ceramic or stone, but it still gets the job done. Moreover, it gives you great durability compared to wood or ceramic.
Choosing The Right Shaving Brush
There are many advantages to having the right shaving brush for your wet shaving needs. These merits include:
A shaving brush softens your beard and lifts it off your face for an easy shave.
The brush whips air into the shaving soap or cream to form a rich lather.
Its bristles gently exfoliate your skin to remove dead cells.
It helps lubricate the skin and open pores by adding heat during your shave.
To enjoy all these benefits, here are some of the things to keep in mind before you purchase your shaving cup and brush kit:
Choose the type of brush you need depending on the hair you're comfortable with. You can pick between boar hair, badger hair, horse hair and synthetic.
The size and shape of your brush is another important factor to consider. Larger brushes are great for quick lathering, while small ones offer amazing control.
Bottom Line
There you have it! These tips will help you use your shaving mug and brush effectively and aid you in getting a pretty great shave. Now on to the reviews!