For centuries straight razors, or cut-throat razors as they are sometimes called, were the most popular way of shaving.
They were the only way really unless you wanted to pull your dagger and take a few swipes at your face. Straight razors are simple contraptions.
They consist of a handle and a blade, with the blade folding into the handle to make a nice neat package. These razors fell out of vogue when the safety razor appeared, which, in turn, declined when disposable razors came to the forefront.
Today, straight razors and safety razors are enjoying a resurgence among men who prefer a closer, less irritating shave and some manliness in their lives. Find below the list of the best straight razors on the market today.
Best Straight Razors Recommendation
Best Overall
Edwin Jagger Double Edge Safety Razor
Best Large Handle
Double Edge Safety Razor
Best Long Handle
Parker Safety Razor, 99R Chrome Long Handle Heavyweight Butterfly Open…
Best Overall
Edwin Jagger Double Edge Safety Razor
Best Large Handle
Best Long Handle
Parker Safety Razor, 99R Chrome Long Handle Heavyweight Butterfly Open…
The Different Types of Tip/Point of Straight Razors
Round point: with a round point the tip is semicircular, eliminating sharp endpoints. This point type is more forgiving, so it can help a novice user avoid extraneous nicks and cuts. On the downside, it is not as precise a razor as the other types.
Square, spike, or sharp point: as you may guess from the name, the blade ends in a very sharp point that is perfectly perpendicular to the cutting edge. This sharp point is used for small, precision areas such as edging a mustache. There is a considerable risk of cutting or nicking until a user gains experience.
French or Oblique point: this point is approximately a quarter of a circle, but has a sharper angled curve. While it is similar to the sharp point, the two differ in that the French point can help you shave tough spots like under your nose.
Best Straight Razor Reviews
Check The Kingsland Straight Razor Price and Reviews
The Kingsland Shaving company has a collection of superior handmade straight razors. Its collection includes some of the finest blades for instant use.
Get this razor for a professional experience that leaves the shave smooth, with precision and perfect trimming into the deepest edges.
The razor is reasonably priced but that does not remove the fact that it is a quality carbon steel blade. It is made from the best carbon steel and a wooden scale with a design to last long.
This Kingsland Straight Razor is a professional razor, that is, it is not to be used by an inexperienced person to avoid cutting yourself severely.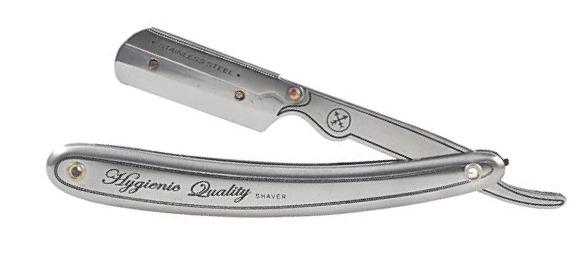 Check The Parker S1 Price and Reviews
Parker is a well-known name in the straight razor niche. The company offers a variety of top-quality cut-throats.
The SR1 is a great-looking razor that is made from stainless steel from its round point to the end of the handle. The round point makes this a great novice-level razor. It also features removable blades, so that you do not have to worry about learning how to strop your blade to keep a keen edge.
There are five blades included, so the SR1 can be shave-ready within seconds.
Even though the Parker SR1 is a great tool for the novice, there is a learning curve to expect.
You will have to learn the angle to hold the blade and which blade is best for your hair type and skin.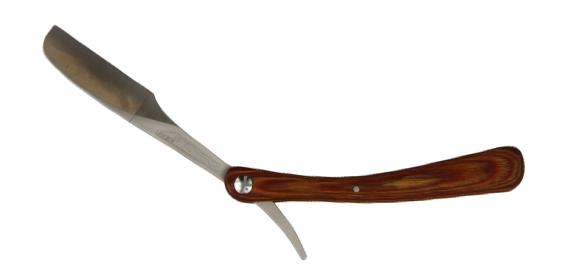 Check Feather DX Razor Price and Reviews
Feather is a Japanese company that is famous for its ultra-sharp razor blades and razors. The Feather DX is no exception, rather it is proof of the rule.
This is an extremely sharp round-edge instrument that should only be wielded by the most experienced straight razor aficionado.
There are two drawbacks to the Feather DX, other than it could take your head off if you aren't careful.
First is that it is round-edged, making it difficult to properly trim a mustache or sideburn. The other is cost. This model runs in the neighborhood of two bills.
Check Parker SRW Price and Reviews
Another entry from Parker is the SRW. This is a round-edge razor that uses replaceable blades like the SR1.
The SRW features snap-blade technology to ensure the barbershop quality blades are in the perfect position to provide an excellent shave every day. This model is shipped with 100 blades, so you should be well-supplied for at least six months of comfortable shaving.
The Parker SRW is packaged with Shark half-blades. These blades provide a great shave for the average person, but just like with the SR1 you may have to experiment with different blades to find the right one for your skin and hair type.
Check The Dovo Classic Price and Reviews
Dovo is a German manufacturer that produces a full line of straight razors. The Classic can be used right out of the box.
This razor offers a square edge for precision trimming around mustaches or sideburns.
Made from the highest quality Swedish steel and hollow ground for an extremely sharp edge., the Dovo offers a superior shave for any type of facial hair.
This razor is not for a novice. If you lack straight razor experience, you can cut your face severely.
Additionally, this razor needs stropped to remain sharp. If you want a Dovo, but want to use double-edged blades that can be replaced, then try the Silver Shavette.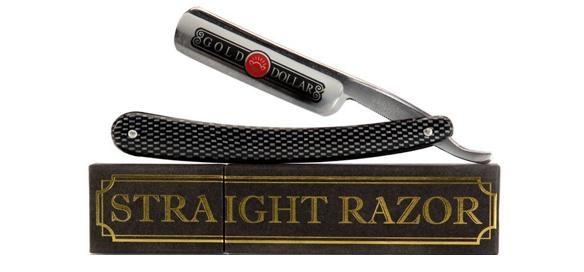 Check The Blades Grimm Gold Dollar Price and Reviews
The Blades Grimm Gold Dollar features a blade made from the highest quality carbon-hardened steel with a comfortable grip handle.
The blade is precision sharpened prior to being shipped, so the Gold Dollar is shaved and ready when it arrives.
The Gold Dollar is offered with free lifetime sharpening. All you have to do is pay for shipping to and from the manufacturer. This straight razor offers a close shave that will last a lifetime.
While not as sharp as the Feather DX, the Gold Dollar is a very sharp instrument that should only be wielded by skilled users.
Conclusion
A novice straight razor user will find the most successful and fewest nicks by using the Parker SR1. The round edge and use of disposable safety razor blades allow it to be more forgiving than other straight razors.
Additionally, it is a relatively inexpensive product, so you do not have to spend a fortune discovering the right razor.
More experienced users are going to want to purchase the Feather DX. Its traditional blade and superior sharpness make it a perfect fit for men with coarse or heavy facial hair. Since this razor will last a decade or more, its longevity easily offsets its cost.
Related Articles:
What is the Best Electric Shaver for Men? 
What is the Best Beard Trimmer?