Mitchell's wool fat shaving soap is arguably the ultimate favorite of 90's wet shaving enthusiasts. From its effective chemical ingredients to clean shaving results, everything is up to par. Continue reading to know how this MWF shaving soap got the limelight.  
Origin Of Mitchell's Wool Fat Shaving Soap
Mitchell's wool fat shaving soap is not your up-to-date shaving lubricant but the traditional choice of numerous wet shavers. It has amazing reviews on the internet, telling how shifting to MWF shaving soap turned out to be the best decision in their wet shaving regime.  
The shaving soap dates back to a 1930's shaving lubricant company that was first started by the famous chemist Fred Mitchell.
He noticed the lack of quality and good-lather-making shaving soap that doesn't compromise the shaving results.
So, Fred decided to introduce Mitchell's Wool Fat shaving soap that creates more lather and shaves even the toughest hair like wool. Since then, shaving soap has been extensively purchased for giving safe, smooth, and flawless wet shaving results.   
With that said, let's read some of the noticeable reviews about the shaving soap by its one-time and regular users.   
Key Features:  
1. Making Lather
Without a doubt, Mitchell's woot shaving soap is the ideal shaving lubricant when it comes to creating residual slickness on the skin.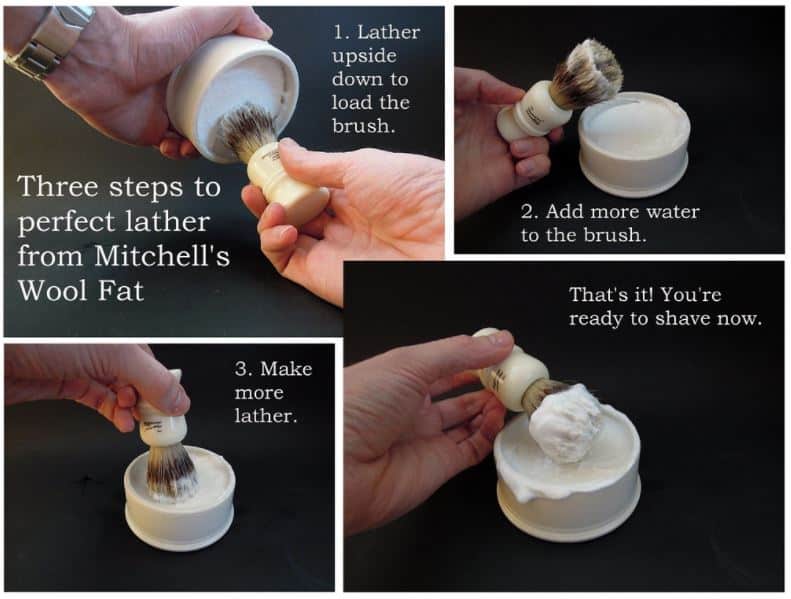 The presence of lanolin- a waxy substance with an extremely light-scented aroma makes the shaving soap ideal for men with rough and too much hair. All you need to rub it on your wet face will make a lot of lather and glide the razor smoothly on the face for a fine wet shave.  
Not only it leaves your face feeling great, but it also protects from shaving nicks and cuts as the lather works as a layer of protection between the razor and the skin.
However, Mitchell wool shaving soap gives wonderful results in making lather with soft water compared to hard water. As per the reviews, many people vouch for its quality of making lather but less than Mitchell's natural soaps.  
3. Scent – What does Mitchell's wool fat smell like?
There's hardly any other shaving lubricant of Mitchell's that can match with the light and the lovely scent of Mitchell's wool shaving soap.
The use of coconut oil, shea butter, and cocoa gives a very old-fashioned scent that may be strong in the start for some. Overall it's a pleasant soapy scent like other soaps and doesn't bother much during shaving.  
4. Ingredients
Being a chemically formulated soap, it is made from an extensive range of chemicals, including Sodium Tallowate, Potassium Stearate, Sodium Cocoate, Sodium Stearate, Aqua, Potassium Cocoate, Glycerin, Parfum, Alpha-Isomethyl Ionone, Hexyl Cinnamal, Limonene, Linalool, Hydroxycitronellal, Lanolin, Titanium Dioxide, Sodium Chloride, Sodium Gluconate, Sodium Silicate, Tetrasodium EDTA, Magnesium Sulphate, Tetrasodium Etidronate.  
All of these ingredients are written on the label of the soap, which may not suit sensitive skin, as reported in the reviews.  
5. Performance  
Among all the hyped shaving lubricants, only a few of them promise good shaving results, even for rough hair. But Mitchell's wool fat shaving soap gives a pretty good shaving experience by whipping enough lather with good consistency.
Try not to add a lot of water, or else it may get watery and unusable for shaving. It doesn't create a fluffy layer of lather but fills the face with thick, soapy, and voluminous lather for the best shaving results.  
It's pretty simple to use Mitchell's wool fat shaving soap. First, nicely wet the face before applying Mitchell's wool fat shaving soap and give a few seconds for the lather to build up completely. 45 seconds is fine for mixing water and soap so that you run out of rather in midway of shaving.
The lather not only helps during shaving but also moisturizes the hair and hydrates the face in between shaving. We won't say it's hard to make lather from the MWF, but it might take a few tries and much patience to make a perfect lather and keep up with it as long as you're shaving.  
6. Performance with different Shaving Blades
Unlike many shaving lubricants, this Mitchell's shaving soap doesn't bind you to only shave with a particular razor. But it offers you the option to use as many different types of blades as you can to get perfect wet shaving results.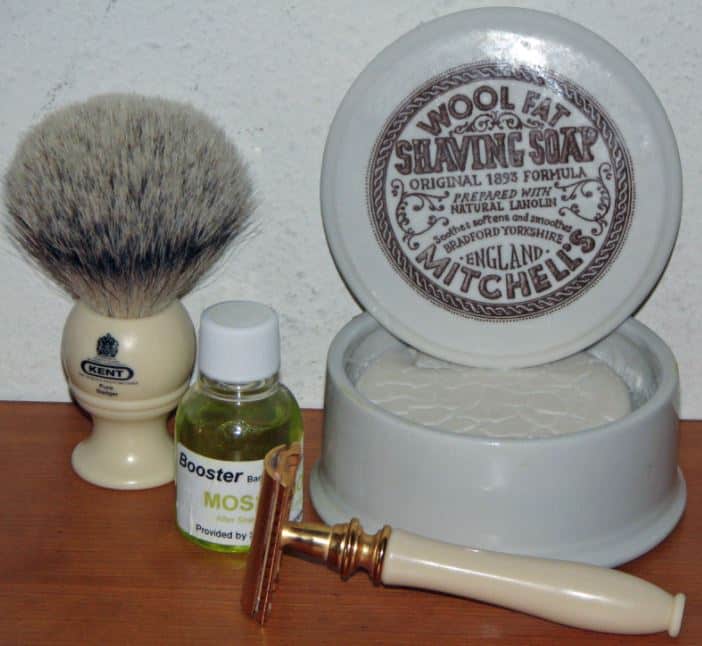 Creating lots of lather and being ultra-slick keeps the skin fresh, fragrant, and smooth throughout the shaving.
Moreover, this glycerine-based lubricant also helps the razor glide smoothly over the face reducing friction to avoid cuts and nicks. Regardless of your hair type and texture, Mitchell's woot shaving soap shaves hair smoothly without even pulling or tugging the hair from the razor.   
Long story short, it's your ideal shaving soap if you're looking forward to a smooth, safe, and lots of lather during your shaving.

The soap also avoids irritation, and its anti-septic properties keep away from surrounding bacteria or those on the blades. As long as the scent is concerned, Mitchell's wool fat shaving soap maintains a sweet loving scent for 3-4 hours after shaving.   
7. Value For The Money:  
The soap comes in a 125 gm puck with a 3.5 diameter and costs about $18 on online stores. The puck lasts for about 4-5 months which is a great deal in terms of money.
However, you may probably find other shaving soaps cheaper than Mitchell's wool shaving soap, but the quality and performance might not be up to the mark.   
 Is Mitchell's Wool Shaving Soap The Best Shaving Lubricant?  
Mitchell's wool shaving soap might not be a comprising option as a shaving lubricant to use with hard water.
It's the ideal one to get the most out of your shaving without trying tons of shaving lubricants and making your sensitive skin suffer from nicks, cuts, and irritation.  
How Do You Use Mitchell's Wool Fat Shaving Soap?  
The best practice is learning to make a perfect lather and then shaving with it in slow motion.
Mitchell's wool shaving soap is excellent for a gentle, hassle-free, and perfect wet shaving experience. It is the first go-to choice of a lot of men for being gentle, pleasant, and smooth on their skin.  
History of Mitchell's Wool Fat Shaving Soap
Mitchell's Wool Fat Shaving Soap was created in the early 1930s in England by Bradford Chemist Fred Mitchell. He found out that the natural lanolin content of wool fat, which made the hands of local sheep shearers and wool sorters so wonderfully smooth, might also be helpful to delicate complexions and sensitive skins.
Benefits of Mitchell's Wool Fat Shaving Soap
Mitchell's Wool Fat Soap is a straightforward and natural product that is still manufactured according to Mr. Mitchell's original formula, which is based on a recipe from the turn of the century and incorporates lanolin from wool fat as the primary component.
Mitchell's Shaving Soap produces a rich lather that allows for flawless shaving results. Suitable for delicate skin, this mild soap is packaged with an elegant ceramic shaving dish for convenience.
Mitchell's Wool Fat Shaving Soap Scent
This soap has a light to non-existent smell, which is in line with its natural appearance. Simply said, it was a clean and refreshing experience. In the words of one reviewer, "I can't think of anything more I'd want from a shaving soap that I don't already have in spades from Mitchel's Fat Wool."
This extremely mild soap, despite the fact that no medical claims are made for it, is particularly soothing to sensitive skin and has frequently been recommended by members of the medical profession as a means of alleviating specific skin issues.
Mitchell's Wool Fat Soap has gained a loyal following of primarily local consumers since its inception, and it is now in high demand not only in the United Kingdom but also in some other parts of the planet, including Europe, Australia, Japan, and the United States.
The Mitchell's line has now expanded to include additional items derived from the original formula, such as shampoo and bath foam, as a result of increased demand from customers.
Popular comments on Mitchell's Wool Fat Soap
Mitchell's Wool Fat Soap has been tagged as a lot of things. But it is particularly labeled as follows:
• The best-selling soap in the world
• The lathering and protection are exceptional
• Excellent for those with sensitive skin
Product Dimensions
Weight: 125g/4.4oz; Diameter: 75mm Height: 27mm
Mitchell's Wool Fat Shaving Soap Review
Mitchell's Wool Fat Soap is so named because it includes lanolin, a waxy material that is produced as a by-product of washing wool before it is spun. Lanolin is acquired as a by-product of washing wool before it is turned. It is intended to be a very softly scented product that is ideal for individuals with sensitive skin due to its ultra-light smell.
Upon closer inspection of the components, this soap appears to be of high quality by today's standards. For some reason, this soap helps consumers achieve a damned excellent shave despite the fact that it contains the same ingredients as many other fantastic soaps. Lanolin is one of the most notable ingredients.
If you have hard water, lathering might be a challenge, but it can be well worth it if you are willing to put in the time and effort to do so. As well as being pleasant to the skin, this soap performs admirably when it comes to the general shaving business.
It foams up well when used with a decent shaving brush. As a result, there is little to no scent to speak of, which is great because it leaves the skin feeling very tender and hydrated.
"It has a muted and delightfully rural fragrance, and it does not linger," several buyers have commented. However, people who prefer powerful designer smells may not enjoy it."
"It left my skin feeling the most pleasant after I used it—with clear signs of the irritation and burning I get after shaving fading the most immediately when I used this soap."
Mitchell's Wool Fat will most likely prove to be the most excellent shaving soap you'll ever use in your lifetime. In addition to the beautiful ceramic bowl that comes with it, you may purchase independent pucks to refill the bowl or to use with a favorite bowl or mug that you already own. It's a little substantial on the costly side, but because it's a reasonably hard puck, it'll last you a long time.
Kindly bear in mind that if you are living in a hard water region, this soap will lather more difficulty than if you live in a soft water area. Just a heads up that it is not impossible to lather in hard water; you may just have to let it bloom (sit with hot water on it) for a few minutes before brush loading, and I've discovered that it takes more water to explode that lather in hard water completely.
Mitchell's Wool Fat Shaving Soap Ingredients
The following ingredients are found in the Mitchell's Wool Fat Shaving Soap formula;
Sodium Tallowate
Linalool
Sodium Cocoate
Sodium Stearate
Sodium Stearate
Potassium Cocoate
Sodium Silicate
Glycerin, Parfum
Potassium Stearate
Alpha-Isomethyl Ionone,
Aqua
Sodium Gluconate
Hexyl Cinnamal
Tetrasodium Etidronate
Limonene
Lanolin
Titanium Dioxide
Sodium Chloride
Tetrasodium EDTA
Magnesium Sulphate
Hydroxycitronellal
7 Tips To Lather Mitchell's Wool Fat Shaving Soap
Make use of warm water instead of hot/cold water
You should choose a stiffer brush over a softer brush. A stiffer brush will scrape off a layer for lathering easier than a softer brush
Soak soap and brush in warm water. It will loosen the soap and give the brush a chance to saturate with water fully
Start with a drier brush- it's best to start dry and add water than to try and remove water later.
Load the brush upside down- This will let soap into the center of the brush more easily, creating a better lather more quickly
Load the brush heavily- spin the brush on the soap for at least double the amount of time compared to other soaps you would typically use
Lather directly to the face- as you first apply the lather. It will be thin and dry. As you work the lather in, deep just the tips of the brush into the water, and continue. You might have to repeat this several times. But you will be rewarded with a creamy sleek lather
With the seven tips listed above and a little practice, you should get a great result.
Can You Melt Mitchell's Wool Fat Shaving Soap?
You can melt this soap. However, for better results, it is recommended that you use it in the unadulterated form it comes in.
Mitchell's Wool Fat Shaving Soap Refill
This product is rated as the best-selling soap from Mitchell's wool fat with exceptional protection and lathering. It is ideal for those people with sensitive skin. The product is preferred by many as it comes with lanolin, a component that keeps the skin protected and soft. The good news, you can now buy it from amazon.
Conclusion  
In short, it's great of a shaving lubricant that performs better, results outstanding, and lasts longer than ordinary soaps. With Mitchell's wool fat shaving soap, you won't have to fuss about the lather quality; exposure of germs nor repeated applies as the lather on the shaving brush does the job on the first attempt.