Merkur's razors are the ideal retro razors, making a solid comeback in the shaving world. Out of all, the two famous- Merkur Futur and Merkur Progress make it hard to choose between. Continue reading to know which one has got the most hands raised as an ideal shaving razor.    
Merkur Futur vs Merkur Progress : Which Merkur Razor Is Best? 
Merkur Futur and Merkur Progress are two famous adjustable razors that are hard to find in any other brand. The significant difference between both the razor is the type of use they are chosen for. Merkur Progress is used for lighter uses but is relatively easy to use than Futur, which is used for heavy shavings.
Both offer fantastic shaving results but differ in a few factors that you might have to consider while choosing the best shaving razor for yourself.   
Weight
As discussed, being extremely lightweight makes Merkur Progress favored for lighter shavings.
The shaving razor weighs around 92 grams and has a length of up to 10.8cm on the kitchen scale. At the same time, Merkur Futur gives top-notch smooth shaving results with an average weight of 123 grams and a length of 8.8 cm.   
Design
Merkur Futur has a very simple and elegant design with a solid body that is smooth and comes with a few handy adjustments to make during shaving. In contrast, Merkur Progress is not as good-looking as Futur's. 
But, it offers a nearly similar level of smoothness and a good grip for nick and cut-free shaving.   
Results
Merkur Futur and Merkur Progress offer comparatively safe, charming, and mistake-free shaving results better than the combined effect of many razors.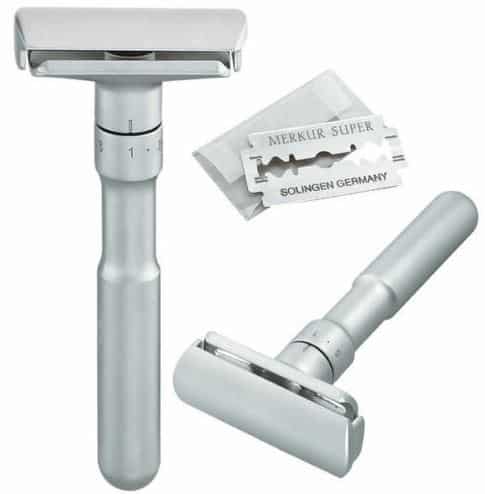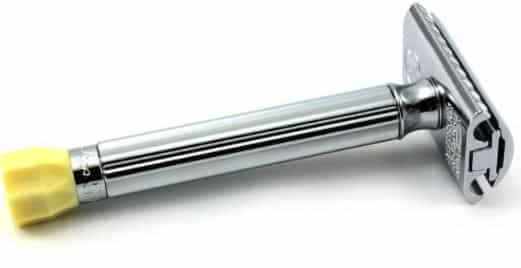 Merkur FAQ's
Is Merkur Futur Worth The Money?  
However, Merkur Futur has gotten more votes than Progress because of the pleasant shaving experience it offers. Moreover, it can smoothly glide over your skin and be adjusted accordingly by the number of helpful settings it has. The best part about using Fetur is that it gives shaving results that last long, which is not the case with Progress or many other razors.   
Is Merkur Progress Worth The Money?  
When compared, Merkur Progress also proves pretty good during shaving. But it might be hard to adjust with different types of blades for every skin type. In addition, they have a comparatively short handle, unlike Futur which has a longer one, comfortable to hold and glide during shaving.  
Is Merkur Progress Razor Is Best For Beginners?  
Overall, Merkur Progress is your go-to shaving razor if you call yourself a pro at shaving and do not need extra help from the razor. A lot of men are actually addicted to Merkur's Progress razor for getting a somewhat good shaving experience without breaking the bank.   
How Aggressive Is Merkur Futur?
Merkur Futur is more aggressive than the Merkur Progress, however, the difference is not major. In addition, the Merkur Progress does not weigh as much. It is lighter by 0.9 oz or 25 g. Unlike aggressiveness, the weight difference is noticeable.
Which Merkur Razor Should I Buy?
Below are the best Merkur Safety Razors on the market:
Merkur 180 Long Handled
Merkur 34C HD Classic Short Handle
Merkur Futur
Merkur 38C HD Classic Long Handle
Is Merkur 34c The Best?
The Merkur 34C razor is an excellent razor. In fact, it is one of the highest-rated safety razors of all time. To find out more, check out our article on the best Merkur safety razors.
Why is the Merkur 34C So Popular?
Well, it is one of the best razors out there. It has a balanced weight and easy-to-grip handle which makes it easy to use. In addition, it offers smooth, comfortable shaving which makes it an excellent choice for both beginner and experienced wet shavers.
Is Merkur 34c Aggressive?
A good way to describe the Merkur 34c is moderately aggressive. To change the aggressiveness, you can go with a mild blade like a Shark or Merkur. These blades will offer a smooth shave. On the other hand, you can go with something sharper like a Feather which will make it more aggressive.
How Long Do Merkur Blades Last?
For general-purpose use, Merkur blades will last about a week. For most men, this means you will need to change the blades after about 5 or 6 shaves if you shave using the three-pass technique.
What is the Merkur 34C Made Of?
The Merkur 34C is a German razor that is handmade in Germany. It is stainless steel and has a textured handle.
Final Verdict  
Merkur Futur can be called a medium-aggressive shaving razor that comes with several helpful control settings. In comparison, Merkur Progress is your old-school retro razor that makes your shaving smooth, easy, and light without ripping off the face by any means. However, men love Merkur Futur for its super adjustable head and snap-cap design that plays a massive role in giving a perfectly close shave.  
Merkur Progress Blade Gap
The blade gap is the safety distance between the safety bar and the edge of the blade. The blade gap for the Merkur shifts acute and obtuse depending on which setting you dial in. adjusting a blade gap can be of importance when shaving. The blade gap is adjustable to suit the kind of shaving that you require.
 Conclusion 
Choosing razors has always been a matter of personal taste so you don't regret buying them. Either you choose Merkur Futur or Progress; both can be slippery to use unless you are a professional wet shaver. For the best shave, you need to have the right razor that suits your skin type.