Many men are exploring the possibility of switching to a more traditional wet shave.
It may be for the sake of nostalgia or simply a need for a better shave than can be had from a cartridge razor or a disposable.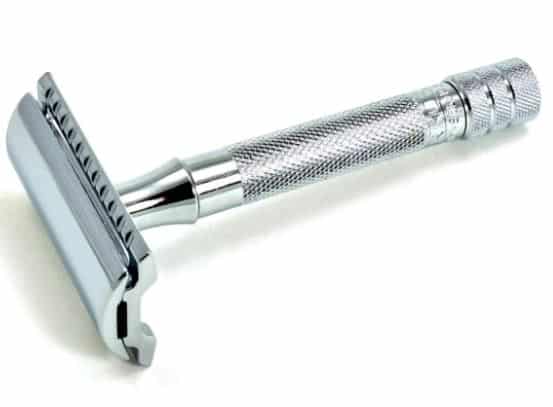 The problem is a lack of knowledge. Not just about how to use a safety razor, but how to find the right razor in the first place. Merkur is a brand name that you will see repeatedly as you search for a reliable safety razor.
Merkur is a German company that has been producing quality shaving equipment for decades. They offer a wide variety of models to choose from, some are better than others depending on your skin and facial hair type. That makes the search for the best Merkur safety razor a bit difficult.
We want to give you some background information on terminology that you may encounter while searching for a new razor, then move on to a few words about the top Merkur safety razors available today.
Terminology
As you search the internet for a safety razor, you will come across certain terms repeatedly. The first two are open comb and straight(solid) bar.
These refer to the area where the blade actually shows its edge. An open comb allows more of the blade's cutting surface to contact your facial hair and guides hair to the blade; thus it is better for coarse or thick hair.
A straight bar minimizes the amount of cutting surface exposed to your skin; therefore, reducing skin irritation. Either bar type will provide a close shave when paired with a sharp razor blade.
Another term that is bandied about is handle length or grip length. There are only two handle lengths across the industry: short and long.
A short-grip safety razor will allow you to better control the head pressure and is more forgiving for a novice user. A long grip will require more pressure to keep the head cutting true, so is more effective with coarse or thick hair. On the downside, long-grip razors are less forgiving and can lead to nicks if not handled expertly.
5 Best Merkur Safety Razors Reviews
1. Merkur 34C Heavy Duty Classic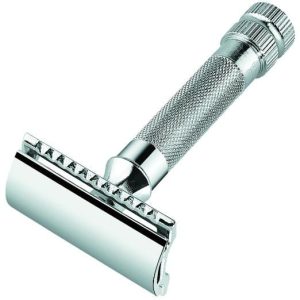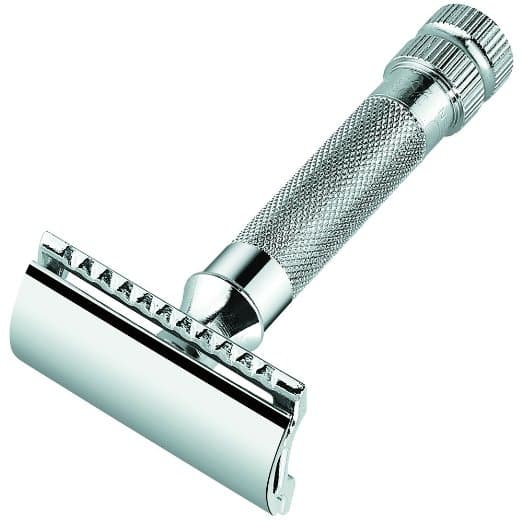 Click here to see reviews and prices
The Merkur 34C Heavy Duty Classic is a short-grip DE that offers a smooth balance between head weight and handles length.
The razor is made from chrome-plated zinc alloy and can be a forgiving razor when paired with the right blade. The 34C is a straight-bar razor that is a good choice for the novice. The chrome plating is known to chip, but that will not interfere with your shave.
2. Merkur 33C Classic Style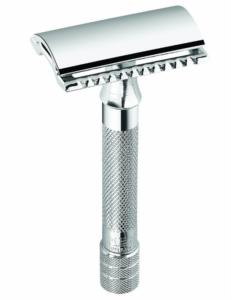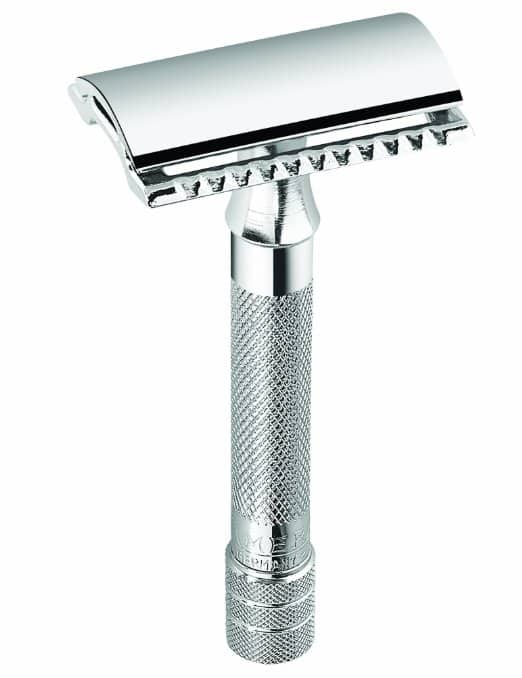 Click here to see reviews and prices
The Merkur 33C Classic style safety razor is a short grip, straight bar DE that is finished in an attractive polished chrome.
The diameter of the handle is slightly smaller than that of the 34C, so may be a better fit for men with smaller hands or women.
Again, this is a forgiving DE for novice users. This is a great razor for men who have average coarseness to their facial hair and who shave every day.
The main downside to this razor is that the head is relatively light, so it struggles with thick hair unless you apply additional pressure. The pressure can lead to nicks until you develop a proper technique.
3. Merkur 15C Classic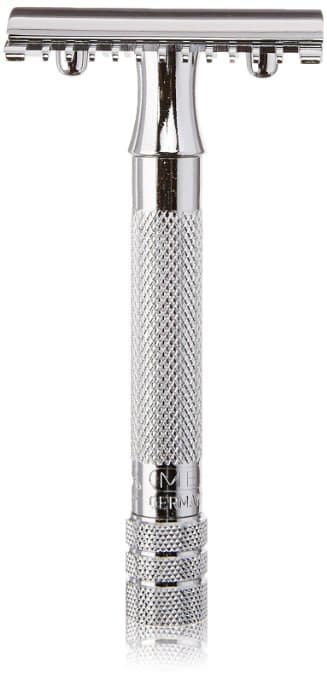 Click here to see reviews and prices
The Merkur 15C is an open comb, short grip double edge razor that is capable of tackling coarse or dense facial hair.
The polished chrome and knurled handle offer an aesthetically pleasing unit that is more than competent for its task.
The short grip makes this a very forgiving set-up for a novice user. On the downside, this razor needs to be carefully paired with the right blade. You will not get a close shave with some of the more forgiving blades such as Derby Extra, so look to a Kai or a Feather.
4. Merkur 25C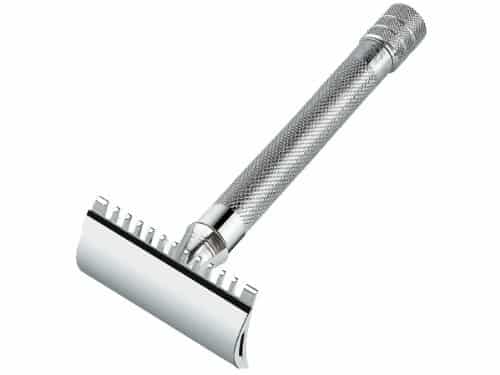 Click here to see reviews and prices
The Merkur 25C is a long-handled, open comb safety razor that is aggressive enough to tackle any type of facial hair.
With the right blade, you could shave an angry badger with this thing. The grip features a non-slip design to ensure a confident hold even in the shower.
Novice users and men moving to a long grip DE must keep in mind that this type of razor is not going to be forgiving if you do not have a top-notch technique. Also, you should pair this razor with an uber-sharp blade if your facial hair is particularly coarse or dense. Of course, you can always sharpen the razor blade it came with.
An added bonus of the Merkur 25C is that it can be bought packaged with a matching razor stand, brush, and bowl. 
5. Merkur 23C 

Click here to see reviews and prices
The Merkur 23C is a long grip, straight bar safety razor designed for men who have coarse or dense facial hair and sensitive skin.
The head provides enough weight to maintain a close shave, while the straight bar works to reduce the amount of friction on your skin. Even so, this is a long grip razor and is less forgiving than a short grip.
If you have extremely sensitive skin, you will want to pair this with a less aggressive blade such as a Wilkinson Sword.
6. Merkur Futur and Merkur Progress
We cover the Murkur Futur and Progress fully in our article on Murkur Futur vs Murkur Progress.
Our Two Best Merkur Safety Razors
In our opinion, the best Merkur razor for a novice or a person with sensitive skin is the Merkur 33C Classic because it pairs a forgiving short grip with a straight bar design to reduce friction.
You can further reduce skin irritation and the chance of nicking by pairing this razor with a Derby Extra blade.
On the other hand, gentlemen with coarse or thick facial hair will find that the Merkur 25C may be their best option.
The open comb design paired with the four-inch length can provide a close shave even if you need to tackle a forest each morning. You can optimize your shave by pairing this razor with a Feather blade.