Since Proraso was established in 1908, the Italian company has been setting trends in the shaving industry by creating exceptional items specifically for men.
Is Proraso A Good Brand?
Proraso is a fantastic brand for the masculine guy, featuring shaving creams, beard care, shaving lotions, and colognes that are incredibly well-regarded in the industry.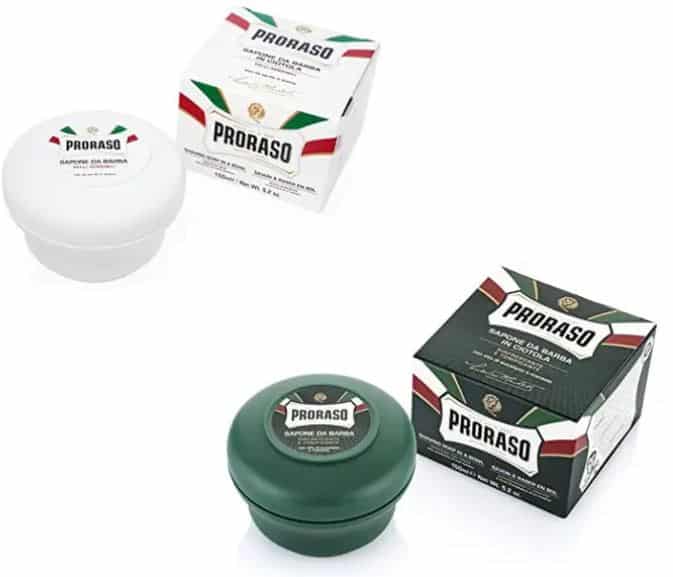 Proraso goods are significantly less expensive and more popular with males than the more expensive ones.
Overall, their goods have a very classic and traditional feel to them; however, some of the formulations have been modified.
In an era when there have been rumors that some shaving soaps have been discontinued, Proraso stands tall.
What Is Proraso Shaving Soap Made Of?
Proraso shaving soap has a high concentration of solid oils, such as coconut oil, tallow, and palm oil, which produce a lot of foam.
They frequently use a high proportion of castor oil because castor oil aids in the retention of the lather and the extension of its duration.
Other ingredients include;
Stearic Acid
Camellia sinensis Leaf Extract
Cocos nucifera (Coconut) Oil
Potassium Hydroxide
Hydroxyhydrocinnamate
Sodium Hydroxide
Parfum (Fragrance)
Avena sativa (Oat)
Kernel Extract
Glycerin
Linalool
Magnesium Aluminum Silicate
Pentaerythrityl Tetra-di-t-butyl
Lactic Acid
Tetrasodium Glutamate Diacetate
Hexyl Cinnamal
Citronellol
Geraniol
Citral
Aqua (Water/Eau)
Limonene
What Is Proraso Cream Made Of?
Natural components are used in the production of this product, and no animal products are used. The ingredients include;
Aqua (Water/Eau)
Potassium Hydroxide
Glycerin
Stearic Acid
Sodium Hydroxide
Lactic Acid
Parfum (Fragrance)
Avena sativa (Oat)
Kernel Extract
Cocos nucifera (Coconut) Oil
Magnesium Aluminum Silicate
Hexyl Cinnamal
Pentaerythrityl Tetra-di-t-butyl Hydroxyhydrocinnamate
Tetrasodium Glutamate Diacetate
Camellia sinensis Leaf Extract
Citronellol
Linalool
Geraniol
Citral
Limonene
Pros And Cons Of Using Proraso Soap
Pros
The Proraso Shaving Soap can be used for Sensitive Skin; when used with a shaving brush, it creates an ultra-creamy lather that prepares skin for a close shave without razor burn.
Following your shave and washing away the foam, you should not be left with a very cold and somewhat tingling face as a result.
The fragrance of the soap is really pleasant.
According to the finest shaving soap reviews, Proraso shaving soap is one of the top ten shaving soaps available.
Compared to the cream, the lather is somewhat thicker and slightly harder to build up than with the gel-based formula.
Cons
When compared to the cream, it does not last nearly as long.
In addition, it might be a little more smooth.
Pros And Cons Of Using Proraso Cream
Pros
It has four distinct shaving cream options for a variety of beard kinds.
Face lather that is incredibly easy to create with a badger hairbrush
High-quality, mostly natural components
The use of a slick lubricant helps to prevent razor burn.
Is Shaving Cream The Same As Soap?
Ideally, not. The very first difference between them is their consistency. Shaving cream is much softer in consistency than soap.  This makes a big difference in the technique and skill required to produce lather from them.
Can You Use Soap Instead Of Shaving Cream?
Soap, bath soap, hand soap, and body wash are great alternatives for shaving cream. They are readily available, easy to apply, and rinse off and you probably have them in your bathroom already. However, they are more likely to dry out your skin.
How Do You Use Proraso Soap?
For best results, apply your favorite Proraso Pre-shave cream to your damp face. Soak your shaving brush or run it under hot water for about 30 seconds. Apply the brush to the soap in repeated fast circular motions.
Cons
A thick lather may not be the best choice for cartridge razors.
It is suitable for guys with rough faces who don't require a lot of cushions or post-shave help, prefer creams over soaps, and appreciate a cheap price point.
The Proraso brand develops fantastic items that receive consistently high reviews from customers all around the world.
The most noticeable difference between shaving cream and soap is that the soap is set stiff or hard, while shaving creams have a soft consistency instead of soaps. The result is that they typically take water to create a lather, and a brush is always necessary.