If you're looking for traditional products for your wet shaving, the chances are that Arko Shaving Soap is likely to catch your sight. Of all the modern shaving lubricants, this one is a true shaving classic to make wet shaving less of a hassle for you. Continue reading what people have to say about Arko Shaving Soap. 
What Do Others Say About Arko Shaving Soap?
Whether you've recently shifted to a straight razor or want to limit shaving cuts and nicks, Arko shaving soap will prep your skin for the best shaving results. This is very important if you have sensitive skin.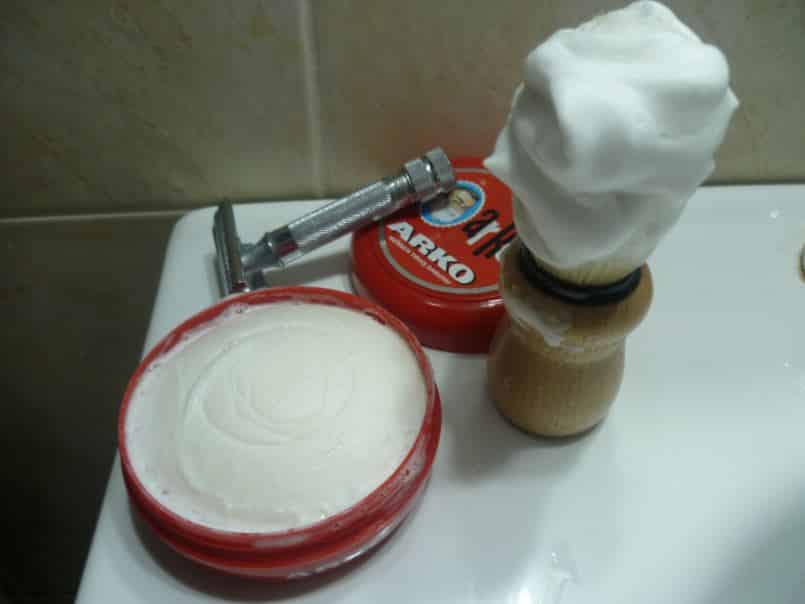 As one of the best traditional shaving lubricants, it's, no doubt, ideal for anyone with a wet shaving craze.
What makes the soap stand out from the others is its handy shaving stick that plays a big role in making the lather. However, some people say that the price is a little high but totally worthwhile for a pleasant, safe shaving experience.
What Is Arko's Shaving Soap History?
Arko's shaving soap is one of the few vintage-style lubricants with a classic 1960/1970 packaging design.
This shaving soap stick was created nearly 50 years ago by the famous Evyap brand, the first wet shaving lubricant to come from them. With its Turkish brand heritage, Arko shaving soap contains ingredients that will help you perfect the art of wet shaving with any cartridge. 
Arko Shaving Stick Review
It is Arko's shaving stick that often makes the soap an interesting topic to discuss among wet shaving enthusiasts. Because of the stick, a lot of men prefer following the Arko stick-to-face method.
All you need to do is wet the end of the stick and rub it on the face without creating any mess. Not only does using the stick this way help in making enough lather, but it also makes the soap last for a little longer.
Also, the shaving stick has a compact size which is very convenient when packing your wet shaving kit on a trip. To catch sight, the stick is packed in aluminum foil which has a picture of a smiling man with his half-face covered in leather.
Since it's a tallow-based stick, the soap makes it easy to whip up the lather, glide over the skin, and give excellent shaving results. 
How To Use Arko Shaving Soap?
Using the famous stick-based Arko shaving soap is really a cakewalk if you follow these steps.
First, wet your face thoroughly with cold water.

Put a little water on the stick's end

Rub the stick on the shaving area gently

Apply a little pressure while rubbing the stick in the back-to-forth direction

Keep rubbing the stick for 10-20 seconds until you've made enough lather on your face.
After use, cover the shaving soap stick with aluminum foil or tissue paper and store it in a safe place. Make sure the place is dry and the stick isn't exposed to moisture. 
Where Is Arko Shaving Soap Made?
The famous traditional shaving soap stick has been ruling the shaving world for over 60 years now.
It was originally made in Turkey by the famous Turkish shaving product brand Evyap which is home to hundreds of other wet shaving products. 
A Detailed Review of Arko Shaving Soap 
Without a doubt, the Arko shaving soap stick is the all-time favorite of traditional wet shaving enthusiasts who are for sure in love with the generous quantity of lather it makes. Besides, there are many points to consider about the oldest yet most preferred shaving lubricant. 
1. Odor
Honestly speaking, most men buy shaving lubricants because they like their scents. When it comes to Arko shaving soap, shaving enthusiasts seem way too confused.
Some users say the scent is fresh and citrusy, while others feel it is too strong, like urinal cakes or lemon. But, most of the time, Arko smells like other soaps with a bit of a fresh coconut oil scent.
2. Packaging
The packaging is funny. Yes, that's what users say after looking at the funny man's face dropped in a lather.
As you know, it comes in the form of a shaving stick wrapped in creatively printed packaging. It wouldn't be wrong to say that the packaging is unique for its bright red color, and the bold label says Arko Shaving Soap.
3. Lather
The quality of shaving soap to make lather can make or break its first impression. Not only is making lather quite easy but also a one-time job so you can start shaving right away.
However, using the shaving stick the wrong way may not give you the expected lather results and take longer than the average of 10-20 seconds. 
4. Price
Quality comes at a price. Some say that the Arko shaving soap is a little high-priced, while others believe it to be the most budget-friendly option in high-quality shaving soaps.
Whatever the case, it lasts longer than your average shaving soap, which is nearly  2-3 years in daily use. It's also ideal for a close shave, which you might not get with other expensive shaving lubricants.
5. Lubrication
Besides the price and packaging, the lubrication of this Arko shaving soap makes it the best shaving soap stick for wet shaving.
Depending on your requirements and preferences, you can make three different types of lather with different consistency. Whether you make a thick creamy lather or a thin layer of lather, it lubricates well and gives full transparency while shaving, so you don't accidentally cut yourself.
6. Ingredients
For the strong smell and long-lasting effect, the soap contains some of the best quality chemical ingredients used at the industrial level.
Potassium Tallowate

Stearic Acid

Potassium Cocoate

Aqua

Sodium Palm Kernelate

Glycerin

Parfum

Paraffinum Luquidum

Titanium Dioxide

Tetrasodium EDTA

Etidronic Acid

Disodium Distrybiphenyl Disulfonate
7. Skincare
The soap is safe and friendly for nearly all skin types, especially helping with close shaves on sensitive skin.
Compared to most shaving soaps, it makes generous lather to reduce the chances of painful nicks and cuts. It's also an irritant-free shaving soap and won't be a problem if you nicely wet your face before rubbing its stick.
Is it OK to Shave with Soap?
No, it's not OK to shave with just ordinary soap. That's because it can dry out and clog your razor.
Therefore, it's important to use a soap designed for shaving such as Arko shaving soap. This will help to ensure everything is done right and you remain safe.
How Do You Lather Arko Shaving Soap?
To lather Arko shaving soap, here's what you need to do:
You will need a shaving soap bowl or mug and either a shaving brush (best option) or applicator (like the back of your hand, fingers, etc).
If you are using an applicator then add water to dampen it before adding Arko Shaving Soap.
The soap should now lather and be ready to use.
Can You Shave without Soap?
No, you cannot shave without soap. Shaving without water or any moisturizing agent, such as soap, can lead to your razor gliding erratically, resulting in burns or cuts on your skin.
Should I Shave My Pubes in the Shower?
Of course, you can shave your pubes in the shower. In fact, this is a very popular method that has a lot of benefits to offer. These benefits include:
It helps you avoid infections
It gives you more recovery time before your pores close
It also helps to reduce the impact of razor burn and general irritation
Conclusion
Long story short, this Arko shaving soap stick is best for price, lubrication, performance, and lather. You'll hardly get any other shaving lubricant with this level of perfection at such an inexpensive price.