If you have sensitive skin, even if you have the best razor for sensitive skin available and that razor is equipped with the best blades, you may have an uncomfortable shave if you do not have the right and best shaving soap for sensitive skin.
There is something so soothing about a shaving soap for sensitive skin that softens the hair yet invigorates and moisturizes your skin.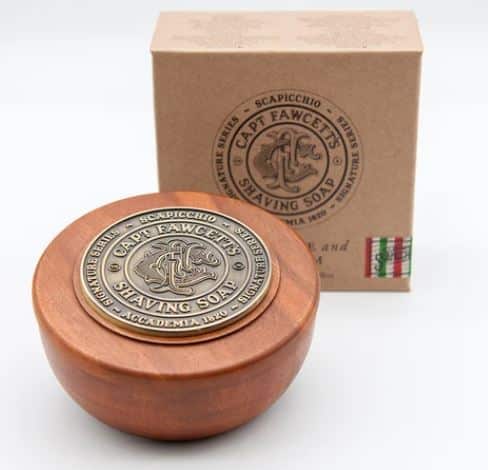 Finding the best shaving soap for sensitive skin that will offer you all of those benefits can be frustrating, though.
Since shaving soaps are not expensive, trying a few dozen is no real financial consequence, but it will take a long time.
To help you narrow down your field of choice, we have created a list of the five best shaving soaps for sensitive skin on the market right now.

Proraso shaving soap has been in continuous production since 1948. The company offers a wide variety of glycerin-based shaving soaps, but the best of them may be the Eucalyptus and Menthol formula.
Each of the soaps is hot-processed, then left to sit for ten days before being packaged. This creates a dense soap cake that can last longer than other brands. The menthol provides a stimulating tingle that will open your pores as the eucalyptus softens hair and skin.
The combination will help to ensure the closest shave possible while minimizing skin irritation.
Proraso Shaving Soap with Eucalyptus and Menthol is possibly the most popular shaving soap on the market today. One major factor is its rich, thick lather which protects, calms, and soothes skin prone to irritation.
Creates a rich, thick lather while protecting, calming and soothing skin prone to irritation. Having said that, there is one repeated complaint about the product: it does not provide a slick enough surface for heavy beards.
Unfortunately, finding a shaving soap that is effective in heavy growth is quite difficult. [Buy Here]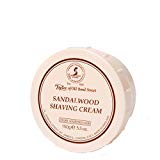 Most Americans think of shaving cream as this white foam that dispenses from a can. Taylor of Old Bond Street Sandalwood Shaving Cream is not that kind of shaving cream.
It is a soft cream designed to be applied with a brush and removed with either a double-edged safety razor or a straight razor.
Taylor of Old Bond Street markets a wide variety of scents and ingredients, but the Sandalwood formula may be the most masculine. This formula is ideal for sensitive skin and provides a creamy lather for a close shave without razor burn or irritation. Even though the sandalwood has high notes, you will detect cedar undertones.
The cream lathers nicely and will protect your face whether you use a double-edge or a straight razor.
There is just one complaint with Taylor of Old Bond Street Sandalwood Shaving Cream Bowl that crops up consistently: the scent.
It is strong and will linger for hours, but some gentlemen complain that the scent reminds them of their grandfather. While that is subjective and brings on some nostalgia, they prefer to have a more modern scent about them. [Buy Here]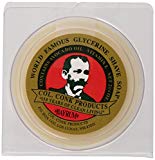 Col. Conk's World Famous Shaving Soaps are the only shaving soaps manufactured in the United States. The company offers a wide variety of scents, but all are glycerin-based. Glycerin-based soaps are often proven to be luxurious lathers with minimal effort.
Bay rum is a common scent used in barber and shaving products, but Col. Conk seems to do it best. The company's bay rum scent is subtle and long-lasting, without overpowering any aftershave you use.
This product works well for men who have hard water since it lathers well despite water conditions. Col. Conk's has the added bonus of being the least expensive soap on the market today.
Some users have said that Col. Conk World's Famous Shaving Soap dries out on their face too quickly. While this is a purely subjective observation, the same can be said about any glycerin-based soap that you buy. [Buy Here]

The Arko Shaving Soap Stick has been around for decades. It is slightly different than the traditional cake in a mug approach to wet shaving. It is a stick meant to be cut into small pieces, put into a mug, then lathered with a brush.
Find more about the Arko shaving soap by checking out our Arko Shaving Soap review.
Some users have found that they can apply the stick directly to their face, then lather with a brush.
Either way, you will find that Arko provides an amazing amount of lather and protection during every shave. Additionally, you can buy a dozen sticks for the price you may pay for a single container of some other brands.
With so many upsides, you may think this is the best shaving soap around, but it is not perfect.
The scent of this soap is chemically in nature, reminding some of a lemon-scented cleaner. Fortunately, the scent can be masked by your favorite aftershave. [Buy Here]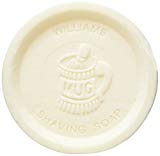 Williams Mug Shaving Soap is a great throwback soap that your grandfather may remember. It produces a great long-lasting lather with minimal effort.
The lubrication from the lather either eliminates skin irritation completely or reduces it to an acceptable level. The scent is neutral. Williams actually smells more like soap than anything else.
The most common complaint about Williams Mug Shaving Soap is that it does not moisturize as well as some other brands. It does provide an excellent barrier for men with heavy growth, so the lack of a moisturizer may be offset by its other qualities. [Buy Here]
Are All Good Shaving Soaps Good For Sensitive Skin?
Not all good shaving soaps are good for sensitive skin. Some shaving soaps are only great for persons who don't have issues with skin allergies and so on.
A good example is the Mitchell's Wool Fat Shaving Soap which is an excellent soap but has some ingredients that are not good for sensitive skin.
Final Thoughts
Taylor of Old Bond Street offers the best shaving soaps on the market. Every product in their line offers a great lather and superior moisturizing qualities while assisting you to have the best shave possible.
Keep in mind also that wool fat shaving soaps also do very well for sensitive skin types.
The sandalwood version offers a rugged scent that screams machismo to any nearby woman. It is; however, the most expensive soap reviewed here.
If the economy is your top priority, you should seriously consider Col. Conk's World Famous Shaving Soaps. Every Col.
Conk products will provide excellent lather for a close shave. Please keep in mind that glycerin shaving soaps dry out more quickly and occasionally need to be reapplied. This may negate any savings you see from each cake.