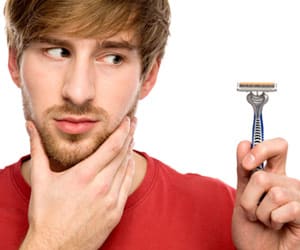 Making the leap from electric shavers to wet shaving or even from disposable razors to a safety razor can be a bit like running the hurdles for your high school track team.
Just as you get some speed going, you encounter an obstacle that must be overcome.
The first hurdle in your search for a precise and comfortable shave with a safety razor is actually finding the right razor.
Finding a razor that offers the right balance between head weight, handle length, and aggressiveness can be a challenge and no one wants to suffer through unnecessary cuts and nicks.
Top Safety Razors for Beginners
Best Overall
Merkur Mk34c Double Edge Razor with Heavy Duty Short Handle
Feather Popular Double Edge Safety Razor
Edwin Jagger Double Edge Safety Razor
Best Overall
Merkur Mk34c Double Edge Razor with Heavy Duty Short Handle
Feather Popular Double Edge Safety Razor
Edwin Jagger Double Edge Safety Razor
What to look for in a safety razor
A safety razor is just a razor with a guard to reduce the risk of cutting the skin.
There are two primary items you will want to look for when you are searching for the best safety razor for a beginner: handle length, also called the grip, and whether the head features a straight bar or open comb.
Handle
The length of the handle determines how much pressure you may need to apply as you shave. There are only two types: long and short.
A short grip is the most forgiving and can accept varying pressure, so is the best option for a beginner.
A long grip is often best for men who have coarse or dense facial hair to contend with but requires a developed technique before being used.
Straight Bar (Closed) vs. Open Comb Razors
Open comb style heads will gather your facial hair and guide it to the blade, offering a close shave, especially if you have dense growth or haven't shaved for a few days.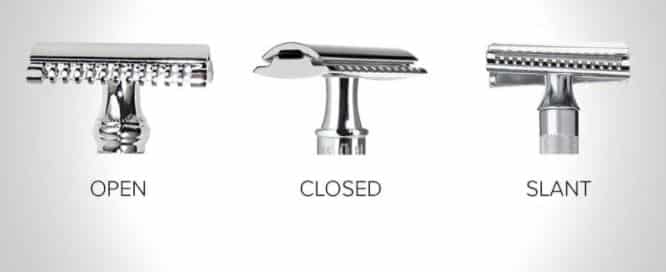 This style also exposes your skin more directly to the edge of the razor blade which can cause razor burn and increases your chance of nicks.
Straight bar razors provide a smoother blade-to-skin presentation, reducing friction and better protecting you from nicks until your shaving technique has become more developed.
To find out more, we have an entire article on open vs closed comb razors.
Blade Type
In addition to the features of the razor, you will want to pair your chosen weapon with a forgiving blade.
The best blade for a beginner is one that is sharp, but not excessively so and is coated for a smoother, more forgiving shave. The Derby Extra is a prime example, but you may want to buy a few variety packs to find the blade that is perfect for you.
While the previous paragraphs have given you a little bit of information on which to base a decision, there are still hundreds of safety razors to choose from. In our opinion, the five models reviewed below rise above the rest for beginners.
Finally, regardless of the blade type, these are regular safety razors and they can be used with shaving cream.
Review of the best safety razor for beginners
1. Merkur 34C Heavy Duty Classic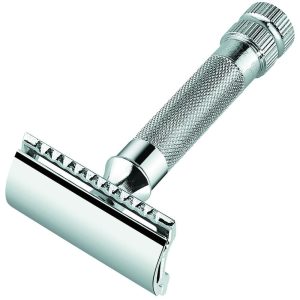 The Merkur 34C Heavy Duty Classic is a short grip, straight bar razor. The 34C features a handle that is a bit larger in diameter than other models to counterbalance the weight of the head.
This gives it a well-proportioned feel in your hand. The 34C is manufactured using a chrome-plated zinc alloy and has a   criss-cross pattern on the handle to give you a solid grip while in the shower.
The chrome plating on this model may flake over time, but that will not interfere with your shave. Given the low price of the 34C, some aesthetic issues should be expected.[Buy Here]
2. Feather Popular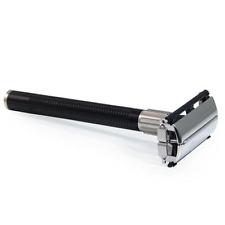 Feather Popular Razor
Feather is a well-known company within the wet shaving industry, though the company is more famous for its uber-sharp blades than its razors.
The Feather Popular is a great entry-level safety razor for beginners for several reasons. It is a short-handle, smooth bar DE that is specifically designed for non-aggressive shaving.
It also features a butterfly mechanism, so it is pretty cool. The Popular also features a free traveling case and blades.
On the downside, this unit is designed to be inexpensive so it is made from resin. Only the butterfly doors are metal.
This may make the razor look "cheap", but does not prevent it from providing a great shave for a novice. This model does not require the use of Feather blades and beginners should avoid them until their technique improves.[Buy Here]
3. Edwin Jagger DE89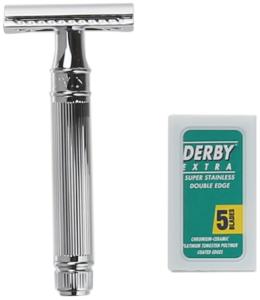 Edwin Jagger Safety Razor
Edwin Jagger shaving products are world-famous for their quality and longevity. The DE89 is a short grip, straight bar razor that is all chrome.
It is finished in the distinctive "blue chrome" used in Rolls Royce automobiles for added attractiveness.
Looks aside, Edwin Jagger products have been designed with shaving comfort and excellence in mind for decades. This razor also has the added bonus of shipping with five Derby Extra blades for free.[Buy Here]
4. Parker 24C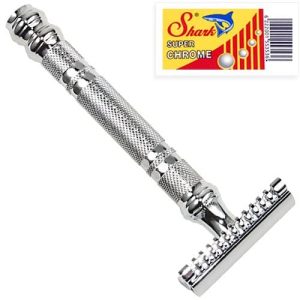 Parker 24C Safety Razor
Unlike the previous three razors reviewed, the Parker 24C is an open comb set-up. We are including it, and the next razor, for men who have coarse or thick facial hair. In addition to the open comb, the Parker 24C is a tad heavier, so it can tackle your beard more aggressively.
The 24C is going to be a little harder to get used to, but you do not want a razor that is going to pull your beard.
You may want to pair it with a Derby Extra blade at first. If that set-up isn't sharp enough, try a Wilkinson Sword before moving to the sharper blades.[Buy Here]
5. Parker 45R Super Heavy Weight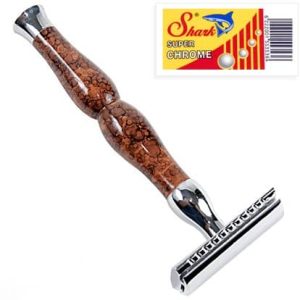 Parker 45R Safety Razor
The Parker 45R Super Heavy Weight is an aggressive DE razor that is designed to tackle the heaviest beards imaginable.
It features a long grip and a heavy head. Some of its aggressiveness is negated by the straight bar edge, but not much. Take care to pair this DE with a non-aggressive blade like a Derby Extra at first. If that isn't sharp enough try moving to a Wilkinson Sword or a Kai.[Buy Here]
The Top Choice
Despite giving you multiple options to think about, there is one model that we think is the best safety razor for beginners: the Merkur 34C Heavy Duty Classic. The main reasons are its short grip and balanced head weight. It is a very forgiving razor that will offer you a lifetime of close shaves even if the plating flakes.