Classic shaving is making a comeback in a huge way. Those plastic disposables and flimsy electric shavers you have grown up with are on their way out the door.
Real men, manly men, are picking up the double edge safety razors their grandfathers put down; forsaking convenience for a lifetime of better shaves.
A sign of the rebirth of the classic wet shave is the growing number of double-edge razors being mass-produced around the world.
You have old standbys like Merkur and Edwin Jagger who are producing modern DEs in great quantities and you have relative newcomers entering the market in droves.
Despite all of these interesting choices, some of the best shaves imaginable are delivered by a vintage safety razor.
Unfortunately, many of the best are no longer produced, but they can still be found if you do a little bit of digging.
Where Can You Find Vintage Safety Razors
The first place to look is in your father's, uncle's, or grandfather's closet or medicine cabinet.
A double edge razor is an investment that has the potential of lasting a lifetime, so many men did not simply throw them away when they switched to disposable or electric shavers.
Another great resource is an antique shop. Most men think of antiquing as a habit fit for a man who wears a European satchel(read man-purse) and is defined as metro-sexual, but real men can find some of the best vintage safety razors in those shops as well.
You may find a cool shaving mug, some cuff links, or some wild ties as well. If you are lucky, you may find some era advertisement pieces related to the razor you buy. Lastly, you can look online.
One more thing, when you are looking for a vintage razor, make sure to look for a nice clean one with original cases and paperwork!
Best Vintage Safety Razors
The key to buying a vintage razor that you can still use is the blades it requires. There are three types of blades that are still readily available: double edge, single edge, and injector blades.
Vintage Gillette razors use double edge blades. Old-school GEM, Ever-Ready, and Star razors use single edge blades, and some Schick and Eversharp use injector blades.
There is no reason that you should avoid other brands so long as they use a type of razor blade that is still produced.
Now that you have a few details about vintage razors, let's have a look at a few of the most popular.
---
The Gillette Superspeed Series
The History of the Gillette Adjustable Series:
The Gillette Super Speed series of razors were produced from 1942 through 1986. The true vintage razors in the series include the Flair Tip, the Black Tip, the Red Tip, and the Blue Tip.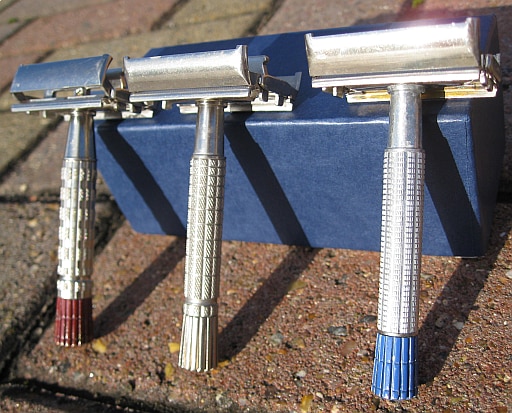 SuperSpeed was originally designed and only available to the army during WWII. These were heavy, durable razors meant to take the punishing conditions in the field.
They are aggressive, but not overly pretty to look at. Later models, post-1951, have date stamps on them and evolved into more ornate instruments.
At that time, these safety razors were all about creating a custom blade exposure that would fit each individual hair and skin type comfortably and therefore provide that smooth Gillette shave:
The "Blue Tip" gave the mildest shave (Least Aggressive)
The "SilverTip" gave a medium shave (Average)
The "Red Tip" gave the most aggressive shave (Aggressive)
In addition, there are flare tip and regular tip options. The Flare Tips have regular, Blue Tip and Red Tip varieties and then the Black Handle type (1966-88). However, the blue and red tips are painted.
1. For A Mild Shave: Gillette Superspeed Blue Tip
The Blue Tip Superspeed is for a rather mild shave. In fact, it's the mildest in the superspeed series.
Now it's unlikely that you will find this exact razor online, however, we have found the best alternative for you:
BAILI Butterfly Open TTO Double Edge Metal Safety Razor Wet Shaving…
RESPECT TRADITION: Traditional Wet shave is a glorious male ritual and the secret of a clean shave;…
PERFECT SHAVE: BAILI unique micro-comb system provides you gentle, close and smooth shave. Shaving…
ECO FRIENDLY & SAVING MONEY: Not like plastic and disposable razors which are impossible to recycle…
---
2. For A Medium Shave: Gillette Superspeed Silver Tip
The Silver Tip Superspeed offers a more aggressive shave than the blue tip. Yet, it is not the most aggressive of the series.
Again, it's unlikely that you will find this exact razor online, so we found the best alternative for you:
No products found.
---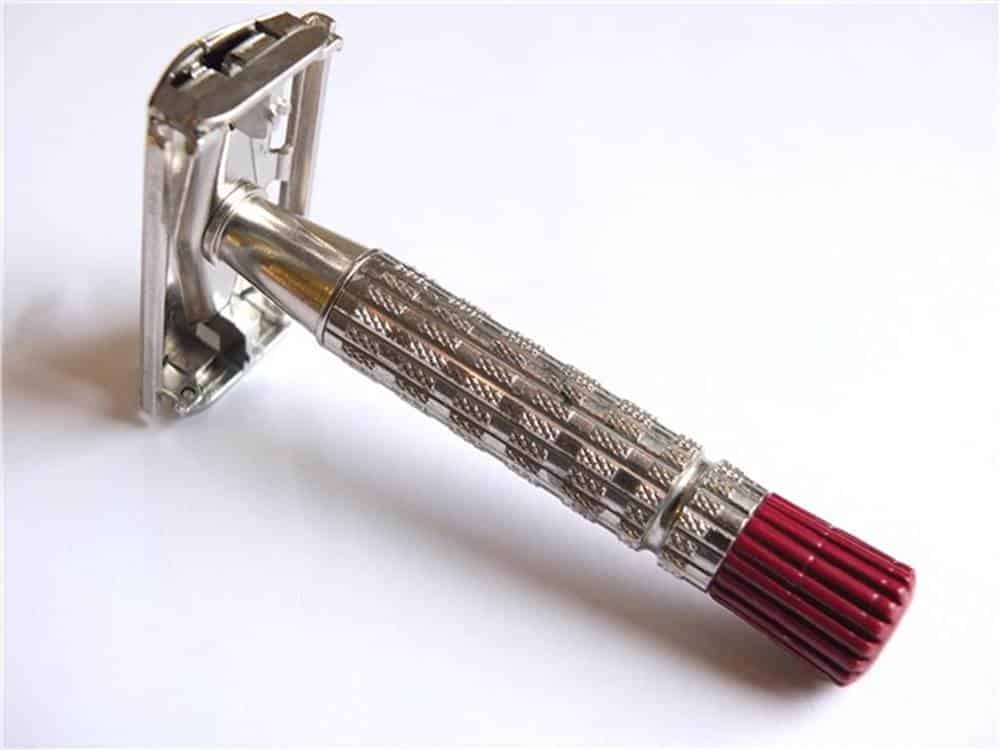 The Red Tip Gillette Superspeed is for aggressive shaving. This particular safety razor is a great option for those looking for a better shave than is available from smaller, milder options.
The Red Tip is a wonderful shaver that no man with coarse hair should miss out on. Best alternative:
Double Edge Safety Razor
EXCELLENT COMFORT AND CONTROL – Have a comfortable and safe grip with its long-handle, designed for…
DOUBLE EDGE SAFETY RAZOR – This feature of the razor is very convenient and gives a quick, decent…
HEAVYWEIGHT – Its weight of 4.2 ounces gives a solid feel in the hand and allows the razor to do…
---
Black Tip? 
We should mention that there is a Black Tip version also. While the black tip is slightly milder than a flare tip, the blue tip is surely the mildest.
---
Best Vintage Razors Available On Amazon
Now, most of these vintage razors aren't available online. If they are, they will more than likely be used.
However, you can purchase new razors that have a similar effect as razors used in the old days. So, below is our list of the best vintage razors available on Amazon:
---
The Gillette Adjustable Series
These Gillette Super Speed trio razors were the precursors to the famous Gillette Adjustable.
4. Best Adjustable: Gillette Slim Adjustable Razor
Today most of these razors serve as collectibles. Still, this razor definitely offers the best adjustable features.
The Slim Adjustable from Gillette is a Twist to Open (TTO) Double Edge Razor that allows convenient loading of blades and 1-9 Adjustability dial. Check this out, with the turn of the simple dial, you can adjust your blade aggressiveness.
5. Easy To Find: Gillette Slim Adjustable 1-9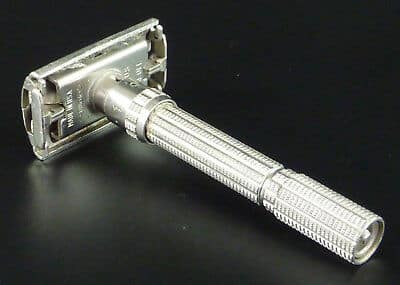 Now this one is quite popular. In fact, it's relatively easy to find on eBay. In fact, the Executive Shaving Company usually has a few of these original 1960s razors in stock.
Please see our full review of Gillette Vintage Razors.
Possibly one of the best-known vintage safety razors is the Gillette Fatboy Adjustable, also known as model 195.
The Fatboy was only produced for three years between 1958 and 1961, so why all the fuss? It is a very heavy-headed razor that was designed to tackle the heaviest beards in the world. Weighing in at more than three ounces it is the heaviest razor ever produced by Gillette.
The Fatboy is aggressive, yet forgiving because of its short handle. The razor features a twist-to-open butterfly mechanism that is cool to use. Due to its popularity, the Fatboy is a very expensive razor to buy today. [Buy here]
WEISHI is a highly respected shaving manufacturer. This company has pride itself on advanced technical innovation, craftsmanship and skillfulness. They produce various types of safety razors, shaving brushes and shaving sets.
The WEISHI Nostalgic Long Handle Butterfly Open Double Edge Safety Razor is a truly beautiful safety razor for either your own use or a gift.
This device offers a number of excellent features including simple quick and safe blade replacement.
If you purchase this razor, it's important that you clean it up with water after each use. To do this, simply open the razor blade chamber then rinse the razor blade until all debris is cleaned from the blade and blade chamber.
Finally, close the blade chamber then shake it dry and store it in a dry place. [Buy Here]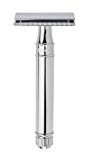 Edwin Jagger has existed for over 20 years and has maintained the standard for impeccable male grooming.
Even though Edwin Jagger is a family-owned business, they have still managed to run a modern business where innovation and inspired design go hand in hand. Yet, the company has been able to exemplify traditional English quality.
One such razor that exemplifies this style is the Edwin Jagger Double Edge Safety Razor. This device prides itself in providing a very close, comfortable shave, with very low-cost blade replacement – it saves you money every day.
In addition, this razor offers comfortable weight and balance that leads to accurate, close shaving. The blade angle is also commendable – suited for both new and experienced Double Edge wet shavers.
Quite a versatile razor, the two-part DE razor head is compatible with all standard Double Edge Safety Razor Blades.
Finally, ensure that the Jagger name is embossed into the chrome plated collar, a guarantee of authenticity. [Buy Here]
9. Best for Beginners: GEM 1912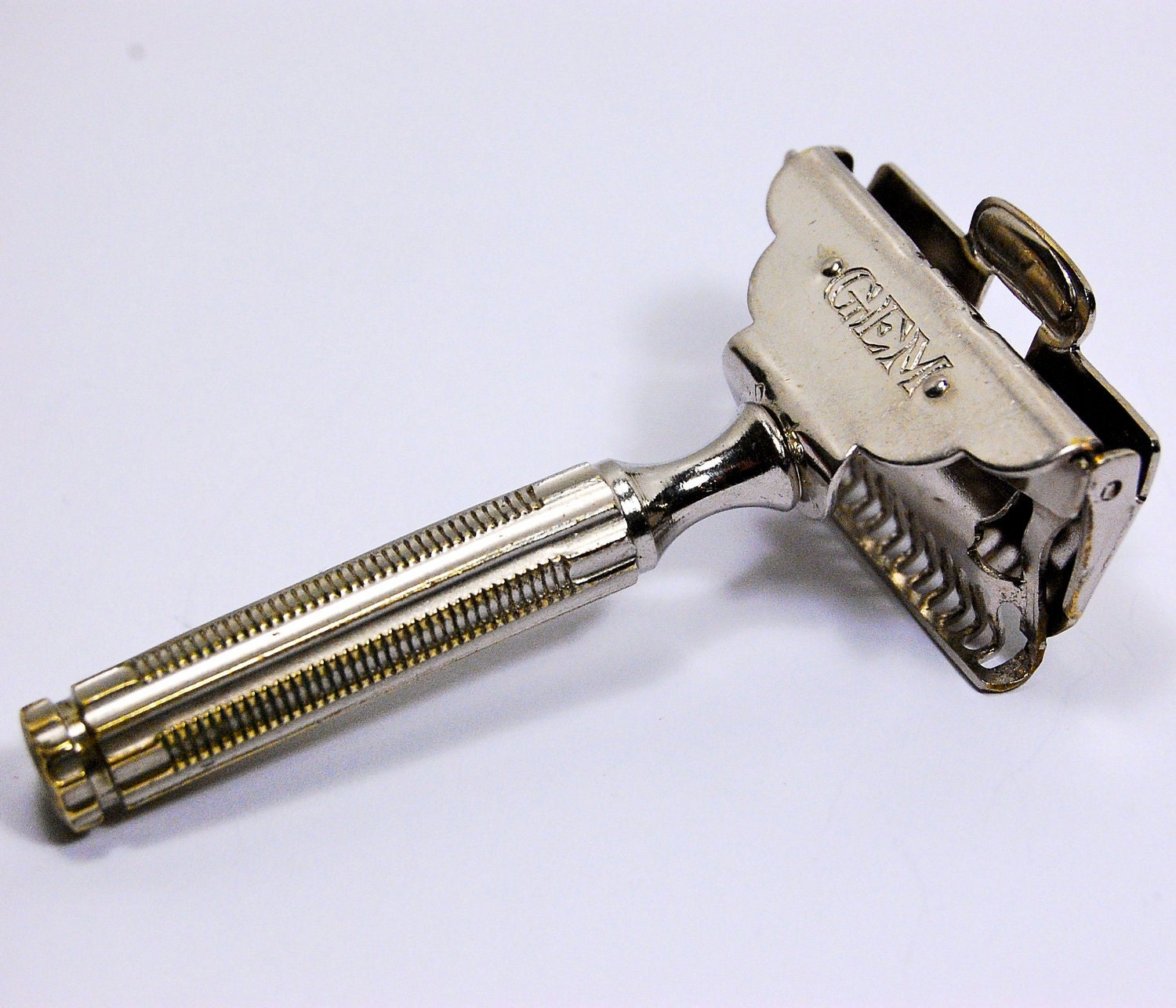 The GEM 1912 was originally produced over 100 years ago by The American Safety Razor Company.
It delivered a great shave then and still can today. 1912 uses a single edge razor blade.
1912 was the top-selling razor for the company until the 1940s when it was replaced by the Micromatic series of razors. The GEM 1912 is a two-piece razor, meaning that the handle screws directly into the head.
There is a small notch at the back of the head that flips the head open for the changing of blades. There were many variations of 1912, most were a simple change of the handle design.
The GEM Junior was introduced in 1912 with a short and extremely fat plastic handle, presumably meant for novice shavers. These razors were packaged in ornate boxes with a felt or satin lining. [Buy here]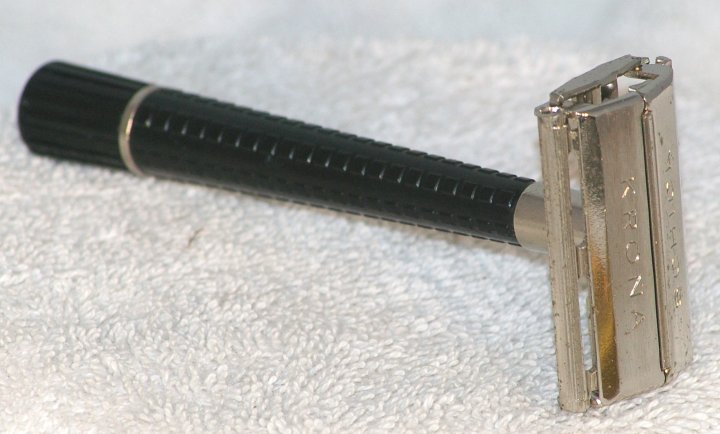 The Schick Krona was mass-produced from the early 60s to the late 70s.
The Krona was designed for the low-dollar market. It requires double edge blades and has a plastic handle, both features that allowed Schick to offer this razor at a discount during production.
Despite being produced on the cheap, the Krona offers a great shave and is forgiving enough to be used by first-time wet shavers.
As a low price instrument, quite a few Kronas were sold. Combine high sales volume with two full decades of production, and you can see why there are quite a few of these still on the market today. [Buy here]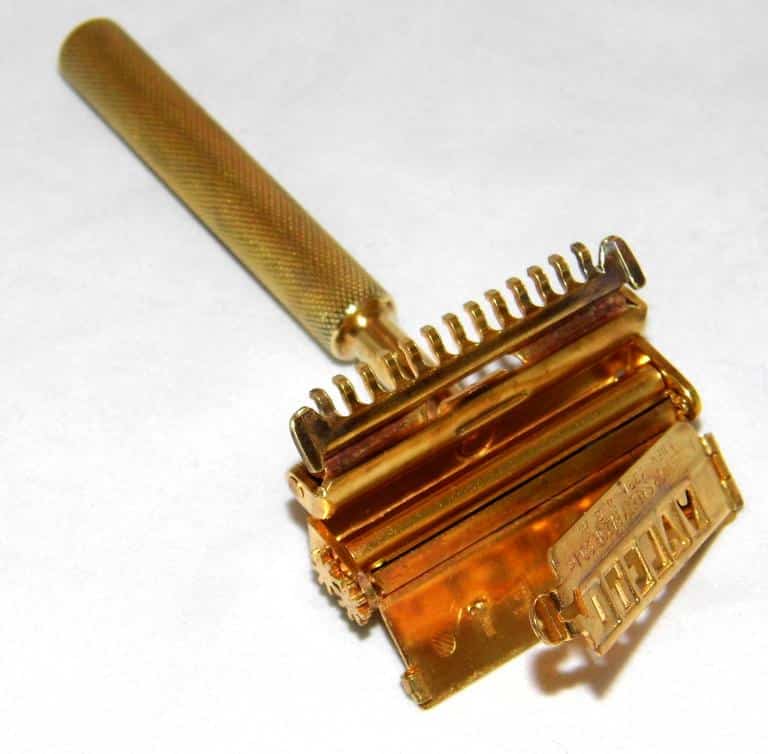 The Valet Auto Strop safety razor is a single edge open comb instrument that was originally produced by the Auto Strop Safety Razor Company beginning in 1903.
Auto Strop was run by Henry Gaisman who later worked for Gillette.
After 1930 all Valet razors were produced and sold by Gillette. This can be a nice entry-level vintage razor for men who have dense or coarse facial hair. The models produced by Gillette are easy to find and are not very expensive. The pre-1930 editions are a bit rarer but still affordable. [Buy here]
---
Alternatives To Vintage Safety Razors
The truth is, supply and demand greatly affect the value of vintage safety razors. Most DE shavers would love to own a Gillette Superspeed, Fatboy, Bottom Dial or Red Dot, but unfortunately so few were made they are in considerable demand today.
As such, we have compiled a list of vintage-looking adjustable razors that look and in some ways work similarly to vintage razors. It might not be the same, but they are pretty close!
---
Best Safety Razor Blades
---
Astra was initially founded in the Czech Republic and later bought by Gillette.
It is currently produced in Russia by ZAO Petersburg Products. The Astra Platinum Double Edge Razor Blades are the ideal combination of safety blades as they're sharp enough to shave coarse facial hair without leaving your face red or raw.
You can get a relatively quick quality shave without focusing all your attention. They aren't the sharpest safety razor blades available on the market, but you will still have a close shave on your first pass.
If you've got coarse facial hair, you should be able to get 3 to 4 shaves with each blade, and if your hair is thin or normal, you should be able to get 4 to 6 shaves before changing each blade.
Each Astra safety blade package contains 5 blades with dispensers on their bottom for quick access. However, they do not come with packages that allow safe disposal.
Finally, these blades are one of the most balanced blades. They are comfortably smooth yet extremely sharp. Shaving with Astra blades will result in a smooth face, without irritating your skin. If you're looking for an effective, all-around blade, you should consider Astra blades. [Buy here]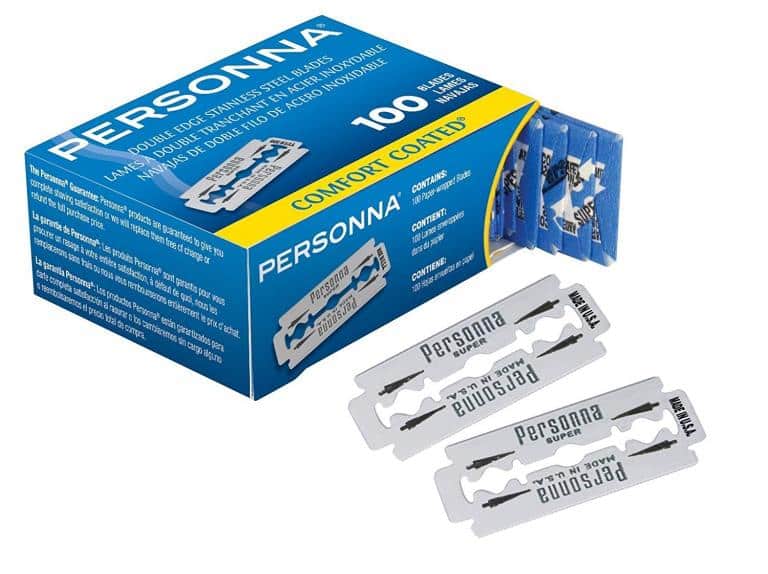 The Personna Double Edge Blades are perfect for men who have thin facial hair and have sensitive skin.
They are not as sharp as Feather blades as you'll soon discover in this guide to the best vintage safety razor blades. However, this makes them tend to last some shaves longer.
With Personna safety razors, you can get at least 4 to 5 shaves – and even up to a week. They may not last as long as Astra razor blades will, but they aren't as aggressive as Astra razor blades.
These blades are affordable, so much so that they can be treated as disposable blades after each use. Even if you're shaving every day, a single box should last you 3 to 6 months.
Personna razors are reasonably aggressive, smoothly gliding across your face without ever tugging or pulling your hair. If you shave very often or have sensitive skin, they may irritate your skin, but they'll as well complete the job efficiently without getting dull too quickly.
The blades are manufactured in the USA, and to support an American company, you can purchase Personna Double Edge Safety Razors. Show a patriotic spirit while enjoying a close shave at the same time! [Buy here]
Without a doubt, Feather Double Edge Safety Razor Blades are the sharpest razor blades you can find on the market.
The Japanese-made blades slice through even the most coarse facial hair with a single pass without ever pulling or tugging.
You can get an excellent close shave each time with these blades as they're coated with stainless platinum.
Feather manufactures its stainless blades using the same process as surgical blades. Feather razor blades are known for their accuracy and precision, and will give you the cleanest shave you have ever had!
The blades are more expensive than Astra and Personna blades and don't last as long as both. You will only be able to get one or two shaves with a Feather blade. At about 20 cents per blade, you will still make out much better than using a $4 cartridge razor blade. So, spending about 10 cents more won't really make much difference, in the long run.
However, you have to be extremely careful with each edge. The blades are very sharp and can cut you easily if you don't pay attention. That does not imply that it can't be used by people who are just starting out with wet shaving, but they need to be very careful while shaving their upper lip and other sensitive areas.
Finally, if what you need is a close shave, we can confirm to you that Feather is the sharpest razor blade available! [Buy here]
Derby Double Edge Razor Blades are one of the smoothest blades on the market.
They're made with stainless steel gotten from Sweden which is ground and then hardened with a polymer of chromium ceramic, platinum, and tungsten for shaving comfort and longevity.
The blade glides across the jaw-line effortlessly and never causes discomfort or irritation.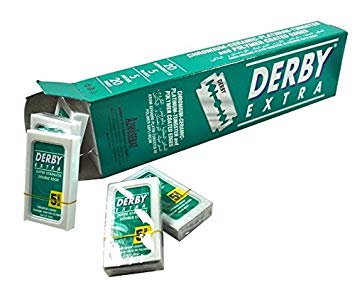 You may need to make several passes with a Derby safety blade to get a very close shave, but the extra shaving will not cause any pain since they are so smooth.
Derby safety razor blades are ideal for any man who is just beginning with wet shaving and needs time to practice the technique before they start using sharper blades like Astra or Feather. You can start out with sharp blades if you're good at taking your time, but these smooth blades are great to start with if you're nervous.
Alternatively, you can choose to use Derby blades for times when you are in a hurry and need to have a quick shave. If you have very little time, you shouldn't opt for a sharp razor blade. You can easily run a Derby safety blade through your facial hair without paying much attention. Also, they are great for lazy days off and weekends when you may not feel a need to get an extra clean shave. [Buy here]
Men who have sensitive skin need a safety razor blade that isn't very aggressive. If your beard isn't too thick, and you have sensitive skin, then you should try out these mild safety blades made by Viking Chieftain.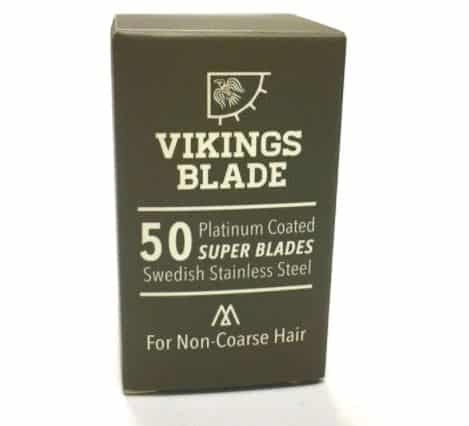 The blades are produced in the USA and are made with stainless steel gotten from Sweden.
These blades are perfect when you need to shave daily. When used every day, they will not put any marks on your face since they're mild and aren't aggressive. They have hardened edges for top-notch shaves, and are platinum coated for smooth shaves.
If your skin tends to become blotchy after using a straight razor or you suffer from razor burns, then you need to switch to this Vikings safety blade.
They are made to be mild and to get a close shave on a thick beard, you'll have to run over the beard multiple times, which may, in turn, irritate your skin. It is better to opt for a more aggressive blade if your beard hair is coarse. [Buy here]
What To Consider When Buying A Vintage Safety Razor
Electric shavers might be the king of comfort and convenience, but vintage safety razors rule the kingdom of smoother and cleaner shaves.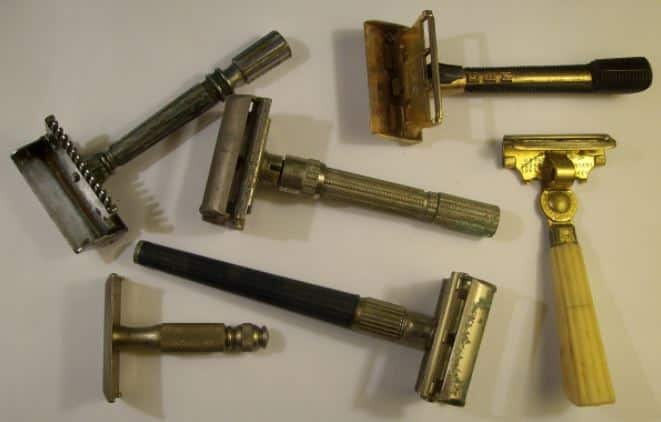 As a man, you can use a vintage safety razor to get the closest shave on those pesky whiskers and stubborn stubbles. As a woman, you can use vintage safety razors on your legs and bikini areas.
Also, vintage safety razors are quick and easy to use, budget-friendly, low on maintenance, and offer a nice shaving experience.
Do note however that the blades of vintage safety razors tend to be sharp and exposed, which is why they can provide a close shave.
However, if the blades get too close, they can irritate your skin. Or if you are really unlucky, you could nick or even cut yourself badly.
The handle of your vintage safety razors can also make all the difference.
Regardless, with some smart tips and tricks, you can get optimum performance from your vintage safety razors without necessarily sacrificing your comfort or safety.
Sounds like a plan?
Here are some key considerations to aid your search for the best vintage safety razor.
Razor Edge
Single and double edges are the two options for a safety razor. The handle of the single-edge razor is usually made from wood or animal horn while the handle of the double edge safety razor is usually made from high-quality metal.
As mentioned earlier, both razor options use disposable blades. The single edge razors tend to use the same razor type as the double edge razors (specialized blades were used in the past) and expose only one side of the razor blade. Double edge safety razors, on the other hand, expose the two sides of the blade.
If single-edge safety razors were still using their specialized blades, they might have had the edge over the double edge option in terms of closeness.
As it stands, both razor safety edge options offer very close shave although the double edge option can be said to offer quicker and faster shaving given the fact it avails the user of two shaving sides.
Additionally, the double edge safety razors are more common and have both long and short handles and adjustable razor heads.
Razor Head
We advise that you go for an adjustable razor head when you want to choose a safety razor.
As you might have already guessed, you can make changes to the razor head of an adjustable safety razor, but you can't do the same to a stable razor head.
If anything, the adjustable feature of a safety razor gives you lots of control. In other words, you will be better able to manipulate the angle of the razor blade and the exposure from the razor head gap to help you achieve the desired results.
Men with more experience in shaving can go for adjustable safety razors. You can either increase or decrease the blade gap by simply adjusting the dual on your razor.
A large blade gap will have more skin exposed to the blade. Thus, you'll get a closer but more aggressive shave.
A small blade gap, on the other hand, will not shave too closely but will give you a milder shave, which is perfect if you have more sensitive skin.
Blade's Sharpness And Thickness
When choosing a safety razor blade, don't assume the sharpest blades are the most efficient.
And blades vary in thickness too. A blade's thickness will determine how well it fits with your hand when you need to apply pressure on the razor's head.
Either way, it makes perfect sense, especially if you are a beginner, to get yourself a decently sharp and thick blade, and upgrade as necessary.
As it turns out, the steel used in the manufacturing of safety razors is of a higher quality than the metal used in manufacturing cartridge razors.
You should know that without proper preparation, any razor can irritate your facial skin. This is why you will want to apply a shaving cream pre-shave and refresh your skin with a great aftershave balm.
Razor Handle Length And Weight
There are no right or wrong answers concerning the length of a razor's handle. A short or long handle simply depends on how the handle tucks into a user's hand–and especially their overall experience with it when shaving.
Also, the weight of the razor's handle should not feel too light or too heavy–it should balance well in your hand while applying the right level of pressure.
That said, buy a safety razor within the low to middle price range so that if it doesn't feel right, you could just replace it without any fuss.
 The Material Of The Razor Handle: The handle of a vintage safety razor normally come in metal adorned in chrome or silver. Other times, however, the metal handle could be wrapped with a rubber coating.  There are also some brands that boast of their razor's handle being made out of high-quality wood or horn.
Be careful though. You don't want to bother yourself with all those flamboyant features.
Pay attention instead to how firm the razor's handle will fit in your hand. Or if not, think about how convenient you will feel using the handle to shave for a long time, although, most safety razors from top brands are well built and sturdy.
Why Vintage Safety Razors?
Simply put, these razors beat the heck out of "normal" razors. They offer a much closer, smoother shave, and they last longer, too. There are many other reasons too:
They are often eco-friendly
Less expensive
Finally, you can save my aftershave when you use vintage safety razors as these razors give no razor burns at all.
How To Use Vintage Safety Razors
It's very important that you are careful when using vintage safety razors. Here are some tips:
1. First, you should always be VERY aware that safety razors are double-sided, if you aren't being careful, you will cut yourself.
2. The angle is very important, most of these razors designed back in the day don't pivot. Angle the blade at a 45 degrees angle.
3. Take your time. These razors aren't meant for the last-minute rush to get out the door.
4. Let the weight of the razor do the work for you.
5. Hold the razor by the tip of the handle.
6. Shave with the grain of your beard.
Conclusion
The results that will be obtainable from the use of a vintage safety razor are exclusive to each shaver.
And as with most things that you are trying out for the first time, you may not get the right safety razor for your needs right off the bat. But if you keep at it, you are sure to find that safety shaver that will serve you well for a very, very long time.