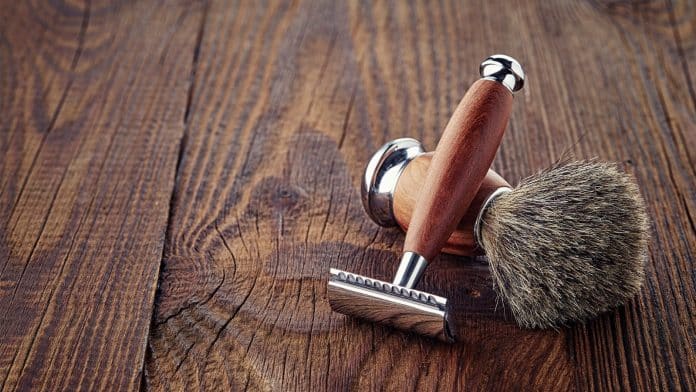 What are the best double edge safety razor for beginners? Shaving is not only how we care for that beautiful mug, and, more importantly, it's a part of how we care for the man underneath.
It's a sacred space — a few manly minutes out of the day in which we can pamper ourselves and say, "Damn! I look good today." So it makes sense that you wouldn't want to shave with just any old razor.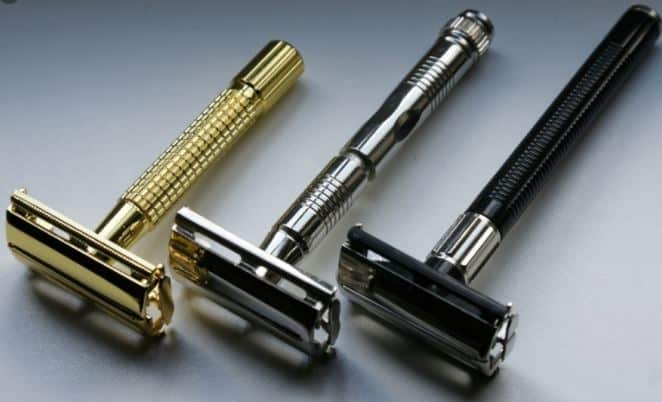 No, your face deserves better. Something… more traditional. And a DE safety razor is the perfect solution.
However, finding the best double edge safety razor for a beginner can be a challenge, so we've done the heavy lifting for you. Here's a comprehensive chart of some of the best on the market. Check it out.
Top 5 Best Double Edge Safety Razors For Beginners
How to Hold Your DE
Holding a DE razor near the cutting head can cause you to use too much pressure, resulting in cuts and unnecessary skin irritation.
Even the best double edge safety razor for beginners can cause such problems if you aren't careful If held correctly, the weight of the cutting head will cause the blade to track along with your skin, providing a smooth, comfortable shave every time.
The proper hold will depend on the handle length of your DE. Double edge safety razors are manufactured with either a short handle or a long handle.
The length of the handle dictates finger placement for a proper shave. Short handled, or short grip, DE's should be held by the release knob at the end of the handle.
Long grip handles should be held with four fingers. The thumb should be placed on the knob at the end of the handle, with the first three fingers on the opposite side of the grip.
Proper Lather
Having one of the best double edge safety razors for beginners is one thing. Lathering properly is another, but equally important.
Many people make the mistake of thinking that they can use a cream or gel from a can, simply slap it on, and start shaving. That method is a formula for blood and skin irritation when using a safety razor.
You will find the best results if you wash your face with a warm cloth prior to shaving or shave in/just after a shower. Use a soap or cream that you work up then apply with a badger hairbrush.
You will need a thick lather and must leave it in place for one to two minutes before shaving so it can soften your hair and condition your skin.
Reviews of the best double edge safety razors for beginners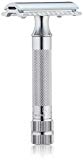 The Merkur 34C Heavy Duty Classic is a German manufactured short handle DE that offers a great balance between the head weight and the handle length.
The entire razor is made from the highest quality chrome-plated zinc alloy and offers a lifetime of reliable shaving. This can be a forgiving razor when paired with the proper blades, so is a good choice for the novice.
On the downside, the chrome plating on this model is known for chipping after about a year.
To make matters worse, Merkur customer service is atrocious, so complaints will go unanswered in most cases. Still, chipped plating is a visual issue and will not interfere with your shave.[Buy Here]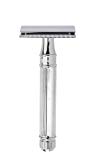 Edwin Jagger shaving products are world famous for their quality and longevity. The DE89L offers a longer handle than the Merkur reviewed earlier and is more lightweight.
The combination makes this a great razor for experienced shavers with light to medium hair to worry about.
The longer handle can be a bit tricky for relatively inexperienced users. With a longer grip, every small mistake in technique can translate into a cut. Happily, you should be able to develop a great technique in a relatively short period of time.[Buy Here]
The Parker 45R Super Heavy Weight is a super cutthroat double edge razor for people who have extremely coarse or thick hair to manage.
The 3.9 oz, straight bar head is paired with a four-inch handle to allow shavers the opportunity to tame the fiercest hair on a daily basis.
The all-brass construction and easy-grip handle offer an aesthetically pleasing unit as well.
The downsides to this razor are all associated with the weight and aggressiveness of the unit.
Users must be aware that this razor cuts under its own weight, so applying pressure will lead to nicking. Additionally, if paired with a Feather or some other type of extremely sharp blade, this can become a weapon that is too mighty for most users.[Buy Here]
The Parker 24 C features an open comb and heavy head, making it a great razor for coarse or thick hair.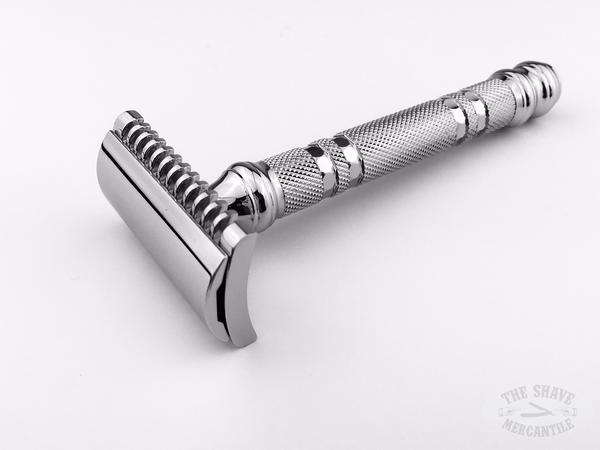 The open comb allows the hair to come into closer contact with the cutting edge of the razor blade, providing a closer shave.
This is also a great head bar type for men who worry about five o'clock shadow.
The main downside to the Parker 24C is the aggressiveness of the cut it provides. A novice user may find themselves with quite a few cuts until they perfect their technique.[Buy Here]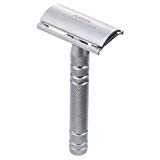 Feather shaving products are known worldwide for their quality and shaving excellence. The Feather Popular combines those qualities with the coolness of butterfly doors for blade changes.
It also includes a free traveling case and free blades, so it is shaved ready upon arrival. The Feather Popular is designed for non-aggressive shaving for the novice or a person with fine hair.
The Feather Popular is made from resin, with only the butterfly doors being metal. Some users note that this makes the razor look cheap. Despite its looks, the Popular is a long-lasting razor that will offer years of quality shaving.[Buy Here]
Our Final Thoughts
There you have it, the best double edge safety razor for beginners. The Feather Popular is the best double edge safety razor for the novice.
While it does not offer the elegance of some of the other models reviewed, it does provide the non-aggressive performance that many shavers need in the beginning. Be sure to pair it with a less aggressive blade for the best performance.
The Parker 45R Super Heavy Weight is the best DE safety razor for the experienced shaver with a coarse growth to manage.
The additional weight and longer handle will allow you to keep your five o'clock shadow at bay. If your hair still proves unmanageable, pair this DE with Feather blades for an extreme cutting action.