What is the best cheap badger shaving brush? Well, let's first realize that the shaving brush is a key, yet underrated component of any morning shaves.
The right brush will retain the perfect amount of moisture to coax the lather you need from any soap or cream. Shaving brushes are made from four types of hair: badger, horse, boar/hog, and synthetic.
Badger hair shaving brushes offer the best moisture retention and the hair tips will gently exfoliate your skin as you lather.
A badger shaving brush can cost between $20 and $1,000, so there is too large of a price and quality range for you to try buying blindly. So, we decided to cover cheaper badger brushes.
To help arm you with some essential knowledge, we have compiled a few pointers about the grades of softness you will find with badger hair and a list of the five best cheap badger shaving brushes on the market today.
Badger Hair Softness Grades
Badger hair-shaving brushes are produced in varying sizes and have different styles of handles. Price is determined by the badger hair grade, the size of the brush, and the material and style of the handle.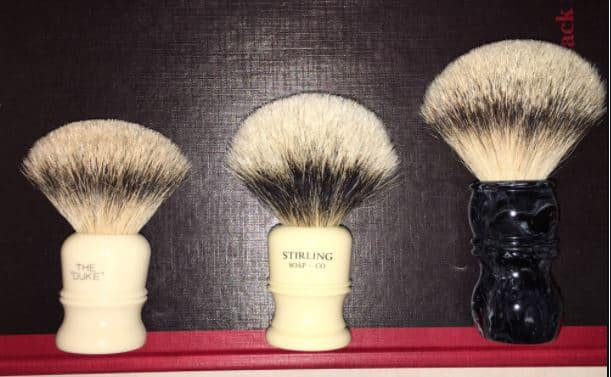 There are no formal definitions within the industry, but most manufacturers use a similar grading system for badger hair. These are the major grades:
Silvertip: this is the rarest, softest, and most desirable grade and will provide ultimate water retention. Silvertip brushes have natural, untrimmed silver color tips with a distinctive black band of coloring. This is the top level of quality.
Super Badger: this is the second quality tier, but will provide excellent water retention. The hair is long, soft, and untrimmed. The color is a black band capped with untrimmed white tips.
Best Cheap Badger: this is the most common grade sold. It offers good water retention, but the hairs are more coarse and scratchy than the top two grades. This grade could be irritating if you have sensitive skin.
Pure Badger: very coarse and stiff hair. The water retention falls off significantly and the hair color is quite dark.
Remember, to keep your shaving brush soft and clean, you need to clean your shaving brush. Here is a complete guide on how to clean your shaving brush after use.
Best Cheap Badger Shaving Brush Reviews

The Semogue 2015 Silvertip is a great brush to start with. It offers the best water retention imaginable combined with soft as velvet silvertip badger hair to reduce skin irritation and provide the ultimate lather for every shave.
The metal retention ring will prevent the hairs from falling out of the brush.
There are no real downsides to this brush. You must keep in mind that any product that uses real animal hair will smell musty if you do not allow it to dry properly each day.
All Omega shaving products are made in Italy and known for their superior quality. The Omega 63171 Stripey Shaving Brush offers a great knot and length for easy shaving, yet is stiff enough to whip any soap into the lather you need. The 63171 is known for its outstanding hair retention and longevity.
The only drawback to the Omega 63171 Stripey Shaving Brush stems from the grade of badger hair used.
This brush is made using pure-grade badger hair, so it is stiff and coarse. This brush is not to be used by people with sensitive skin.
The Parker products are known for quality particularly, for those who love to use them for wet shaving. 
The black silvertip Parker brush is a versatile brush that can be used by anyone who loves a clean wet shave.
It cleans off smoothly without smearing or irritating the skin during and after shaving. The Parker Safety Razor Handmade Shaving Brush also comes with a brush stand to make storage easier and prevent after-use smells.
The VIKINGS BLADE shaving brush is a high-end shaving brush with a mark of quality that can be bought at a fairly reasonable price. It is delivered in a high-end synthetic badger bristle.
If you are someone with a moderately thick beard or love to use soap, this might be the best you are looking for. 
However, the downside of the brush is the fact that, unlike other shaving brushes, it is a bit stiffer. If you have softer skin or prefer less stiff brushes, you might check out other VIKINGS brushes.
This offers silky orange hair that is designed to hold water and shaving cream for a smooth shave. It is made from synthetic materials. 
It has more hair that helps it hold water and lather compared to other regular shaving brushes. So if you are someone who enjoys a rich lather shaving, this could be all you need. 
However, A design setback of this shaving brush is that it doesn't have a storage stand which might make storage a bit confusing. Wet brushes need to be stored in a place where they can get air to prevent damp and bad smells.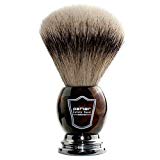 Parker is a well known and trusted name within the wet shaving industry.
Their silvertip brush is an excellent product that can be used by a novice or veteran wet shaver. The superior quality of the hair will offer a luxurious lather without irritating your skin. Parker includes a brush stand for proper storage and drying to prevent the brush from developing an odor.
The only downside to this Parker product is the quality of the stand. It is a bit flimsy given the weight of the brush and may need to be attached to a wall or shelf to stand upright.
Edwin Jagger offers a wide variety of shaving brushes, but their Best Cheap Badger Shaving Brush may be the one you prefer if you enjoy a slightly stiffer brush, work with a shaving soap that does not lather easily, or have coarse facial hair.
This model rises above others because of the drip stand, short knot, and hair retention with use.
This is a top-quality brush, but you need to keep in mind that the hair is fairly short as is the handle. Men with larger hands or who prefer a long brush may want to look to another Edwin Jagger model or to the Semogue 2015 reviewed earlier.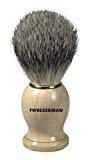 Tweezerman Men's Shaving Brush offers a wide knot, but the hairs are of medium length.
The combination should offer a comfortable lather to most shavers. Hair retention and handle the quality of above average for the industry, so this may be the only shaving brush you ever buy.
The major drawback to the Tweezerman is that it does not include a stand for the brush. A stand is essential for the care of any shaving brush. Separate stands are not expensive, so this issue is easily remedied.
Conclusion
There you have it, the best cheap badger shaving brushes. As you can see, there is a wide range of badger shaving brushes on the market today. This list is designed to help you narrow your choices considerably. Two brushes stand out from the other, though.
The Semogue 2015 Silvertip offers the best hair retention of the group. The metal ring at the end of the handle ensures that. It also offers the best water retention due to the silvertip hair it is manufactured with. You will want to buy a stand for the brush to make sure it lasts as long as possible.
On the other hand, gentlemen who have coarse or dense facial hair may prefer the Omega 63171 Stripey Shaving Brush for its stiffer hairs. Pure badger hairs are a great match to tough facial hair, allowing you to lather properly before each shave.