Shaving brush kits go against a lot of what we have been saying in some of our other reviews.
We always say things like "shaving sets are like golf clubs," you have the freedom, and you're encouraged to mix and match and find the best brush, razor, and shaving soap for you.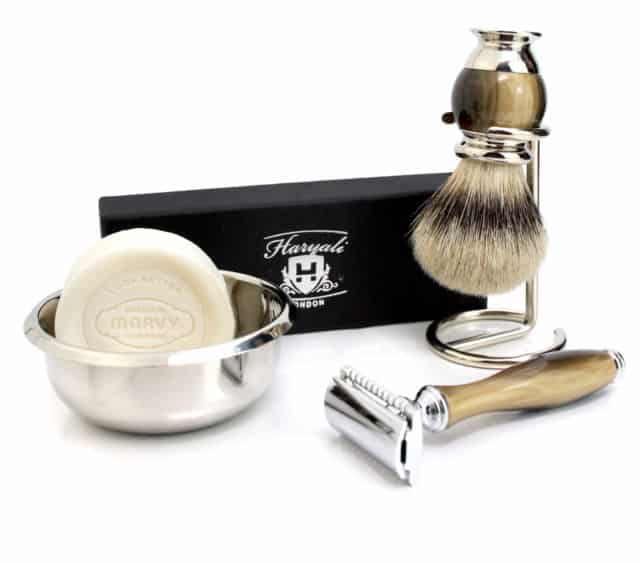 However, we have received a bunch of requests from those who are just starting out and want a solid shaving brush kit.
We have come up with a great lineup, and we totally stand by the sets we have provided. We have tried to cover all categories from expensive to inexpensive to very inexpensive.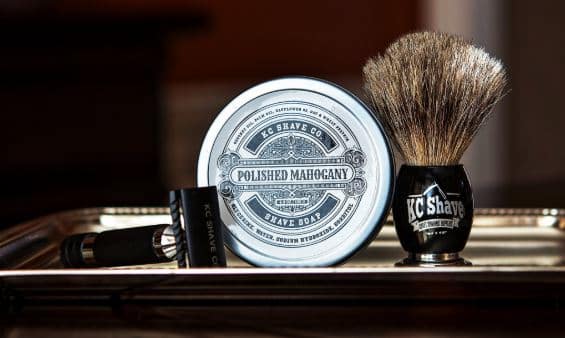 We have also introduced you gentleman to a brand we have never reviewed before, and you possibly haven't heard of it before.
This comes along with some other recurring brands that we like, and we know you fellas like.
Although, in all reality, if you are at this point, you are likely starting out. But even some of our veterans might see some good snags here for great prices!
How to Use a Shaving Brush
Switching to an old school shaving system will be an experience that you will never forget and you're probably never going to go back to your old ways of doing things either.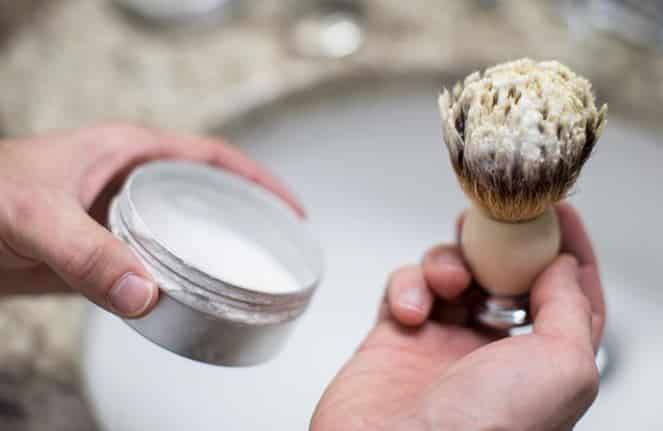 It's kind of like living as a vegetarian your whole life and then one day eating an amazing hamburger. You'll wonder how long you lived life in the shadows of proper shaving.
In order to get started you will need to gather all of the tools needed to effectively shave that handsome mug of yours.
Once you've got the tools, you'll need to know how to use them. So, we decided to tell you how to properly use your shaving brush today.
Once you are done reading this today you will know how to use it and have some idea of the brushed available for you to buy. Let's get right to it!
Get Wet
Taking a shower before you shave will help to open up your pores and will allow you to get a closer shave.
https://menshavingclub.com/wp-content/uploads/2016/05/Shaving-Brush-Kits.jpg
Your whiskers will also get a light fluffing by the exposure to hot water and steam which will help them to stand up a bit more.
You will need to get your shaving brush wet during the process as well. The bristles of your brush will become softer and will help you to work up a great lather. Just make sure that you aren't using a brush that it too wet. Give it a quick shake if you need to.
Make the Lather
You'll probably want to use your shaving bowl and mug at this point to whip up a nice thick lather.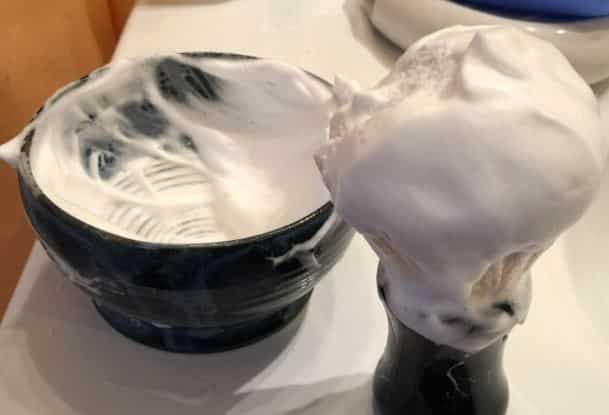 If you opt out of using a mug, that's totally fine as well since you can just use the lather straight from the bowl.
It's a good idea to keep a mug of warm water nearby so that you can soak your blade when you need to and it will provide an easy and quick way to get your shaving brush wet again.
Lather Up
To lather your face in of all that foamy goodness, you will want to use your shave brush in a circular motion and quick brushstrokes.
You'll want to use clockwise strokes in an upward motion to get all of those little hairs covered. Applying your lather with the shaving brush this way will cause the hairs to rise up and away from your skin.
There you have it, guys! These are some of the important things you need to know to use your shaving brush. Let's get to talking about the best shaving brush kits now.
Here are Our Recommendations for the Best Shaving Brush Kit!
Buying a Shaving Brush
When in the market for a shaving brush you will quickly find that there are many options out there.
You'll have to choose the type of hair you want your brush to be for starters. Do you fancy boar, badger or horsehair?
Once you figure out what type of fiber bristle you are into, you will then need to decide upon a bristle length and handle type. Remember that the diameter of the bristle will determine the amount of lather that you work up as well.
Taylor of Old Bond Street Pure Badger Shaving Brush Kit
Taylor of Old Bond Street is a brand that we haven't discussed much on our site. However, Taylor of Old Bond Street has made a name for themselves in England.
They were established in 1854 during the reign of Queen Victoria (not that that matters much), and they have been making quality shaving products ever since. First off, they have a badass name. It sounds like something you would hear about in the film Gangs of New York!
Secondly, they have an awesome reputation in England, and the business has stayed in the family since its establishment.
The chairman is the great-grandson of Jeremiah Taylor, the founder, I mean how badass is that?
That aside, we have come across a ton of you who have tried and loved products from Taylor of Old Bond Street.
This set seems a bit expensive, especially for those of you just starting our wet shaving. However, this set comes with a pure badger shaving brush, which speaks for itself and the bestselling sandalwood shaving soap.
If tradition and quality mean anything to you, we would recommend giving this kit a try.
We have done a few reviews on Van Der Hagen products before; mostly their brushes and soaps because that's what we think they do best. They have medium quality products for more than a reasonable price.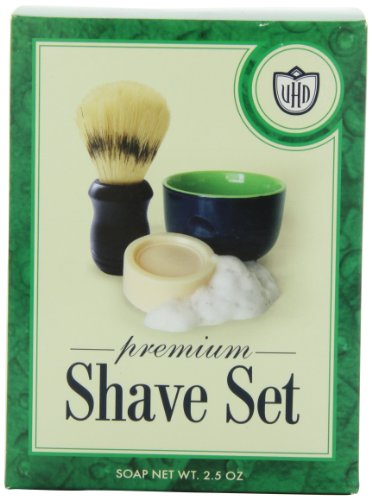 This brush set is great for somebody just starting out. With this set we think you would pay a great price, for a great set of shaving gear.
This set comes with a 100% pure badger shaving brush, a stand to help keep your brush dry, a stone mug with great heat retention capabilities, and hypo-allergenic shaving soap.
Once you have your razor picked out, this is really all you need to start your wet shaving endeavors. As we have before, if you are just joining the wet shaving world, this is a sensible, quality product to assist you in your shaving journey!
Omega makes a great, well-rounded collection of shaving brushes.This is thoroughly explained in our review of Omega shaving brushes. Omega is an Italian company that has been specializing in all sorts of brushes since 1946. They have mastered the art of providing brushes that apply full, slick lather.
The Omega 46065 is no exception. It is a solid brush for a great price. This simple set comes with a boar brush, shaving soap, and a shaving stand to keep that beautiful brush dry and healthy-looking.
We would still consider this set a starter set, and the boar brush can be known for being a bit abrasive.
However, if you want to give wet shaving a try, or you are sure you want to go with the boar option (they do have a solid backbone), then we certainly recommend this set.
3. The Art of Shaving Starter Shaving Brush Kit
The Art of Shaving is a really cool company that provides all kinds of shaving products. They're definitely known for being expensive, but in this case, you still get the great quality for a low price.
This is their attempt to reach those who are just starting out, and it would be very beneficial to take advantage of this product.
This set comes with a bit more "fluff" than the other sets we have reviewed: pre-shave oil, shaving cream, after-shave balm, and a shaving brush.
The brush is the badger, so that is the major plus. However, it is trial sized, so it is quite a bit smaller than others which can give you limited control.
However, it really gives you a taste of the Art of Shaving products which will be very beneficial if you decide to stick with wet shaving.
This is a similar product to the previous Van Der Hagen shaving brush set we have reviewed. However, you are forfeiting a bit by going with this set rather than the other (I mean, it is less than $10).
The main difference is this set comes with a boar brush instead of a badger brush. Although some people enjoy the stiffness and backbone of the boar, most prefer the feel of the badger brush.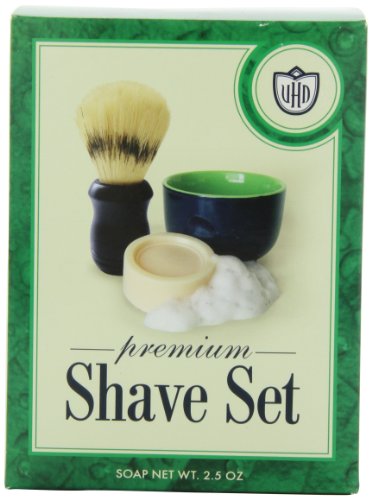 If you are really not wanting to spend a lot of money on a shaving brush kit, but you still want a brand name and decent quality product, this shaving brush kit should suffice.
Related Articles: