It's no surprise that people that are really into wet shaving (including myself) are really into the tradition of it – that sense of antiquity and history that comes from knowing we're shaving like our granddad.
There's an appreciation for the old-fashioned and unconventionally stylish, which is why the vintage element of wet shaving appeals to us so much.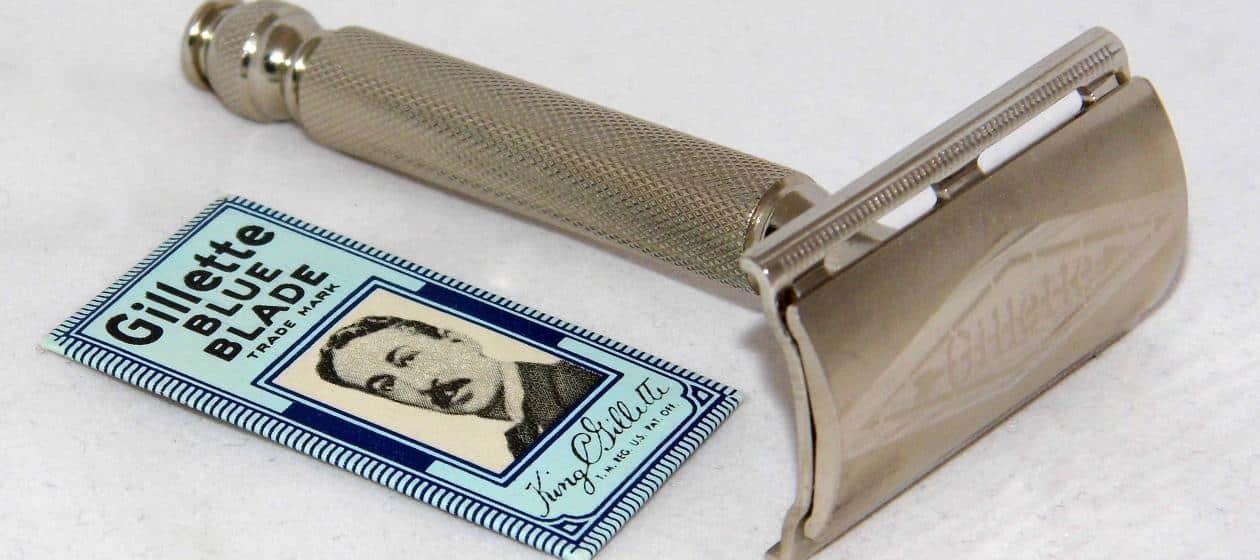 To that end, there's been a lot of hubbub about vintage Gillette razors; after all, they made quite a name for themselves from the 40s to the 70s making iconic, ubiquitous double-edge safety razors that people still use today.
Hell, even now, after Gillette moved on from the wet shaving DE razor trend, they're still one of the biggest names in razors.
With this renewed interest in these unique razors, we decided to give a quick guide to their history, the ones you need to look for, and even some razors you can make do with in case you can't find them. Read on!
Know Your Safety Razor: Why Even Own One?
Vintage Gillette safety razors, like all safety razors, might be a little intimidating to the novice user.
If you think safety razors are old-fashioned or too complex, have no fear. People were getting a great shave using safety razors since before your grandpappy was conceived in a night of lustful passion.
If you're using a razor that looks like a race car and wants to graduate to a sophisticated, grown-up tool, you should start with the classic safety razor.
Replaceable Blades
First, let's get one thing out of the way: the blades are easily replaceable. Some blades come individually wrapped, some in a small box, and some in a little spring-loaded magazine. Regardless of how the blades are packaged, they can be quickly replaced as needed for the best shave you've ever had.
If you ever played with Legos, you won't have any problem. Basically, you unscrew the top, remove the old blade, install the new blade, and screw everything back into place. The whole process takes about 10 seconds (20 seconds if you never played with Legos).
Blade Safety
The exact installation process will depend on which razor you end up with. If you're skittish about handling the blade, consider a razor with a butterfly head as they require you to handle the blade the least.
Gillette, being a pioneer of innovation, produced all kinds of razors. Be sure to get one that you're comfortable maintaining to ensure the best possible shave.
How To Use A Razor Safely
When young men first encounter the idea of using a safety razor, they worry that they won't be able to casually slap and drag a razor across their face without any of the consequences of an 80's teen-scream movie.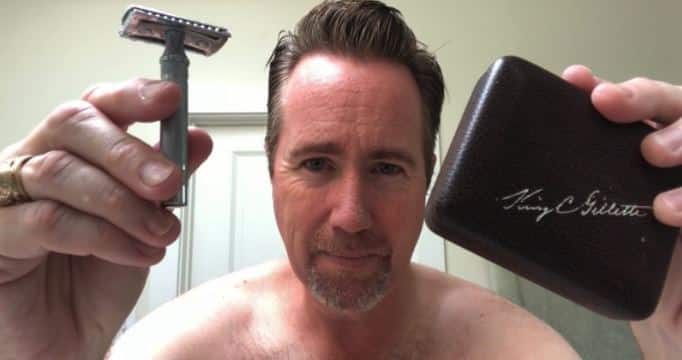 What they're really worried about is being careful – and if you don't care about your shave, maybe a safety razor isn't for you.
However, if you care about your shave, you won't have any problem making the step up.
When using a safety razor, the technique is the same as when using a multi-bladed ninja robot razor. After you prepare your face for shaving, use strokes that go with the grain of your facial hair.
Start with the flat planes of your face like your cheeks, then move on to the trickier parts like your chin and upper lip.
Use slow, long strokes to avoid unwanted cuts and remember to rinse your blade frequently.
Some people like to have a bowl of water, while others rinse the blade under the faucet. The key is to avoid knocking the blade against anything to ensure the blade stays sharp and secure in the razor.
A History of Gillette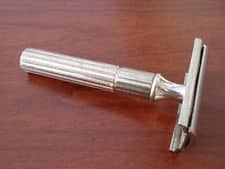 Gillette has been around since the 1900s, at least to the point where they put serial numbers on their razors (though they stopped from the 30s to the 50s).
From the 40s to the 70s, though was Gillette's golden age, where they made some of the most popular safety razors that defined a generation.
Their importance lies in the important patents that they held in terms of various wet shaving technological advances; they were the first to produce butterfly razor heads, which was a major innovation and are most desired by collectors as well.

If you can't get ahold of a vintage Gillette razor, these guys might do the trick:
Gillette Super Speed
One of the most popular models is the Gillette Super Speed, which was a very well-known and widely circulated post-war model, peaking during the mid-50s (making this a particularly popular model among baby boomers or people who are enamored with nuclear-family Atomic Age kitsch).
These razors are still sought after widely today because of their sturdiness, their immensely smooth shave, and the simple yet effective design that solidified Gillette's reputation as a powerhouse shaving company.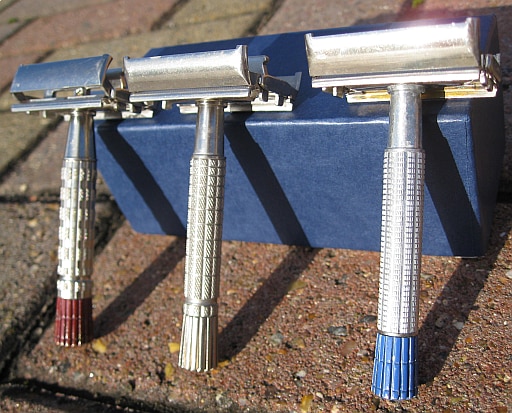 You can find Super Speeds everyone on eBay or your local collector's shop (in fact, I'd say start in those places first to find any of the vintage Gillette razors on this list); they all have differing years and models, which you can learn more about by looking at the number on the underside of the shaved head.
Each one is different in its own way, so they carry their own unique qualities; it's an easy way to get started collecting them if you're so inclined.
Gillette Toggle Alternatives:
The "Fat Boy" Adjustable Razor
The "Fat Boy" was one of the innovative razors that pioneered the 'adjustable' DE razor variant. With adjustable razors, you can use a small knob near the top of the handle to change the gap between the razor blade and the safety bar, customizing your razor to the level of comfort you desire most.
This is great for people who want to have different settings depending on their beard or specific shaving needs or someone who just wants to make sure that their razor is set precisely to where they need it.
All in all, it's a fantastic razor and a wonderful bit of history. It's one of the first razors to let you make the call about how close or smooth you want your shave to be!
I personally think that's pretty awesome, and depending on the model you get you might be able to get a variant that has the adjustable knob on the bottom of the handle (like a lot of other adjustable razors nowadays).
Gillette Toggle Alternatives:
Gillette Aristocrat
This one is an oldie but a goodie: the Gillette Aristocrat is probably the longest-running vintage Gillette razor out there.
Having been made off and on for about 70 years, the Aristocrat was incredibly popular in its time, because of its classy look and hard-working shave.
This thing still looks amazing today; the knob is bell-shaped, which makes for a wider base and a more continental look.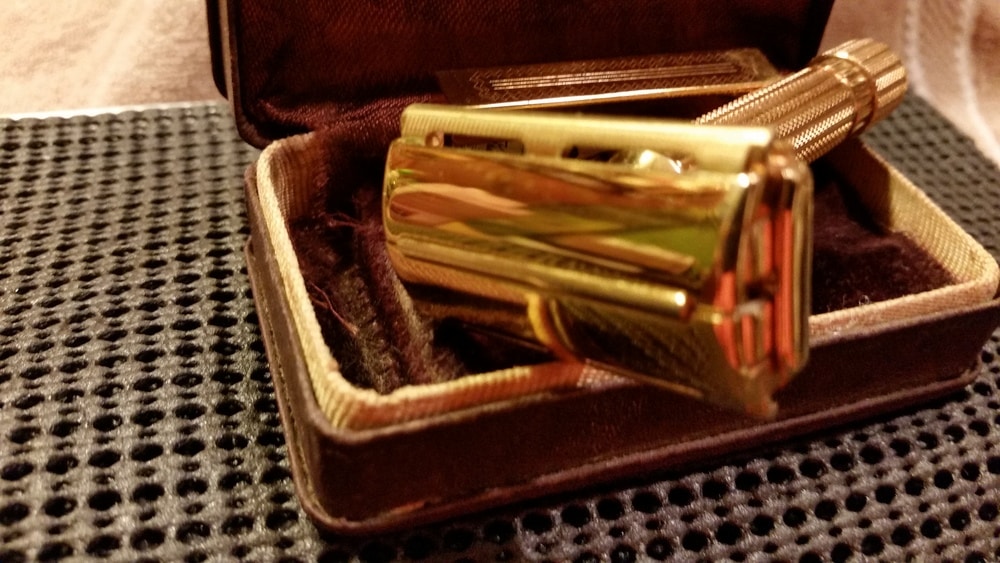 Later models improved on the look with added functionality, such as the butterfly head, which would open up to let you change out the razorblade as needed, without having to pick it up or unscrew and disassemble the head.
The vast majority of Aristocrats are also open-combed, with the ridged end that would guide your beard for easy cutting once you got it all done. There are even some solid gold variants! It's quite cool.
These guys are much more varied in look and functionality than other models of older Gillette razors, but you definitely get that upper-crust hoity-toity feeling from them, in addition to the history you feel you're holding in your hand.
Gillette Toggle Alternatives:
Gillette Toggle
The Toggle is another hit from the late 50s/early 60s, so named because of its 5 adjustment position toggles that made it such a unique adjustable DE razor.
I personally think that's really neat since it offers a nice middle ground between the flexibility of a fully adjustable razor and the rigidity of a fixed-gap razor.
These also have a really nice, vintage look, with the open comb and the bronzed coloration on it.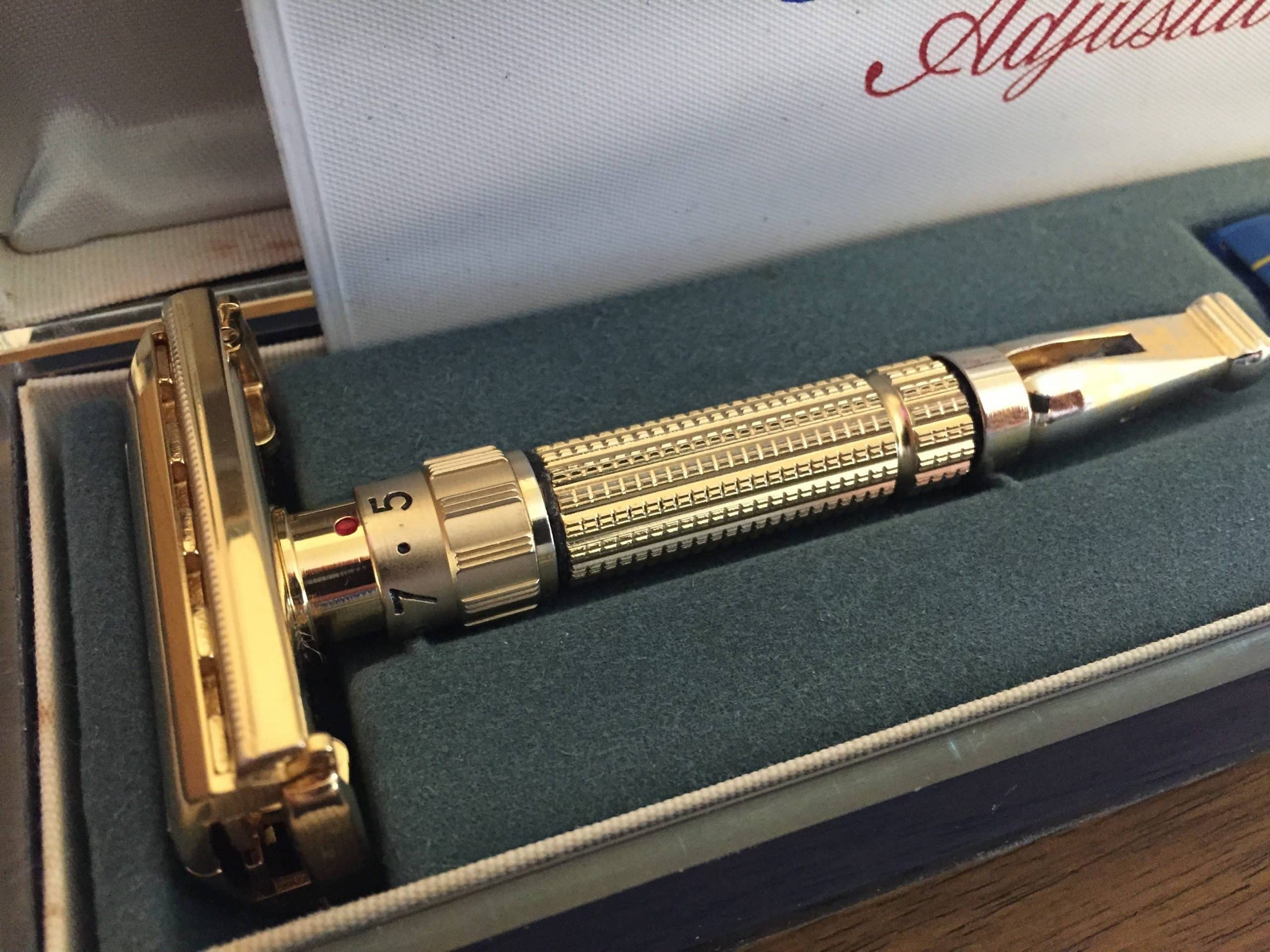 Whether you get the Toggle, or any other kind of vintage razor from Gillette, you'll be well on your way to holding a piece of history.
The old-school look and feel of these razors is something of a treat, so it's well worth tracking them down in whatever form you can. Good luck!
Gillette Toggle Alternatives:
Alternatives To Gillette Fatboy
It's hard to find Gillette vintage razors today and as such, we have listed a few alternatives below: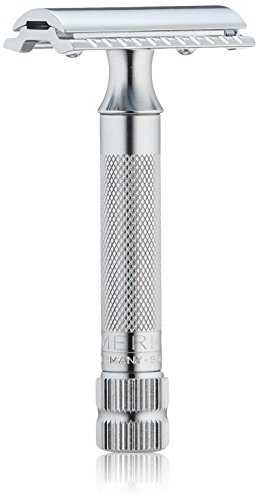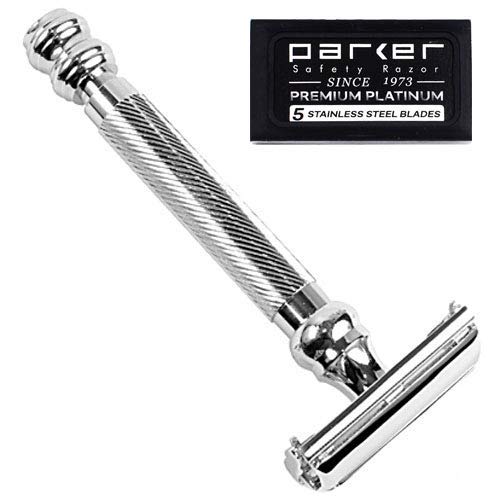 If you want some other alternatives to the Gillette Fatboy, here are some options:
How Can I Tell If My Gillette Razors Are Vintage?
If you are an enthusiastic Gillette user, you may have more interest in understanding whether the blades you use are vintage or modern types. Below are some of the coding styles implemented by Gillege to help preserve their heritage and identity.
1.      Razor Serial Number 
Razor serial numbers were arched on all Gillette razors between 1904 to 1921. They were majorly put on top of the guard and sometimes on the inner barrel.
2.      Gillette Date Codes
Gillette has been using date codes on all its razors from 1951 until 2001. You can find these date codes in the top left and right corners on the underside of razor guards. They are available in both the three-piece and one-piece models. Gillette used the letters to represent the year, while the numbers 1-4 represented the year's quarter.
3.      Gillette Blade Date Codes 
Gillette placed blade codes on one side of the blade or the cartridge as a series of letters or numbers. This system was adopted in 1931 and is still in use.