Have you ever wondered how men have trained and sculpted their mustaches? Mustache wax, of course.
Whether it is a handlebar or a Fu Manchu, you need to keep your mustache style in shape and healthy-looking.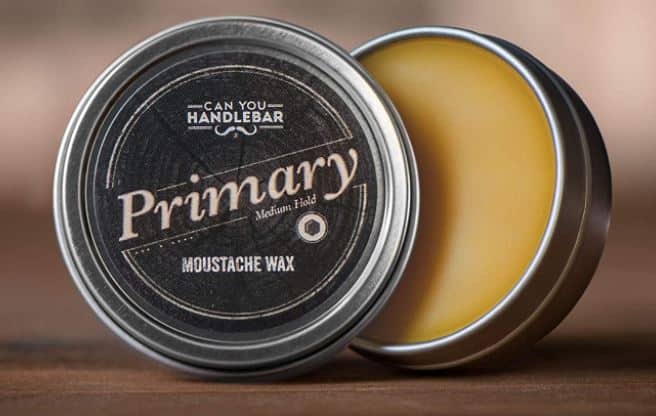 As with other products, there are many mustache waxes on the market today and they are not all created equal.
To help you separate the wheat from the chaff, we have created a list of the top products. This will help you find the best mustache wax for you.
Types of Mustache Wax
First things first, you need to decide which type of wax you are going to want to use. There are only two: traditional and modern mustache wax/trainer.
Here are a few characteristics of each type.
Traditional Wax: Traditional wax usually has some sort of petrochemical as a base (petroleum jelly and mineral oil).
This is an old-school approach to taming your tickler. You may experience mild skin irritation, clogged pores, or acne due to the petrochemicals, but these are unusual.
Modern Mustache Wax/Trainer: Modern mustache waxes trainers tend toward round or rectangular tins.
The majority of them are organically or naturally based, so may have a lower risk of causing skin irritation or acne breakouts.
You must read the label though. Some manufacturers may slip a petrochemical in without notice.
5 Best Mustache Wax Recommendations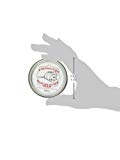 Firehouse Mustache Wax Wacky Tacky is hand-made in the USA in small batches to ensure quality and a superior product.
Firehouse makes an entire line of mustache waxes designed to fit the varying shades of facial hair. Wacky
Tacky is a true wax that is as stiff as they come and is designed to be used on darker facial hair only. If you have light-colored hair, you can try Firehouse Mustache Wax-Light and for medium-colored hair, try Firehouse Mustache Wax-Dark.
As stated, Firehouse Mustache Wax Wacky Tacky is a true wax. As such, it can be hard to apply without some practice. The key is to warm the product before applying it.[Buy Here]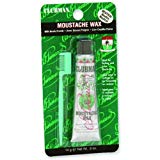 Clubman Pinaud has been producing male grooming products since 1810.
With over two hundred years of experience, they have it right. Their mustache wax uses beeswax and coconut oil to form a base, so it is quite safe to use. It is easily removed with some soap and warm water, an improvement over traditional waxes.
It also has the advantage of being a softer wax when it dries, so you can easily sculpt the look you want. Additionally, it is a very inexpensive product.
On the downside, Clubman Pinaud mustache wax can stain your skin if you use a darker color, so take care to use the included comb or go with the neutral wax.
Some buyers have said that Clubman does not hold up as well to humidity as a harder wax does.[Buy Here]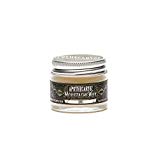 Dandy Candy Mustache Wax is made in small batches from unprocessed beeswax, argan oil, and mango, shea, and cocoa butter.
There are no petrochemicals used in this product, reducing the chances of skin irritation or acne flare-ups.
Dandy Candy offers a medium hold, so it can help you train your 'stache, then keep it in place. The butter used will add a great shine as well.
There are two cons to using Dandy Candy Mustache Wax. The first is the scent. It takes some time to get used to smelling beeswax and herbs all of the time.
The other is that it does not hold well if you have extremely coarse facial hair.[Buy Here]
Captain Fawcett's Mustache Wax was formulated more than 100 years ago to provide the stiffest hold possible for any hair type. This is a traditional wax that must be worked with while warm in order to apply properly.
It will dry without flaking and offers a nice neutral color, so it can be used with any hair color.
Of the mustache waxes reviewed so far, this is the stiffest, so will offer the tackiest hold. The company offers a variety of scents, but the sandalwood may be the manliest and pleasant.
On the downside, Captain Fawcett's Mustache Wax does not use any type of oil in its formula, so it will not condition your mustache or add any shine.[Buy Here]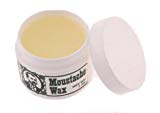 Colonel Conk Model 118 Mustache Wax comes from an easily recognizable name within the shaving industry. The Colonel has been providing inexpensive beard and mustache solutions for decades.
The Model 118 is a firm traditional mustache wax that is going to hold your style all day, even in hot, humid climates.
Model 118 is a colorless, light-scented product that will tame unruly facial hair of any type.
While Colonel Conk Model 118 Mustache Wax is a nearly perfect product for anyone wanting a firm, long-lasting hold, it does have a few drawbacks to be aware of.
Due to its stiffness, this product does not apply easily and will take some practice. Another con of Model 118 is also related to its stiffness: it can be difficult to clean out at the end of the day.[Buy Here]
Final Thoughts
The best mustache wax for a man who is trying to train and shape thin or medium facial hair is Clubman Pinaud.
It offers an easy-to-use wax and an application comb is included with every package. Clubman Pinaud is an especially good product if you are just beginning to train your mustache.
On the other hand, the more experienced gentlemen, or those living in a very humid climate, will want to use Firehouse Mustache Wax Wacky Tacky. Firehouse products offer a stiff hold that will not relax as the humidity and temperature rise.
Be sure to match the product you buy with your facial hair color and to follow the application directions that come with the package.