American Crew Products has been the pride of many men's grooming kits since 1994. For the last few decades, the brand has been ruling with some of the finest quality men's grooming products, and the American crew pomade is no exception to that. Read on to find out all about the popular American Crew Pomade and its Ingredients. 
Sale
What Is American Crew Pomade?
American Crew Pomade is a classic and flexible pomade for that classic, slicked-back look or for control in any hair type.
History of the American Crew Brand
Before we talk about AC Pomade, let's look at the popular brand's history. The American crew was first established in 1994 by David Raccuglia to fill the void for men's grooming products.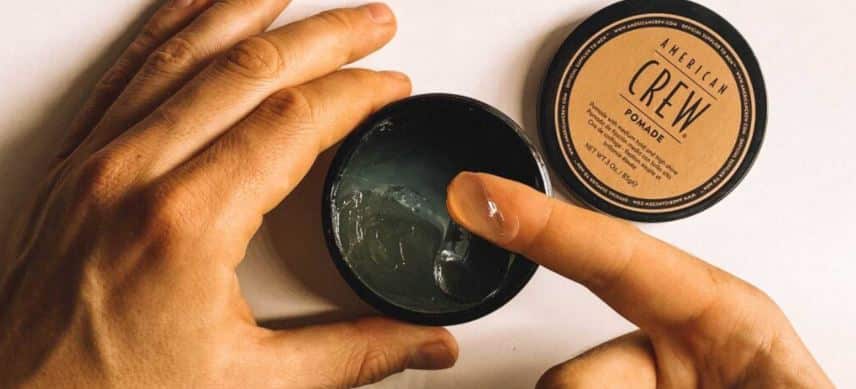 Back then, men demanded quality, cheap and long-lasting grooming products that could give them a quick makeover to step out with confidence.
Today, American Crew's grooming products are sold all over the world and loved by numerous men to change their style game. 
According to its user's review, the product seems a bit too neat and high-end, as if it's from an expensive grooming brand. However, the American crew pomade is one of the best budget-friendly hair products to save your high salon costs. 
All About American Crew Pomade
1. Packaging 
The packaging is quite elite and clean, which no doubt catches the sight of buyers. Unlike most pomades, it comes in a compact jar with a logo that reads CREW pomade at the top and some of the ingredients at the bottom.
Since it has a very lightweight and compact body with a tight lid, it's easy to pack in your grooming kit and travel without any worries. 
2. Consistency
The unique thing about this pomade wax is its not-too-thick consistency. If you've ever used a pomade before, you'll agree how messy and sticky it gets on fingers and hair but not with this one.
American Crew Pomade has a water-based formula that is ideal for keeping the hair in place. Since it's not too thick and waxy, you can also apply it to all your hair for a matte look. 
3. Results
With AC pomade, men can experiment with a wide variety of hairstyles without spending a fortune on salon visits.
To meet the needs of everyone, the brand included ingredients that make the pomade suitable for all hair types. It's an excellent substitute for thick hair gels that don't stay on the hair for long and leave dandruff on the scalp. 
Regardless of your hair texture, the pomade stays in place and gives a decent medium hold with a long-lasting shine on straight or curly hair. 
4. Musky Scent
Nearly all pomades have pleasant scents because of the additional preservatives included in their chemical composition. But American Crew tried a unique and natural approach to give a beautiful and pleasant fragrance that lasts as long as the wax is on your hair.
It took years for the brand to produce a unique scent that's not only mild but also loved by men with different aroma preferences. As the reviews say, the wax has a strong masculine musky scent that is hard to resist.
5. Hair Type
Having a hair product that doesn't stiffen your hair after use is no less than a blessing. Due to the high-quality ingredients used in the pomade, it neither disturbs your hair's natural shine nor makes it feel coarse and stiff. The pomade helps you set your hair easily, style it any way you want and move around without any fear. 
6. Faux Volume 
It's rare to see hair products that can actually give you a better hair volume than the natural ones; luckily, American Crew pomade is one of them. 
Not only does it set your hair well and gives a matte look after applying, but it also gives additional heavy volume. '
It is ideal for men who have less hair and need heavy hair volume. You can also use the pomade to try out puffy hairstyles like the pompadour, which needs adequate hairy thickness around the scalp.
7. Easy To Clean
The major problem with pomades is their unwanted stickiness that's hard to get rid of even after several washes.
Keeping this in mind, the brand made the pomade a completely water-based texture that can easily be washed, cleaned, and rinsed from hair without damaging the hair texture.
Use a nice shampoo and conditioner to wash over the scalp and clean the pomade without leaving any residue or smell effects on the scalp.
8. Low-Sheen Wax
However, the water-based formula of the pomade does not give any additional shine to your hair; instead gives a matte finish. If you want extra shine after styling, this low-sheen hair product is not the best option. 
9. Quantity
Although the product comes in enough quantity, you need to apply a generous amount of wax every time you use it. For this reason, the pomade might not last very long if you use it daily to style your hair. 
10. Availability
The pomade jar is available in two packages so that you can choose one according to your requirements and budget.
The first one has 1.7 oz of wax for $12, while the other has 3.3 oz of pomade for $19. Despite the quantity difference, the quality of both the pomade is the same and up to the mark.
American Crew Pomade Ingredients
For its amazingly high-quality ingredients, the pomade is ideal for a matte finish slicked-back look with a medium hold and high shine on every hair type. As per the official website of American Crew, it includes ingredients such as:
Ingredients:
Aqua/Water/Eau
Lanolin
Dimer Dilinoleate
Glycerin
Propylene Glycol
Seed Oil
Parfum (Fragrance)
CitralBenzoic Acid
Citronellol
Quillaja Saponaria Bark Extract
Linalool
Does American Crew Pomade Use Parabens?
Yes, most American Crew Pomades use parabens. Some of them don't contain parabens and those are said to be 'paraben-free.
Is American Crew Pomade Oil or Water-Based?
American Crew Pomade is oil-based. This is because the product is made with castor oil.
Castor oil makes the hair look shiny and glossy, while also making it easier to dry when using a blow-dryer.
Does Pomade Cause Hair Loss?
No, pomade doesn't cause any hair loss, but improper care of your scalp can cause hair loss.
Also, if you comb your hair a lot when you style with pomade, the hair that falls out can come out all at once. This can make it look like chunks of hair are falling off.
Does Pomade Thicken Your Hair?
Yes, some pomades coat the hair to make it thicker. Generally, these are waxes, fibers, and clays but the best option is to look for the thickening one.
Conclusion
The pomade is truly incredible when it comes to giving your hair a stylish look without disturbing the softness, shine, and health of your hair. The price is great and gives high-end salon results in holding your hairstyle all day long with any hairstyle you want.