The truth is, many men equate their hair with their overall attractiveness. If you naturally have thin hair or if your hair begins to thin due to age or illness, improper brushing can cause severe problems.
It can remove the protective layers of your hair's outer cuticle which makes your hair highly susceptible to damage including scalp irritation and breakage.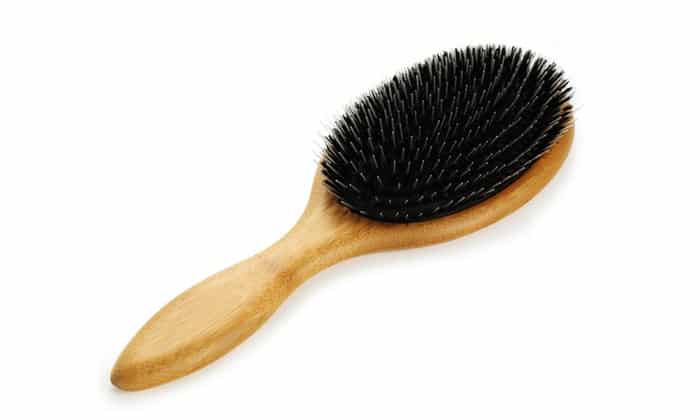 The brush you choose will make a tremendous difference in how well you are able to brush your hair and the overall condition of your hair.
Today, we are looking at the best men's hair brushes for thin hair; because if your hair is thinning, you need the very best men's hairbrush for thin hair.
We will also cover several important tips on how to properly brush your thin hair to prevent hair and scalp damage.
Top 7 Brushes For Fine Hair
Click here to see reviews and price on Amazon
At 7.5 inches, the Kent OS11 is ideal for grooming fine hair daily without suffering from hair loss or scalp sensitivity. If your hair is thinning on top for example m this brush will help stimulate the scalp.
Its rectangular club design makes it easy to hold in your hand and effortlessly brush your hair. The brush also comes with soft boar bristles to give it a shiny and attractive look, making it a highly functional brush.
Features
This dual timber brush boasts a natural shimmer thanks to its wood back and a stronger wood base
The soft bristles help in penetrating through the hair without irritating the scalp
It measures 7.5 inches long, giving you enough space for a tight grip
Gloss sprayed to complement the wood's natural glory and enhance its durability
Its nicely packaged box makes it  an excellent gift idea for men
Pros
It helps in reviving lost or thinning hair
Its fine bristles do not cause hair loss
Its net weight of 5 ounces makes it ideal for people who like traveling
Its gloss has been sprayed to help sustain its durability
Cons
People with medium or coarse hair may find it cumbersome to use
Who is it best for?
The Kent OS11 was originally designed as the ultimate solution for men with thinning or fine hair. However, the brush has proven useful for women with the same hair type. It may not be great for a bald head, but it's one of the few brushes on the market ideal for daily use. It's also a fantastic tool to spread the oil around your hair.
Verdict
While retailing above the $100 mark, the Kent OS11 is a premium hair brush designed to groom fine hair effortlessly. The brush is easy to clean using a fine comb, but you can also use a damp cloth to clean it occasionally.
---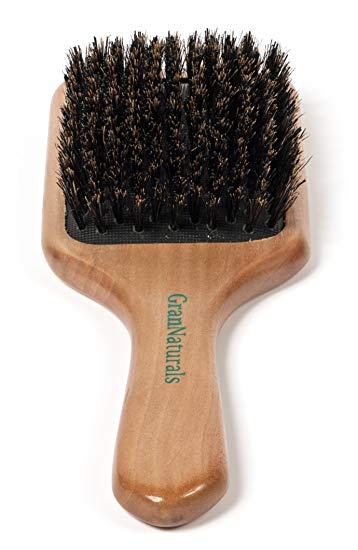 Click here to see reviews and price on Amazon
If you want a hairbrush that stimulates your scalp while preventing oil build-up, then the Boar Bristle Hair Brush – Bamboo Natural Soft Hair Brush is what you need.
The boar bristles spread around oil from your hair to lubricate each strand, giving your hair a shiny and voluminous look. The brush is durable, and it has excellent craftsmanship with a ton of stiff bristles that feel great on your scalp.
The features
The bristles help to distribute sebum to nourish the hair thus reducing the frizz. It also restores dry hair and facilitates easier blood flow by massaging your scalp.
Its handle is made of wood; an excellent material for people that love natural and durable products
It weighs only 4.2 ounces, making it easy to carry when going on road-trips
Pros
Its light-weight design makes it ideal for traveling and other outdoor activities
It is made of natural products that promote healthier hair growth compared to synthetic products
Its bristles help to redistribute oils throughout your scalp thus reducing the oil build-up
It naturally conditions your hair and prevents you from having a dry appearance
Cons
Not ideal for people with fine afro-textured hair
Who is it best for?
The GranNatural Boar Bristle hair brush is ideal for both men and women who want to restore lost hair without using tons of treatment products. It works great for people with long and wavy hair, but you can also use it to spread and prevent oil build-up with short oily hair.
Verdict
The GranNaturals Boar Bristle hair brush is an affordable grooming tool that massages your scalp and nourishes your hair to promote healthy growth. The brush also helps to condition your hair and give it a natural shine. It's great value for the money!
---
Click here to see reviews and price on Amazon
Description:
Your hair needs to be detangled! But using the wrong brush such as a plastic brush can cause more damage than you can think.
However, this Boar Bristle Round Brush helps you detangle your hair and leave it looking healthy and nice.
Features
Comes in a 100% boar bristle for thin hair brushing

The handles are ergonomically designed for a good grip

Has a flexible nylon pin that ensures the brush goes through any type of hair

It comes with a firm and dense boar bristle that increases pulling tension.
Pros
It conditions the hair naturally by distributing sebum evenly

There are different sizes to be selected from for different curl sizes

The wooden grip doesn't overheat during prolonged use

It can be used easily by anyone including children
Cons
It might expose your hair to damage when used with a wet hair

A wet handle might be hard to grip firmly
Who is it ideal for?
The brush is designed for everyone who wants nice and smooth hair free from entanglement. It can be used by both males and females -including children.
Verdict
It is not enough to want detangled hair, you need to work to get it. This boar bristle hairbrush is the best option for you and your children for straight and smooth hair. 
---
Click here to see reviews and price on Amazon
Description
Getting a brush that detangles your hair at a friendly price might be hard to come by. But the Conair Performers' all-purpose brush will give you all the goodness of detangling your hair at a budget-friendly price.
Features 
Detangles smoothly preventing pulls and tugs

Contains 100% boar bristle for all hair purposes

It is ideal for use with all hairstyles 

Has comfy handles and a lightweight design
Pros
Detangles smoothly and without hair pull

Can be used anywhere anytime

Has an extra flexible bristle for use even with wet hair
Cons 
it comes in a size that might be too big for use on toddlers' hair
Who is it ideal for
The Conair performer all-purpose brush is a medium-sized hair brush that detangles hair for everyone who wants a good boar bristle hairbrush at a budget price. Although it might be a bit bigger for a toddler,  it is okay for use on the average male and female.
Verdict
with the Conair Boar Bristle All-purpose hairbrush, you can now keep your hair smooth and free from all entanglement without breaking the bank.
---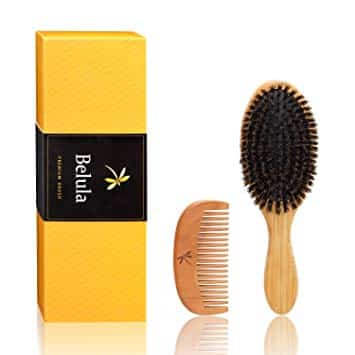 Click here to see reviews and price on Amazon
The Belula Natural boar hair brush is a fantastic grooming set that comes with a wooden comb, a headband, and a travel bag. The boar bristle brush is made of premium bamboo wood and a natural rubber cushion to make it light, easy to carry, and soft enough to avoid scratching your scalp.
Features
The boar bristles are well adapted to allow the redistribution of natural oils throughout the scalp
The premium bamboo wooden handle is durable and lightweight to enhance the value for money and portability
The cushion is made of natural rubber to avoid irritating your scalp
The headband is made of 100% cotton to put the hair in place in case you want to apply makeup or cleanse your face.
The hemp travel bag is large enough to fit the entire set while traveling
Pros
It eliminates the need for an anti-freeze serum or additional styling products
The brush is a natural conditioner and improves your hair texture
Its cruelty-free since the boar bristles are harvested by shearing
The headband holds the hair together and prevents it from getting on your face
Cons
The smell might be a bit unpleasant right out of the box, though it dissipates with washing.
Who is it for?
This Boar bristle hair brush from Belula is a superb choice for children, men, and women with fine hair.
Its naturally moisturizing bristles make it a great choice for those looking to reduce the number of chemicals coming into contact with their hair. It's also a brilliant choice for anyone who likes to relax while brushing their hair.
Verdict
The Belula Boar Bristle hair brush is a nice choice to enjoy your little brushing ritual while relaxing. The price is affordable, and it does an excellent job of redistributing natural oils in your hair. The brush is best suited for short and medium hair, but you can also brush long hair by dividing it into sections.
---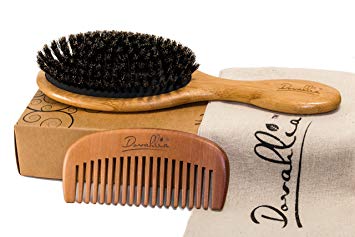 Click here to see reviews and price on Amazon
Detangling your hair with a plastic brush can be harsh on your scalp, leading to hair loss. However, the Dovahlia wood wide-tooth comb gently passes through your hair to remove any entanglements, while the boar bristle brush gives you healthier-looking hair. The boar bristles also naturally condition the hair by redistributing natural oils on the scalp to the hair strands.
The features
The handle is made of light-weight bamboo makes it ideal for daily use and friendly to children
It has fine bristles that perfectly brush thin hair without scratching the scalp or pulling the hair
It comes with a wide-tooth comb that saves your brush from any damage in an attempt to detangle hair while brushing
An eco-friendly recyclable hemp bag is available in the package
Pros
It naturally conditions the hair by redistributing the natural oils known as sebum
It improves the hair texture by adding volume to it
It stimulates the scalp by allowing blood to flow evenly
The brush is light enough for your kids, and the package is travel-friendly
Cons
It might damage your hair if you brush it while wet
Who is it ideal for?
This brush is designed for people who enjoy gentle brushing without damaging or breaking fine hair. It's ideal for both men and women seeking to boost their self-confidence with a healthy-looking hair that creates the feeling of being in control. You'll also need to be patient and put a little effort to improve your hair growth by brushing for at least 12 minutes daily.
Verdict
If you want a brush that both you and your child can use to straighten fine hair, the Dovahlia Pure Boar Bristle Brush is the ideal choice. You'll need to employ a little effort into brushing daily, but the results are well worth the hard work.
---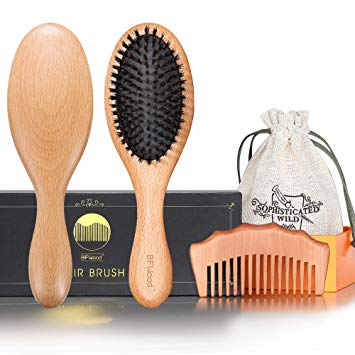 Click here to see reviews and price on Amazon
If you want to get a high-quality grooming kit for your fine hair without spending a ton of money, then the BFWood Pure Boar brush is as good as it gets. The brush gives your hair a nice shine and allows you to enjoy the natural aroma of boar bristles. However, the scent will dissipate after washing.
Features
100% natural boar bristles with a length of 1.2cm
Premium rubber cushion for a soft brushing experience
Original Beech wood handle
Includes a small wood hair comb for wet brushing
Pros
It easily glides through soft hair without irritating the scalp
It's great for all hair sizes thanks to its size
Lightweight (weighs only 150g) thus it is perfect for people who love traveling quite often
Ideal for gift presentations thanks to its elegant packaging
Cons
Not suitable for people with long thick hair
Hair bristles may fall off during their initial use
Ideal for who?
The BFWood Boar Bristle brush is the perfect choice for kids with sensory needs or a sensitive scalp. This brush is soft enough for your child to love hair brushing, but you can also use it to keep your fine hair in check. However, it may not be suitable for people with super long hair.
Verdict
The BFWood Hair brush set is the most affordable hairbrush that gives you excellent results without spending a lot of money. It comes with a nice and durable comb for wet brushing and hair detangling, while boar bristles add shine and improve your hair texture.
---
Boar Bristle Brushes
When it comes to fine hair, boar bristle brushes are simply the #1 choice. The bristles of these brushes are gentle and so won't tear or pull out sensitive hair strands. Yet, the bristles are stiff enough to detangle your hair if it's knotted.
As you may know, knots and snarls are one of the top causes of hair damage. Moreover, boar bristles brushes do a great job of distributing your natural scalp oils from the root of your hair follicles to the tips and all across your scalp while removing any dirt and stray particles from your hair as well.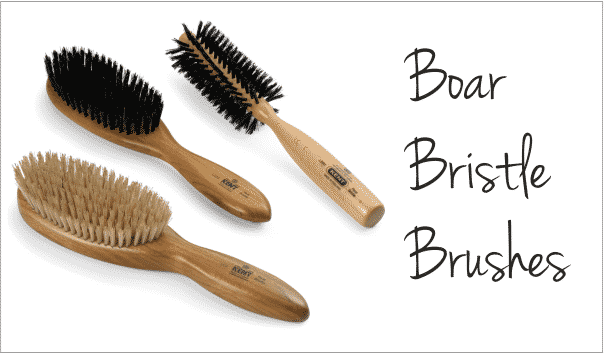 Another major benefit of boar bristle brushes is stimulation. This brush is able to gently stimulate the scalp without causing irritation. This type of stimulation increases circulation within the scalp and promotes hair growth.
The truth is, however, many of the brushes you will find out there probably won't contain just boar bristles. Most of them aren't 100% pure because they contain a combination of boar and nylon bristles. In most cases this is completely fine, just remember to always brush gently.
How To Brush Thin Hair
When brushing thin hair, most brushes tend to be very unforgiving if you don't do it right.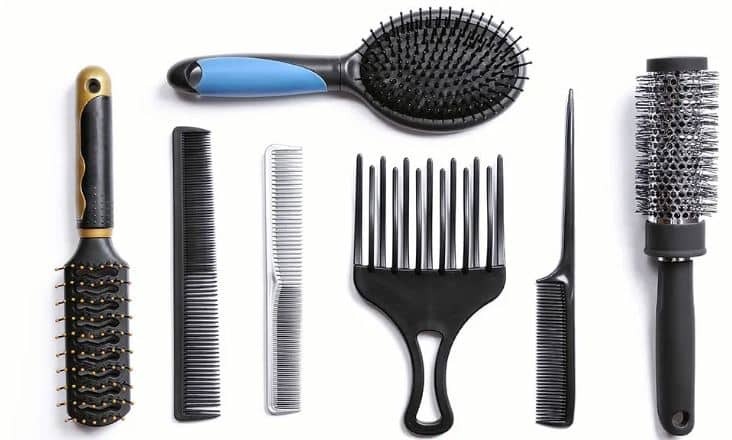 That's particularly true if you have sensitive skin or long, fine hair that gets tangled regularly. Here is how you can do it right:
Apply gentle force and avoid brushing your hair vigorously to avoid irritating the protective layers of the outer cuticle.
Detangle wet hair carefully because water weakens your hair. That means you should use a wide-tooth comb to detangle it without destroying the roots. a great example is the PureGLO Wide Tooth Detangling Comb.
Use a pure boar bristle brush for dry hair. The brushes are designed to distribute oils naturally, get rid of dirt and stimulate the scalp without irritating it.
Use a ceramic brush when blow-drying. A well-rounded ceramic brush will help in adding volume to your hair despite the heat.
Clean brushes regularly using warm water. If you fail to do so, then the chances of acquiring debris from dirty hair are quite high.
Does Brushing Hair Help Thinning Hair?
Poorly done hair brushing can cause hair breakage, which makes your hair volume appear thinner. It is also said that regular bad brushing can cause 'mechanical stress,' which accelerates normal hair shedding. Brushing badly can also cause traction alopecia which can finally be permanent hair loss if untreated.
Hair should be gently brushed at least twice a day as a way of distributing your scalp's natural oils throughout the hair. Further, avoid brushing wet hair, and do not brush it from the root. That way, you shall minimize hair loss.
Should Fine Hair Be Brushed?
Fine hair is delicate, and easy to damage and break. The choice of proper tools used to take care of it become necessary. Boar bristle brushes (which are soft) can prevent hair strands from breaking.
Recap
If you have reached this far, you clearly have fine hair, and its admirable that you have taken steps to protect your hair and scalp. After all, whether your hair is curly or straight, thick or thin, hair damage should be one of your major concerns. The fact is, sub-par hair brushes are as bad for your hair as chemical-based products and hair processing devices. The brushes we covered above are the very best men's hair brushes for thin hair. If used correctly, they are gentle on your hair, and won't cause tangles, or thug on your hair or pull your hair. We hope you found one that fits your style.