Manscaping means shaving bodily hair, and if you aren't doing this yet, it's about time you did as trimming body hair goes a long way towards improving your look. However you're only going to get results if you have the best shaver for manscaping. Not all shavers are up to the task, so we chose two that have been proven to work.
1. Braun Cruzer 6 Body Shaver, Trimmer, Electric Razor, Razors

Click here to see reviews and prices on Amazon.com
Braun is known for their quality shavers and trimmers, and the Cruzer 6 is one of their best. This body trimmer is easy to use, perfect if you're new to manscaping and want to make it a part of your daily regimen.
Features
The Cruzer 6 runs for 50 minutes when charged fully. It also comes with an inductive charging stand.
There is a LED charging indicator which tells you how much power is left.
Cordless for convenient use.
The shaver's ergonomic design makes it comfortable to use in the shower. With the Cruzer 6 you can shave those hard to reach body parts without losing grip.
Trim and Shave Combo: the trim and shave mode allows you to shave and trim long hair at the same time, reducing body grooming time.
The Cruzer 6 uses Gillette's most technologically advanced blades for smooth, close shaves. These blades are packed close together for less pressure and at the same time they provide comfort and reduce skin irritation.
The Cruzer 6 has a built-in wet functionality that lets you shave sizable areas in a single stroke. It is this feature that gives the Cruzer 6 additional flexibility.
A trimming element is included, and its small teeth reduce the possibility of getting cuts or nicks. The three combs also let you choose the ideal body hair length, 0.6, 3 and 8 mm.
Pros
Cuts close without causing discomfort or pain
Comfortable to grip
Works great for wet body shave
LED charging indicator is easy to see
Waterproof
Cons
Plastic components feel a bit light
One customer said the head is too small
Who is it Best For?
The Cruzer 6 is for men who take body grooming seriously, as it removes body hair effectively without causing discomfort. The shave is powerful and easy to use, perfect if you're busy and don't have a lot of time to shave. If you have been manscaping for a while now, switching to the Cruzer 6 is going to make a difference as far as the results go. If it's your first time to use a body groomer, this is a good option.
Verdict
The Cruzer 6 is a well-designed body groomer, and it's a combination of a wet body shaver and trimmer works nicely. If you're looking for a body trimmer / groomer to eliminate excess body hair, the Cruzer 6 is for you. If you're serious about manscaping and don't want to compromise, there's no other option.
---
2. Gillette Fusion Proglide Styler 3-In-1 Men's Body Groomer With Beard Trimmer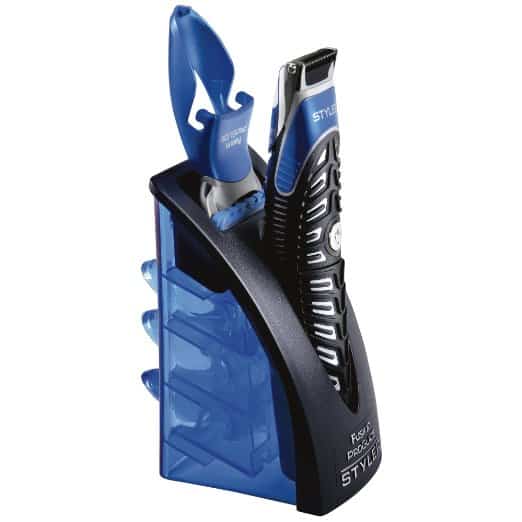 Click here to see reviews and prices on Amazon.com
We've come to associate the name Gillette with facial shaving and razor blades, but they've got quality body groomers and trimmers too. The Fusion is one of their more popular products, and you're going to see why in the feature list below.
Features
The Fusion lets you turn the razor blade so you can utilize the ProGlide Precision Edging Blade, giving you a cleaner appearance. The ProGlide blade is also the gentlest shave that Gillette has to offer. Because of this the Fusion is ideal males with sensitive skin.
The Gillette also comes with three combs. Each one is of a different length and provides contour versatility and length for greater control when you shave.
The Fusion offers the most sophisticated trimer from Gillette, great for close shaving and still be comfortable.
Every Fusion blade is made using Braun technology, which makes the shaver easier to use. Even when you're trimming or cutting hard to reach areas, the Fusion makes it easy.
The Fusion shaver is 100% waterproof so you can use it in the shower without any difficulty. Once you're done using the Fusion, just put it under running water to clean.
Aside from the shaver, the Fusion contains an organizer, battery, 3 combs, a ProGlide Power Cartridge and a trimmer.
It also comes in the Gillette Frustration Free packaging so you can use it quickly.
The instructions are easy to follow and just a few seconds you'll be ready to use it. Because of the way the Fusion has been developed, you will be able to create defined, clear lines and do some touch up when you're done grooming.
Other so-called 2 in 1 shavers are good only at body or facial trimming, but the Fusion works well on both.
Pros
Reliable performance
Great for shaving different areas of your body
Good solid construction
Easy to clean and maintain
Does not cause skin irritation
Cons
One reviewer says it is not suited for the scruffy style
Requires more shaving for long hair
Who is it Best For?
The Fusion is most suited for men with short to medium length hair, as it trims smoothly and without any hassle. Guys looking for a combination face shaver and body groomer will also find the Fusion convenient to use. This is also a good choice if you are on a budget and just want to try manscaping for the first time.
Verdict
The Gillette Fusion is a versatile body grooming and shaver, good for smooth, close shaving, and it doesn't irritate your skin. While it may not be as effective if you've got thick hair, you can use the Fusion if you shave regularly, which makes this an excellent alternative to fancier body groomers.
Conclusion
The art of manscaping is still a relatively new concept for a lot of males, but it's something you ought to do. You'll not just appear more attractive to women, but you'll feel better about yourself too. You can't just use any shaver however, which is why we recommended the Fusion and Cruzer 6 above.