If you search for the best dry shaver online you're going to find a lot of products that claim to be just that. However as you may have noticed not all shavers are made equal, with some more efficient than others. Also, some shavers are not that good for dry conditions, producing uneven results. We've had experience with faulty dry shavers, so we compared various models, and based on our reviews these are the best.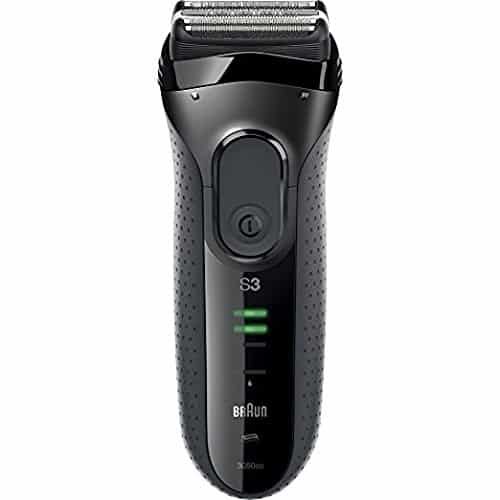 Click here to see reviews and prices on Amazon
The 3050 shaver aims to provide a close shave without causing skin irritation. Equipped with the latest technology, the 3050 catches and cuts hair efficiently and more quickly than before.
Features
Ergonomic Design: the 3050 has an ergonomic rubber grip, which makes it comfortable to use in wet or dry conditions.
Rechargeable Ni-MH Battery: the 3050 has a rechargeable battery and takes just 1 hr. 45 min. for a full charge. There is also a quick 5-minute charge option if you just need to do a single shave. There is also a LED display that notifies you if it's time for a recharge.
The 3050 is 100% washable. In fact, it is waterproof for 5 meters, more than enough for frequent cleaning.
Clean & Charge Station: It's Clean & Charge Station lubricates, charges, and cleans the shaver, so it is clean every time you use it.
Optimized Cuts: the 3050 uses SensoFoil technology to give you a close shave and smooth skin.
Optimized Hair Feeding: MicroComb technology integrated with the shaver ensures optimum results on 3 day beards. While the 3050 cuts hair, it also reduces skin irritation.
The 3050 has a triple-cutting system that cuts short and long hairs with each stroke. With its specially designed floating elements, the blade follows the curves on your face without irritating your skin.
Like the other Braun shavers, the 3050 are designed to sideways on your skin, giving you optimum control.
Pros
You can use the shaver plugged in
Waterproof
Cleaning is easy
Great for close shaves
Solid construction
Cons
The cleaning station is bulky
One reviewer said it takes time to shave a thick beard
Who is it Best For?
The 3050 is for men with sensitive skin. The 3050 is also designed for those who get cut or scarred with dry shavers, and it's great for cutting short hair. The 3050 is also for men who end up with rough skin patches after shaving, as the 3050 produces smooth results. Women looking for a reliable shaver for their legs will also appreciate this.
Verdict
If you're tired of low-quality dry shavers that leave you with roughened skin or irritation, consider buying the Braun Series 3 3050. It is marketed as a high-end shaver and based on our assessment it's hard to match. We have no hesitation in giving this our highest recommendation.


Click here to see reviews and prices on Amazon
The F5-5800 is designed with the latest technology to cut down shaving time and enhance trimming. The F5 series also have trimming capabilities and have foils for smoother shaving.
Features
Interceptor Shaving Technology: the Interceptor Shaving Technology allows its trimmer to dry shave 3-day hair growth without trouble.
Pivot and Flex Technology: this enables the F5 steel foils to follow the contours and angles on your neck, jawline, and face, giving you a comfortable close shave.
Rechargeable Battery: a single full charge allows the F5 to run for 60 minutes. There is also a LED indicator to let you know how much battery power is left.
Detail Trimmer: its detail trimmer allows you to manage facial hair and sideburns. With the trimmer, it's easier to manage thick growth and maintain your stubble.
Easy to Clean Blades: the stainless steel blades provide sharp close results yet are easy to clean. Once you're done using it, clean it with tap water.
You can use the F5 with or without a cord.
A 5-minute charge is good enough for a quick shaver. Alternatively, you can charge it fully, as the 60-minute running time means up to 20 days till the next charge.
The shaver has been specially designed to prevent scarring. As we have pointed out, most dry shavers are rough and leave your skin irritated or roughened up. With the F5 it's not going to leave any bumps.
The F5 instructions are easy to follow and in just a few minutes you should be ready to go.
The F5 doesn't require a lot of effort on your part, as a light touch produces results.
Pros
Comfortable grip
Powerful design leads to efficient shaves
Faster than other shavers
Cordless and corded options add versatility
Low maintenance
Cons
Noisier than other shavers
It's bulkier and heavier than other shavers
Who is it Best For?
If you have sensitive, smooth facial skin, the F5 will satisfy your requirements. Men with little facial hair in need of a sensitive shaver are going to like the F5 as well. In fact, it's sensitive enough for shaving women's use too. If you've got a thick beard it's going to take more work, but it's possible.
Verdict
The F5 is an excellent option if you're looking for an easy-to-use, no-frills shaver. Due to competition, manufacturers cram all sorts of features in their shavers, some of which are unnecessary. With the F5 you've got a reliable shaver that works without a fuss, and its trimmer is ideal for managing stubble.
Conclusion
Dry shaving is often a hit-and-miss experience. With a poorly made blade, you could end up with a cut, rough patches, or lots of hair left on your face.  With a quality dry shaver, however, the end result is the same, a smooth, close shave.
Hopefully, our reviews have given you insights into the ideal dry shaver. Both are high quality and will give you the clean, comfortable shave you deserve. You may like the high-end features of the 3050 or the simple practicality of the F5-5800. Either way, you're getting a close shave.