If you search for the best electric shavers for acne prone skin online, you're not   going to find a lot of products stating they're for men with skin issues. Fortunately there are shavers developed for men who are susceptible to acne, pimples, blackheads and similar skin conditions.
We have to point out that not all shavers marked "for sensitive skin" are ideal for acne prone skin. That's why we chose the two electric shavers below as they're tried and tested.
Philips Norelco Electric Shaver 8900 with SmartClean, Wet & Dry Edition S8950/90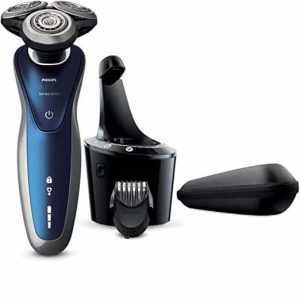 Click here to see reviews and prices for the Philips Norelco Electric Shaver 8900 on Amazon.com
The Philips Norelco 8900 uses a sophisticated shaving mechanism to cut and trim facial skin hair. The technology allows the 8900 to shave hair up to 30% nearer the surface, but it doesn't irritate your skin. The blades are also fortified for precision shaving with fewer strokes.
Features
The 8900 shaving head cuts hair 20% faster than ordinary shavers, and its head can move in up to 8 different directions. Its V-Track Precision Blades and Contour Detect Technology make this possible as the heads move freely along the contours of your face.
The 8900 doesn't just cut hair, as it also gathers hair so they're shaved in the best position possible. Unless hair is collected first, there will be lots left behind after you shave. The 8900 does it automatically, making things easier for you.
The SmartClean system makes cleaning easy. You just press a button and it removes hair, gel and foam using its unique dual filtration mechanism. The SmartClean system also provides lubrication for the blades to minimize friction and ensure optimum performance.
The shaver automatically charges at the end of every cycle so it's always good to go. There are few things more frustrating than a shaver which runs out of power, so this is one of the better features on the 8900.
The LED display notifies you if battery power is running low. The display also lets you know if it's time to get a new shave head and if travel lock is in place. With travel lock the shaver won't get accidentally turned on. If you travel a lot, this lock on feature will be more handy than you'd expect.
The SmartClick Beard Styler gives you five different trimming length options, allowing you grow a short beard or stubble. With its comb and rounded tips your skin is safe from irritation.  You'll notice that a lot of shavers have rounded tips, but few are as well implemented as on the 8900.
Pros
Quieter than other shavers
Follows the contours of your face
Quick charging
Has received a lot of positive reviews
Doesn't irritate your skin
Cons
Blade assembly needs to be taken to rinse the heads
Thick facial hair may require several strokes to get a smooth shave
Who is it Best For?
The 8900 is for men with sensitive skin, in particular those vulnerable to acne. It is very good at giving you a close shave but it doesn't compromise or gets rough with your skin. This shaver is also for style conscious men who want a shaver that works quickly and reliably.
If you have acne or other similar conditions, you'll notice the difference in the feel and operation. The 8900 just feels smoother on your skin and as reviewers have pointed out, it's not going to worsen your acne.
Verdict
The 8900 shaver manages to combine the best of both worlds, giving you a close shave while keeping your skin free from acne. Quick, efficient and safe, the 8900 is one of the best shavers Philips has made.
Panasonic ES-LA63-S Arc4 Men's Electric Razor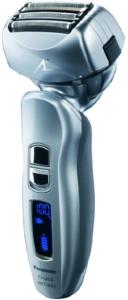 Click here to see reviews and prices for the Panasonic Arc4 Men's Electric Razor on Amazon.com
The Arc4 makes our list because it doesn't irritate your skin, but it still does a good job of shaving facial hair. The Arc4 also has high quality foils, a versatile pivot head and a powerful motor for the best results. The Arc4 has received a lot of good reviews and as we'll show there are good reasons why.
Features
The Arc4 system uses specially designed foils to collect the whiskers. The foils work in combination with the blades to cut hair close to the skin without aggravating your acne. These are Micro-fit Panasonic blades, and they're set in 30 degree angles for sharp, clean cuts.
The blades are designed to shave hair in as few strokes as possible. The foils and blades are both made for sensitive skin, so they shave gently. This is important if you have acne because rough blades could irritate your skin. This is one of the features on the Arc4 that makes it attractive for those with acne.
The Arc4 has a Multi-Flex active head that allows it to move smoothly along the contours and curves of your neck, jawline and cheeks. The shaver head is cordless so you'll feel comfortable using it, and there's a pop up trimmer so you can put the finishing touches on your facial hair.
A close look at the shaver head shows that it curves. This design enables the shaver to cross along your jawline and chin without breaking. You can also move the Arc4 in circles, rotary style. With this kind of versatility you can shave in different ways.
The Arc4 is equipped with a linear razor motor that's built for maximum performance. It is more powerful than a standard shaver and also has a longer battery life. If you've had problems with shavers that die out quickly, this is what you need.
The Arc4 uses 30-Degree Nanotech Blades for cleaner and efficient cuts. These blades are 100% hypoallergenic, stainless steel and shaves at the root for the best possible results. With these 30 degree blades you'll get a smooth, close shave without skin rashes or inflammation.
You can use the Arc4 n wet or dry conditions. If you're pressed for time you can use the Arc4 dry. When you've got the time you can shave with gel, foam or in your shower. Some guys prefer to shave dry while others wet, but the point is you can do both here with similar results.
Pros
Blades are sharp and precise
Gives you a close shave without causing irritation
Foils and blades are hypoallergenic
Pivoting head is flexible
Long battery life
Cons
One reviewer said the blade dulls quickly
Some customers find the shaving head too large
Who is it Best For?
The Arc4 is one of Panasonic's most popular shavers, and it's perfect for males with sensitive skin as the shaving elements are hypoallergenic. This is also ideal for men with thick beard and need regular facial hair maintenance. The Arc4 is also versatile enough for shaving leg hair. Even if you don't have a lot of acne, you'll like the design of the Arc4 and how it shaves facial hair without fear of inflammation.
Verdict
The Arc4 is a remarkable electric shaver. It cuts beard, moustache, and other facial hair with ease, but it won't cause any acne outbreak on your skin. If your shaver is causing all kinds of skin problems and makes your acne worse, the Arc4 is worth considering.
Conclusion
Acne is often triggered by allergies, and it's not just food. Oftentimes the soap you use or the shaver irritates your skin, triggering an acne outbreak. A healthy diet, sufficient sleep and a quality shaver can prevent this however. Some guys prefer the Norelco while others go for the ES-LA63-S Arc4, but the truth is both are effective in keeping your skin blemish free.